Rachel Bellwoar reviews series one and two of Britannia…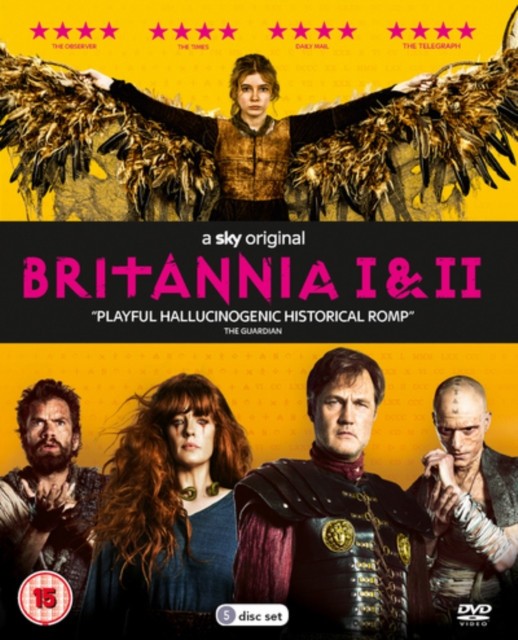 Plenty of prophecies could do with being more specific. Most don't have an excuse for being vague, but you can't exactly blame a prophecy when the Chosen One doesn't have a name. For that the blame lies solely with the Romans who invaded Britannia during Cait's solstice ceremony. Technically Cait (Eleanor Worthington-Cox) isn't Cait anymore. She gave up that name, in recognition of her transition into womanhood, but while she still uses Cait, on occasion, when she needs to go by something, the truth is she's name-less. Whatever her new name was going to be, the Romans made sure she'd have a tough time learning it, but you don't need a name to get under somebody's skin, just like a prophecy doesn't need to be true, as long as someone believes it.
Faith and magic. These are the cornerstones of Sky and Amazon Prime's Britannia, a historical fiction show about the Roman invasion that took place there in 43 AD (Amazon's involvement stopped after season one, but the show's been renewed for a third season). A lot of the specifics around that invasion are unknown. Usually with historical fiction you're looking for places where the show diverges from the truth but what series creators, Jez Butterworth, Tom Butterworth, and James Richardson, are doing (and they touch on this a little in the bonus features on the DVD) is filling in a gap. The lack of historical record gives the series freedom to speculate (and they do, a lot, so looking to this show for historical accuracy is probably a mistake).
What Britannia does speak to is humanity and while many of the situations are hypothetical, they feel possible. Season one deals with the Cantii and the Regni, two warring Celtic tribes who refuse to set their feud aside in order to defeat a common enemy, General Aulus Plautius (David Morrissey).
What's striking about this show is there are two levels of watching it. There's the one where magic is real and Aulus is actually Lokka the Great Earth Demon and calling them "Romans devils" isn't just an insult, and then there's the cool-headed way of looking at things, where faith can explain a lot of what happens. That and drug use (Donovan's "Hurdy Gurdy Man" is the theme song for season one).
Maybe the Druids speak for the gods on Earth. Maybe their leader, Veran (Mackenzie Crook), is a self-serving liar, but as long as people listen to what he says (including Aulus, who spends more and more time looking for Cait, the young girl he saw in the Underworld as a threat to his dominion), his voice holds power. In season two, Veran's brother, Harka (also played by Crook), joins the cast, creating the need for another assessment of who the good guys and the bad guys are.
While the industry keeps searching for the next Game of Thrones, fans who enjoyed the dynamic between the Hound and Arya will love the relationship between Cait and her guardian, Divis (Nikolaj Lie Kaas). Britannia doesn't lose track of its large cast, either, and especially in season two finds moments to develop and expand on the lives of some of the supporting characters.
Part The Last Kingdom, part The Almighty Johnsons (in terms of tone and characters trying to grapple with having larger destinies), series I and II of Britannia are available on DVD from Acorn in the UK. 
Rachel Bellwoar