VFW, 2020.
Directed by Joe Begos.
Starring Stephen Lang, Martin Kove, William Sadler, David Patrick Kelly, Dora Madison, Sierra McCormick, George Wendt, Fred Williamson, Tom Williamson, and Travis Hammer.
SYNOPSIS:
A group of war veterans must defend their local VFW post and an innocent teen against a deranged drug dealer and his relentless army of punk mutants.
VFW starts out with some text about a new kind of street drug on the market that turns people into Hypers (basically, zombified human beings that increasingly grow violent in pursuit of another fix) and a heavy synthetic score to make one feel like this is a future world, but none of that really matters. World-building is actually abandoned immediately.
Birthday Vietnam veteran Fred (Stephen Lang continuing to prove why he's the most badass elderly actor working today) is celebrating at a rundown bar with his buddies (ranging from notable revered character actors William Sadler to Fred Williamson, making this feel like an Expendables type of situation), which is actually an old post for war veterans. To them, it's home, but little do they know it's about to become a war zone.
Boz (Travis Hammer) is the top dealer of the new aforementioned illegal substance, and he really doesn't care what happens to its users. VFW has a whole Mad Max vibe going on (these drug dealers dress like punk rockers from the 80s, which is appropriate considering the electronic score and practical blood splatter), relying on aesthetics to make its villains pop. To be fair, that's fine as they don't need any characterization. Nevertheless, their drugs are stolen by Lizard (Sierra McCormick), a similar rocker girl kicking the hornet's nest as these men were recently responsible for getting her sister hooked on the drugs and killed.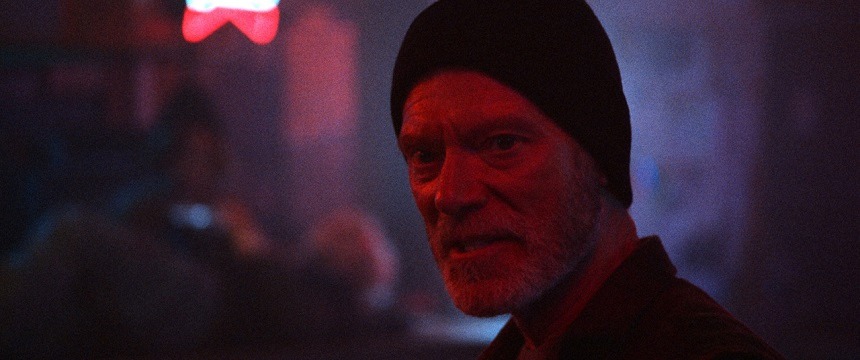 Naturally, her escape with multiple bags of the drugs leads her to the serviceman chilling out at the neon-drenched bar, bringing all sorts of deadly company with her. There is no contemplation about helping the girl, no, they are bound by their creed as soldiers to assist in putting up a defense (as one of the veterans puts it). What ensues is relentless violence and gore that would quickly grow tiresome if it wasn't so creative (people are impaled with flags, the environments of the bar are constantly used as blades, the veterans set up traps, and shotgun blasts cause heads to explode into chunks of meat) as they all make a stand and try to survive the night.
Starting off the night recounting stories from their glory days and planning on hitting up a nearby USO show, VFW allows these servicemen an opportunity to do one last time the only thing they may have been good at. Some of them struggle with self-doubt questioning if they were ever worthy soldiers in the first place, but like a natural-born leader with bottomless charisma, Stephen Lang's grizzled and brutal performance rallies the troops for a cooperative last stand jampacked with severed limbs and decapitated heads. It's reasonable to believe that VFW might wind up the single bloodiest movie to come out this year, even if the heavy lighting somewhat drowns out the fact that the practical effects are only average.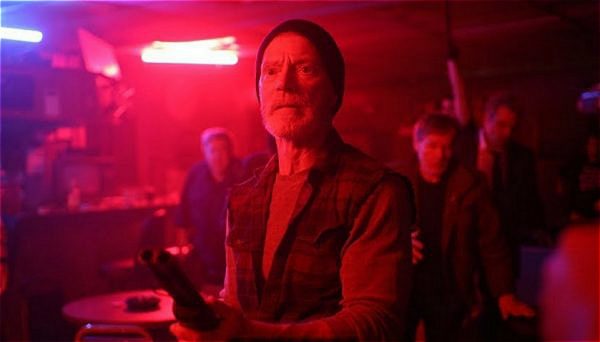 Director Joe Begos (shooting a script from Max Brallier and Matthew McArdle) also accomplishes this without a jingoistic tone or agendas; simply put, this is throwback horror that utilizes all manners of zombie tropes with a refreshing spin placing war heroes front and center. It's also not just the Vietnam War, as early on a younger soldier drops in following his return home. Lizard is also not just used as a damsel in distress for old men to defend as a way to recapture former glory either, as Sierra McCormick gets a couple of her own defiant moments, capable of holding her own. Needless to say, Stephen Lang is the reason to see this one (he delivers a speech before the final battle peering through a hole in the wall that might be as awesome as watching him slice people's throats left and right), elevating both the 80s inspired vision and grindhouse madness surrounding him.
Flickering Myth Rating – Film: ★ ★ ★ / Movie: ★ ★ ★
Robert Kojder is a member of the Chicago Film Critics Association and the Flickering Myth Reviews Editor. Check here for new reviews, friend me on Facebook, follow my Twitter or Letterboxd, check out my personal non-Flickering Myth affiliated Patreon, or email me at MetalGearSolid719@gmail.com