Warner Bros. has released a new poster and images the upcoming CG-animated comedy adventure Scoob! which offers a first look at Mark Wahlberg's Blue Falcon and his sidekick Dynomutt alongside the Mystery, Inc. gang; check them out here…
SEE ALSO: Watch the trailer for Scoob!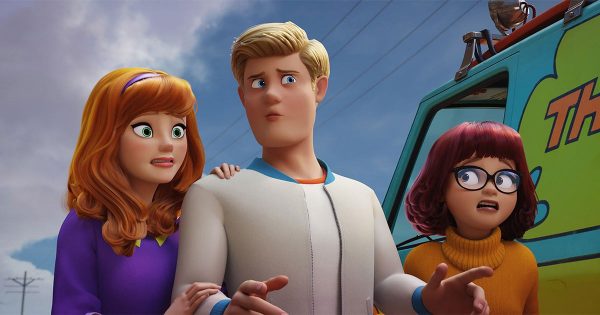 "SCOOB!" reveals how lifelong friends Scooby and Shaggy first met and how they joined with young detectives Fred, Velma and Daphne to form the famous Mystery Inc. Now, with hundreds of cases solved and adventures shared, Scooby and the gang face their biggest, most challenging mystery ever: a plot to unleash the ghost dog Cerberus upon the world. As they race to stop this global "dogpocalypse," the gang discovers that Scooby has a secret legacy and an epic destiny greater than anyone imagined.
Zac Efron (Fred), Amanda Seyfried (Daphne), Gina Rodriguez (Velma), Will Forte (Shaggy) and Frank Welker (Scooby-Doo) lead the voice cast alongside Tracy Morgan (Captain Caveman), Kiersey Clemons (Dee Dee Skyes), Mark Wahlberg (Blue Falcon), Jason Isaacs (Dick Dastardly), Iain Armitage (Young Shaggy), Mckenna Grace (Young Daphne), Pierce Gagnon (Young Fred) and Ariana Greenblatt (Young Velma).
Scoob! is set to arrive in cinemas on May 15th.