Shaun Munro reviews The Complex…
Wales Interactive, the outfit behind the BAFTA-winning interactive movie/video game Late Shift, returns to the experimental genre with their promising new sci-fi outing The Complex. Yet despite offering up a ripped-from-the-headlines tale riffing on both chemical warfare and corporate subterfuge – and being penned by The Handmaid's Tale's Lynn Renee Maxcy, no less – this disappointingly malnourished, entirely pedestrian effort falls headlong into most of the egregious "FMV game" pitfalls.
The hook is at least intriguing enough; following a bio-weapon attack in London, two scientists – Dr. Amy Tenant (Michelle Mylett) and Rees Wakefield (Al Weaver), who also happen to be former lovers – end up sealed inside a locked down laboratory, where they attempt to get to the bottom of a corporate conspiracy, contain the bio-weapon, and fend off outside invaders before both time and air run out.
It's nothing if not a conceptual step-up from Late Shift's grittier, more pared-down heist formula – at least on paper – yet The Complex is at almost all times constrained by its frustratingly cliched, unfussed execution. Though capably filmed by director Paul Raschid (White Chamber), the superficially glossy production values aren't quite sufficient enough to convince, instead giving off the whiff of a mediocre TV pilot you'd expect to see on Syfy.
The ambition of delivering a Choose-Your-Own-Adventure sci-fi movie is undeniable, but clearly a trade-off has been required to facilitate its creation; the production is largely confined to a few small location sets, and despite sensibly making spare use of CGI, compared to Late Shift it oddly feels like it does less with its available resources.
If the story is relatively forgettable even in its more ridiculous possible permutations, it's the dialogue which truly sinks much of the promise; chock full of cringe-worthy attempts at humour that evoke an undeniable "straight-to-video" vibe, and that's when it's not busy piling soulless, robotic exposition on top of the player/viewer.
To The Complex's credit, though, it's certainly not a miserable experience and those who enjoy the FMV genre will get something of a kick out of it despite the middling writing. This is aided immeasurably by solid performances from the capable cast; first and foremost, lead Michelle Mylett is effortlessly sympathetic and easily likeable – or not, depending on the decisions you make – as Amy.
Meanwhile, Al Weaver is nothing if not charming as her uneasy cohort Rees. The most recognisable face, however, is easily that of Game of Thrones star Kate Dickie, who appears periodically as mustache-twirling antagonist Nathalie Kensington, a take-no-prisoners CEO with her own nefarious agenda. Without question, Dickie is the performer having the most fun here.
It's pretty typical for FMV games to invite a certain degree of forgiveness for sloppy writing given the sheer number of branching avenues which have to be concocted, but while Wales Interactive clearly acknowledged one of Late Shift's most vocal criticisms – the inability to skip scenes on repeat viewings, which you can thankfully do here – it's hardly enough to make multiple playthroughs of the uninspired story particularly appealing.
A rather half-hearted attempt to entice players back, however, is made by the game informing players at the start that their decision-making is tracked throughout, factoring in personality traits such as honesty, bravery, curiosity, intelligence, and sensitivity to paint a picture of your very own, while also keeping account of the various relationships between the game's characters.
The more conventional FMV game hook, of course, is the narrative choices themselves, with between two and four options appearing throughout to open up divergent pathways. Unfortunately, despite the game offering up nine endings and featuring 196 scenes, the choice available is mostly of the superficial variety.
While there are certainly far-branching outcomes, multiple playthroughs do illustrate just how linear a track the game is mostly on. A lot of implied choices don't really matter much if at all, and in a few cases both options even basically lead to the same sequence of events regardless. Thankfully, though, the ability to skip entire scenes on subsequent playthroughs does allow players to excavate most of the available material relatively quickly.
There are also several disappointingly long stretches of time where the player isn't given any choices at all, even when it clearly feels like there should be. As a result The Complex adds up to a shallow and weirdly forgettable experience, which above all else represents how difficult it is to achieve the mind-bogglingly specific interactivity of, say, Black Mirror: Bandersnatch. It certainly would've been nice for the game to feature a Detroit: Become Human-esque flowchart, though one suspects it would also lay the game's scarcely-concealed linearity fully bare.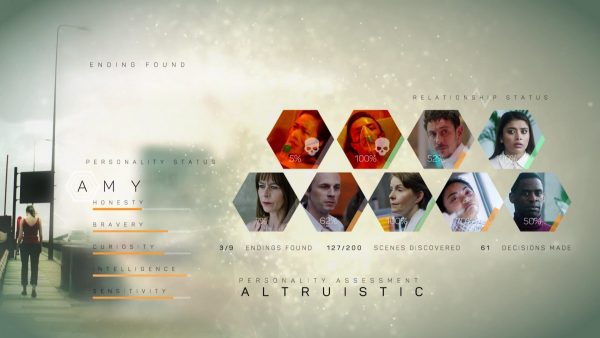 All things considered, it doesn't help at all that this game takes itself so aggressively seriously for the most part, despite the obvious potential for some kitschy B-movie fun per the genre's lineage. While it's understandable that Wales Interactive wants the interactive movie format to do challenging and straight-laced things beyond mere goofy schlock, the material here simply isn't strong enough to make this a particularly fruitful attempt.
Again, The Complex is hardly a painful sit; it's well-acted, the production is decent enough, and it's all accompanied by an appealingly pulsing electronic musical score, but it largely feels like the belt has been tightened too much in an attempt to take the FMV game to a more ambitious genre space.
My first run through the game took around 75 minutes, while racking up a few repeat runs and discovering most of the available content brought that up to around three hours, though my interest – and, I imagine, that of most players – had tapered off a good while before that. The Complex is desperately lacking the narrative meat necessary to support its promising presentation, so only the most ardent FMV game fans need apply.
Pros:
+ Glossy production values.
+ Solid performances.
+ Ability to skip scenes on repeat playthroughs.
Cons:
– Story is short and dull.
– Unintentionally hilarious dialogue.
– Minimal replay value.
Rating: 5/10
Reviewed on PC (also available for PS4, Xbox One, and Nintendo Switch).
A review copy was provided by the publisher.
Shaun Munro – Follow me on Twitter for more video game rambling, or e-mail me here.