As we count down to the launch of The Joker War in July's Batman #95, DC Entertainment has unveiled two new variant covers for Batman #96 and Batman #97 from artist Jorge Jiménez, which feature the Clownhunter and Harley Quinn respectively.
In Batman #96, reeling from the effects of the worst Joker toxin attack ever, Batman is on the run through Gotham City, pursued by the dark shadows and voices that haunt his past and present! As The Joker's plan materializes, the only person who can save Batman from the brink of true madness…is Harley Quinn?! Plus, who is the mysterious new figure known as Clownhunter?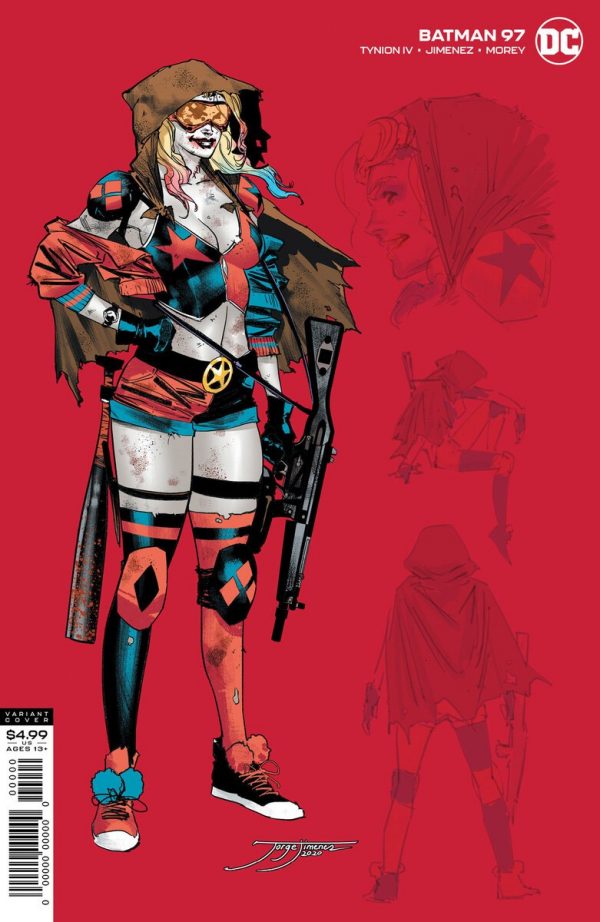 In Batman #97, The Joker's army is growing hour by hour, with weapons beyond anything the Clown Prince of Crime has ever used before. Batman must hold his mind together so he can strike the final blow and take back his city—but how can he heal the rifts he's created in his life to get the help he needs? And while all this is happening, the villains of Gotham City are waiting out the carnage Joker has unleashed—and Catwoman assembles an army of her own!
Batman: The Joker War is written by James Tynion IV with art from Jorge Jimenez, and begins this July in the pages of Batman #95. Issues #96 and #97 will both go on sale in August.