Ip Man 4: The Finale, 2019.
Directed by Wilson Yip.
Starring Donnie Yen, Kwok-Kwan Chan, Yue Wu, Scott Adkins, Vanness Wu, and Jim Liu.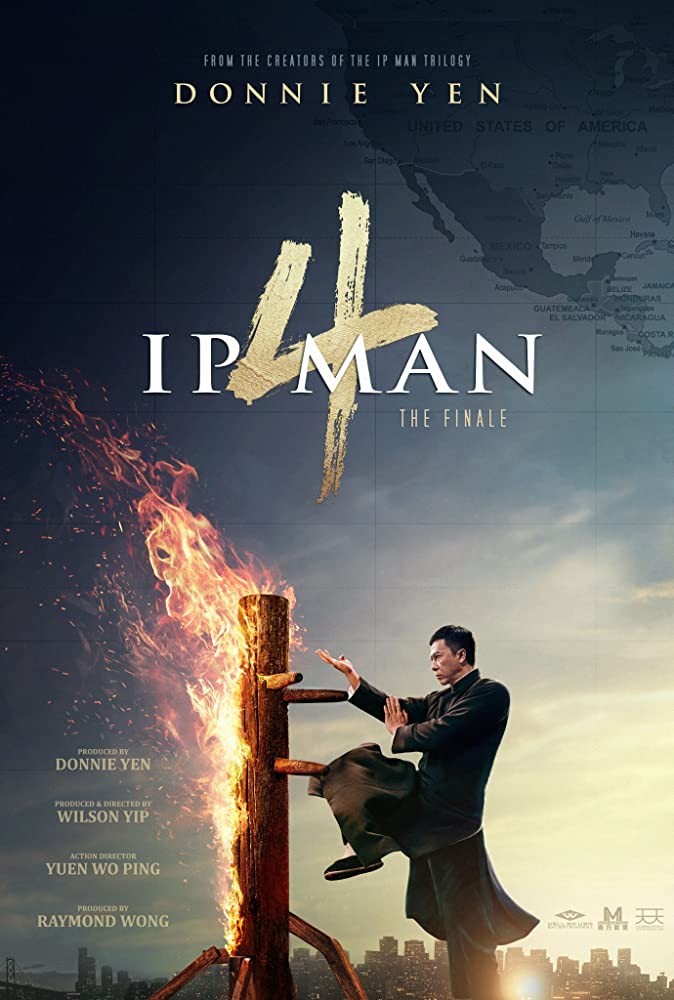 SYNOPSIS:
The final chapter of the Ip Man saga sees the titular hero wrestle not only with the challenges of the arena, but also with that of his personal life.
To say that Hongkong actor Donnie Yen is a 'legend' is quite a bit of an understatement. With a career that spans close to four decades, this action megastar has gone on to become one of the most recognizable faces in the film industry transitioning seamlessly from his Hong Kong home-turf to mainstream Hollywood with films like Blade II, Rogue One: A Star Wars Story and xXx: Return of Xander Cage. But it's when Yen took on the carrier defining role of Wing Chun grandmaster Ip Man, in the 2008 film Ip Man, that he truly came to his own. Since the release of that film Yen has been credited by many, for popularizing the Wing Chung martial arts style in China and it's quite possible that his work with the Ip Man films will be his most enduring legacy to fans.
The premise of Ip Man 4 sees our titular hero leaving his home-turf of Hong Kong, to travel to America at the invitation of his former student Bruce Lee (Kwon-Kwan Chan), who has begun teaching martial arts to Westerners. Unsurprisingly this initiative, coupled with Bruce Lee's cocky arrogance, doesn't sit well with the Kung Fu masters of San Francisco and as a result, trouble ensues. To better comprehend the Westernophobic stand taken by those martial arts masters, a brief look back at history is required. With the conclusion of the Californian Gold Rush and the completion of the Transcontinental railway in the late-1800's there was a sudden dearth in employment due to the weak American economy. And at that point this large Chinese workforce was seen as a threat to the local's job security. Repelled by extreme discrimination these Chinese immigrants clustered together in safe sanctuaries, that eventually expanded into Chinatowns later on. To add insult to injury they were further prohibited by law to testify in court, to own property, to vote, to marry non-Chinese and to work in institutional agencies. A century later, things have improved for the better, but the general mistrust between the two ethnic groups still remained. And it's because of this that the local martial arts community were in strong disagreement to what Bruce Lee was committing. But Ip Man trusted his prized pupil's instinct and saw the act of 'sharing martial art teachings with Westerners' as an opportunity to bridge the gap between two vastly different cultures.
Unfortunately, the film doesn't quite capitalize on this all-important message. And therein lies its biggest problem. Nearly all of the non-Asian characters here are two-dimensional caricatures at best, and their bad acting made it way worse. The film's primary antagonist Barton Geddes (Scott Adkins) is a racist marine-corps sergeant with zero backstory and unknown motivations. We know next to nothing about this character except the fact that he's a brutal fighter with a serious hard-on for Chinese. That's it. The cheesy dialogue spouting wooden performances by the foreign actors in the film could be due to the director's lack of experience in handling Western performers or it could be simply due the fact that they're bad actors. But the same cannot be said of Donnie Yen, Danny Kwok-Kwan Chan or Wu Yue.
With Ip Man 4 Donnie Yen delivers a more subdued and nuanced performance which is touching and heartfelt. He is a man who has weathered many-a-storm but now he must wrestle with challenges of a more personal nature. His son Ip Ching (Jim Liu) is often engaging in fights in school, not heeding his father's advice and to make matters worse Ip Man is diagnosed with throat cancer. Donnie Yen internalizes all these complex emotions and captures the toll they take on Ip in painfully realistic fashion. Much like Bing Crosby's veritable do-gooder Father O' Malley, Ip too is a cut above the rest, almost on an otherworldly level. Yen has said that this would be his final foray into Kung Fu actioners but let us hope that he will have one swing at it, if the need arises.
Danny Chan as Bruce Lee is another standout worth mentioning. Chan captures the legendary martial artists skill and bravado effortlessly here and it would truly be a dream come true if Chan and the producers of Ip Man teamed up for a Bruce Lee film in the near future. Wu Yue also delivers a memorable performance as Ip's former opponent turned ally Wan Zong-hua, Chairman of the Chinese Benevolent Association. But Ip Man 4 would be glaringly incomplete without the pulse-pounding action sequences choreographed by the inimitable Yuen Woo Ping (The Matrix), and we certainly get our fair share of that…and then some. Composer Kenji Kawai (Ghost in the Shell) once again conjures an epic score that is befitting the film's scope and ambition, capturing the film's quiet introspective moments as well as the bombastic action sections, with equal skill.
The Ip Man saga has truly immortalized the legendary martial artist with its films, of that there is no doubt. For over a decade the franchise has captivated the audience with its compelling characters, engrossing story and exhilarating action segments. Ip Man 4: The Finale has its flaws, but it does bring a satisfying conclusion to this epic saga.
Flickering Myth Rating – Film ★ ★ ★ / Movie ★ ★ ★ ★
Hasitha Fernando is a part-time medical practitioner and full-time cinephile. Follow him on Twitter via @DoctorCinephile for regular updates on the world of entertainment.