Athlete A, 2020.
Directed by Bonni Cohen & Jon Shenk.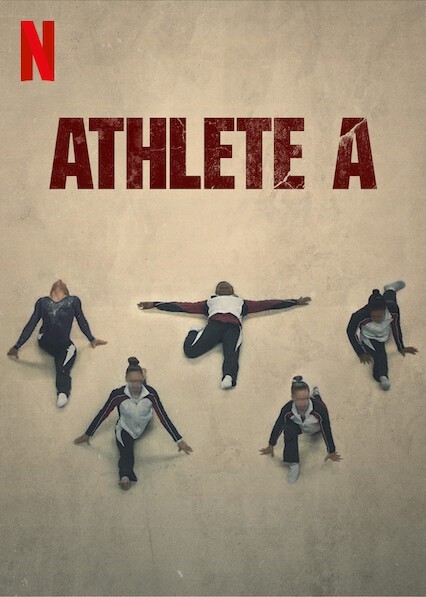 SYNOPSIS:
An investigation by an Indianapolis newspaper unearths decades of sexual abuse in the women's USA gymnastics programme, and the attempted cover up by its governing body.
In the last decade, few things seem to have captured the mood of a generation driven by rectifying the heinous injustices of both the past and present quite like the true crime documentary. Grim, gripping exposés of shocking, and often systemic, abuse have arrived with alarming regularity to streaming platforms, helping to drive important conversations calling for urgent change. Perhaps more so than anything else, in an era of social media and the push for accountability, the streamable documentary is the definitive sign of our time.
Athlete A, a new Netflix doc. from filmmaking couple Bonni Cohen and Jon Shenk, lifts the lid on the years of abuse and cover up by USA Gymnastics, and the failings of those with a responsibility of care. In one of sport's most shocking scandals, hundreds of girls and young women were sexually abused by Larry Nassar, a once-beloved doctor who served on the medical staff of the USA gymnastics national team for nearly 30 years. Nassar's crimes came to light almost by accident, when a team of journalists at the Indianapolis Star, investigating the under-reporting of sexual abuse in schools, were tipped off by a source to take a deeper look at America's gymnastics governing body.
The initial report by Marisa Kwiatkowski, Mark Alesia and Tim Evans unearthed the organisation's failure to properly escalate complaints of sexual misconduct, despite there being allegations against over 50 coaches in a 10 year period. Nassar was by no means the only offender, but it was the testimony of former gymnast Rachael Denhollander in the aftermath of the story breaking that pointed him out by name. Her story sparked a number of fellow survivors, including Jessica Howard and Olympian Jamie Dantzscher, to come forward with tales of similar experiences at the hands of Nassar, prompting an investigation into the conduct of a man who would engage in vaginal and anal penetration under the guise of medical procedure.
While the case against Nassar, who after "retiring" from medical duties in 2016 then tried to run for a school board position, constitutes a large portion of Athlete A, Cohen and Shenk opt to dig a little deeper. In exposing the dark side of elite sport, the documentary unravels as a wider examination of abuse, exploitation, victim blaming and the moral murkiness of pursuing greatness, where young athletes, some barely in their teens, are put through grueling coaching regimes and molded into marketing pawns for the purposes of corporate and financial gain. In more ways than one, as one interviewee puts it, "we sacrifice our young [in order] to win".
It's a searing indictment of the powers that govern sporting excellence more broadly: systems where duties of care are often secondary to victory, and where prioritising the safeguarding of reputations perpetuates a culture that cruelly strips children of their humanity, identity, and, in the case of USA Gymnastics, their innocence. However, in bookending Athlete A with a focus on Maggie Nichols — the athlete referred to by the film's title who, in 2015, reported her abuse and was overlooked in the selection process for the USA 2016 Olympic team not long afterwards — Cohen and Shenk ensure their movie never loses sight of the most important element of this story: the survivors.
In the end, Athlete A evolves into a tale of immense bravery and unity where, fittingly, it's those directly affected by irresponsibility, negligence and complicity that have the final word on their own story. Finishing on an empowering note, this is a film that helps amplify the voices of those who for so long felt voiceless. But, at the same time, this tragic, terrifying, inspiring saga carries with it an unnerving thought: just how many more stories of this nature remain untold? How many more predators like Nassar continue to operate undetected and unchallenged? And how many more survivors continue to suffer in silence?
Flickering Myth Rating – Film: ★ ★ ★ ★ / Movie: ★ ★ ★ ★
Athlete A is available to watch on Netflix now. 
George Nash is a freelance film journalist. Follow him on Twitter via @_Whatsthemotive for movie musings, puns and cereal chatter.