The Prey, 2018.
Directed by Jimmy Henderson.
Starring Gu Shangwei, Vithaya Pansringarm, Byron Bishop, Nophand Boonyai, Rous Mony, and Dy Sonita.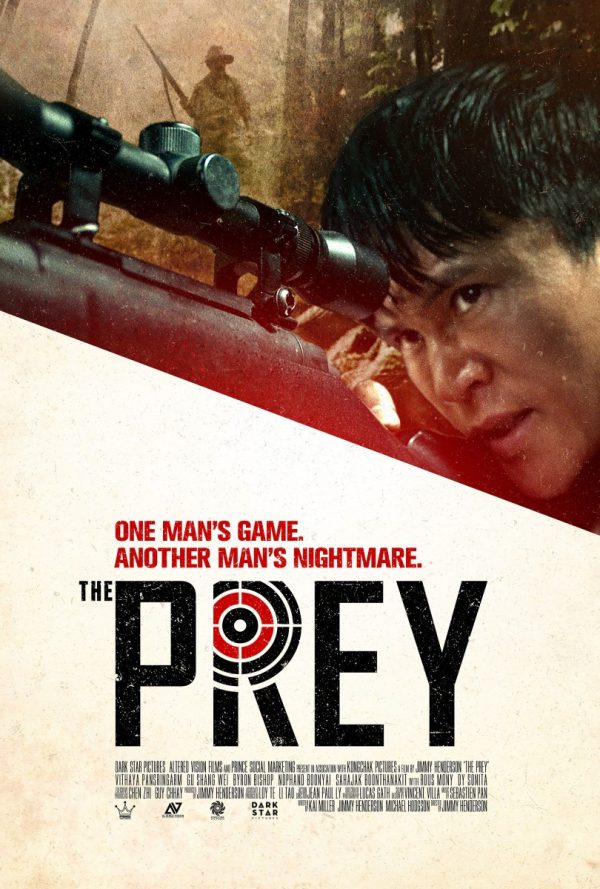 SYNOPSIS:
In a tropical hellhole located in the heart of Cambodia, man is the most sought-after prey…
Earlier this year Craig Zobel's horror-satire-thriller The Hunt debuted in cinemas amidst much controversy and divisiveness. It was the hot-topic amongst everyone in the entertainment industry, as the film's potentially dangerous impact on audiences was weighed and analyzed, over and over. Previously slated to open in September 2019 the film's release was pushed back in the wake of the Dayton and El Paso mass shootings. But this indefinite delay only heightened people's interest regarding the project with its opening being one of the most anticipated of the year 2020. Unfortunately, the film suffered a severe blow with the onset of the Coronavirus pandemic thus affecting its box-office returns. The Prey can best be defined as a more simplistic, watered-down version of The Hunt. When I use the term 'watered-down' its definitely not meant in a negative sense but rather to describe that this film lacks the former's controversial aspects of social commentary and political satire making its narrative fairly straightforward and less convoluted.
The story centers on undercover Interpol agent Xin (Gu Shangwei) who, while on one of his missions, gets wrongfully arrested by the local authorities and is carted off to an isolated prison governed by a sadistic warden (Vithaya Pansringarm). The film's lead played by Gu is a bit of a mixed bag, in that he neither exudes the charisma expected of a leading man nor does he have great onscreen presence. But the actor does capitalize on his strengths, which is his impressive athleticism and everyman charm, to elevate his performance to a great extent. Thai actor Pansringarm (Only God Forgives) turns in a fun, scenery-chewing performance as the film's primary antagonist. He is twisted and rotten to the core but Pansringarm infuses the character with an infectious charm, instantly making him memorable. Oh, and he loves torturing prison inmates while listening to country music, there's that too. Honestly, seeing actor Pansringarm bring his talents to a big-budget James Bond flick as its big bad, would certainly be a dream come true for me. The guy's that good. Rous Mony who plays Gu's weaselly sidekick Mony also does a lot with the material given to him. Character development isn't the film's strong suit from start to finish, but it would have been nice if actress Dy Sonita's role as Chinese Interpol agent Li was more fleshed out.
Director Jimmy Henderson who previously helmed the Cambodian actioner Jailbreak in 2017 has upped the ante here in terms of sheer scope and ambition crafting the countries' first million-dollar action movie. The script also written by him and his Jailbreak co-writers Kai Miller and Michael Hodgson doesn't try to reinvent the wheel, but instead makes the maximum usage of the exotic locales to deliver a nifty action-thriller. The action set pieces although small in scale also pack a punch, with cinematographer Lucas Gath expertly lensing them for maximum impact.
The Prey is a lean, no-frills action-thriller that plays to its strengths and does what is says on the package and then some.
Flickering Myth Rating – Film: ★ ★ ★ / Movie: ★ ★ ★
Hasitha Fernando is a part-time medical practitioner and full-time cinephile. Follow him on Twitter via @DoctorCinephile for regular updates on the world of entertainment.