Martin Carr reviews the fourth episode of Lovecraft Country…
Although 'A History of Violence' brings in period piece elements which encompass both racial disharmony and rising concerns around communism, at heart things are much more mainstream. Combining road trip conventions, Tomb Raider overtones and booby traps aplenty this teleplay by showrunner Misha Green is lighter than previous instalments. Although there hints at a heavier sub-text these are kept to a minimum in favour of Saturday matinee plotlines.
Episode four still combines the sultry southern sexual tension with a soundtrack which seduces throughout. Gospel, blues and culturally diverse influences still permeate every frame but issues of segregation slash emancipation are tempered. Mixing Lovecraft, witchcraft and historical fictions this show brings us to Boston turns all Indiana Jones by way of National Treasure, then tosses in some Goonies for good measure.
Atticus, Leti and Montrose are more than a measure for the tomb raiding, puzzle solving and underground exploration this calls for throughout. Ancient scripture, hidden trap doors and skeletal banquets define things as little by little secrets are shared. Abby Lee's Christina Braithwhite is beginning to figure more prominently cutting an ice queen swathe through every scene. All glacial beauty and piercing eyes, there is talk of mechanised solar systems and missing pages. Breadcrumbs are laid, maps consulted and parties separated as Lovecraft Country indulges audience expectations.
There is talk of planetary constellations and a subtle homage to the map room in Raiders of the Lost Ark, but beyond that anything heavier is in short supply. Jonathan Majors, Michael Kenneth Williams and Jurnee Smollett-Bell lead the charge, while Wunmi Mosaku and Aunjonue Ellis offer strong support as Hippolyta and Ruby. With everyone chasing George's obsession and Montrose trying to protect the inquisitive Atticus, Lovecraft Country still has a rich narrative vein to mine.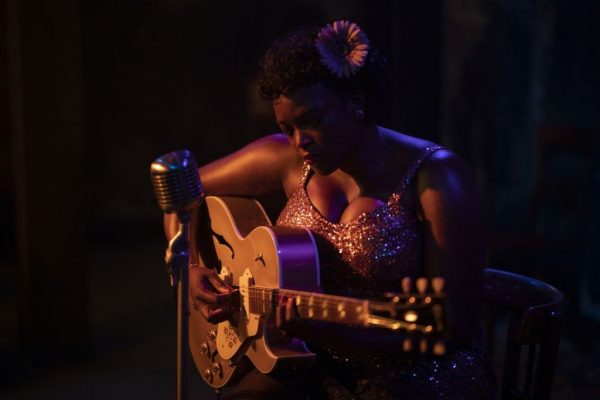 Mixing arcane runes, conjoined family histories and the misdemeanours of an America still finding its feet Misha Green keeps things engaging. This may have been a time of cultural and industrial unrest but 'A History of Violence' is not about browbeating viewers, nor having it resemble a pulpit preacher at Sunday service. Both Green, Peele and Abrams realise there is plenty of time for that and instead provide an episode which is as close to wholesome home grown adventure as possible.
Lovecraft Country never had any intention of playing by the rules yet at least it chooses to acknowledge they exist. With a little social commentary, a whole mess of chemistry and even moments of situational comedy it showcases a show runner who appreciates that sometimes people just want to be entertained.
Martin Carr