Rocks, 2019.
Directed by Sarah Gavron.
Starring Bukky Bakray, Kosar Ali, D'angelou Osei Kissiedu, Shaneigha-Monik Greyson, Ruby Stokes, Tawheda Begum, Afi Okaidja, Anastasia Dymitrow, Sarah Niles, Layo-Christina Akinlude, and Sharon D. Clarke.
SYNOPSIS:
A young teenage girl finds herself struggling to take care of herself and her younger brother after being abandoned by their single mother with no choice but to live out on the streets.
Director Sarah Gavron (Brick Lane, Suffragette) first debuted Rocks at TIFF in 2019, with the film then screening in London shortly after (at which I was lucky enough to attend), and critics and audiences alike spoke very highly of it, but it's impending nationwide release was sadly delayed, like many others, due to the ongoing pandemic. Now, with great pleasure, I can say this: a whole year after its premiere, this wonderful film is finally hitting UK cinemas.
There is something particularly authentic about Rocks, thanks in large part to the way that it was put together. Gavron designed the production as an all-female collaboration from the very beginning and, with the help of writers Theresa Ikoko and Claire Wilson, sought out a rookie cast from schools in East London. The girls were plucked from obscurity, chosen not just because of their natural screen presence, but because of the way they worked with each other.
Over the course of several months of workshops in 2017, real friendships were formed and the film's story gradually came to life. Gavron said, 'It was a case of going into youth clubs, into schools, and absorbing what the girls were talking about, what life was like. It was like a documentary research process, and quickly we noticed that friendship is everything for girls at that age.'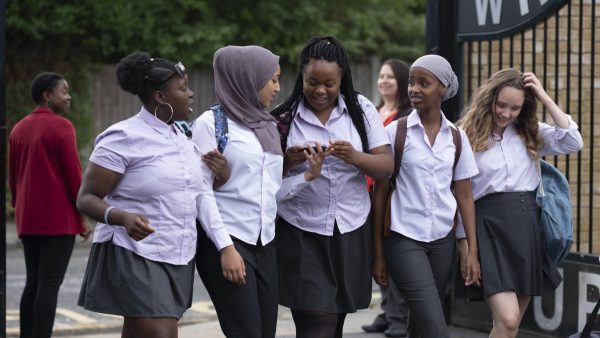 The film's story had not yet been written; rather, it was born from the time the girls spent together, all of whom became genuine friends over the course of the production. It's this specific vision that ultimately lends the film its magic since, at its core, Rocks is a story about female friendship. It isn't interested in boys, rebellion, or indeed any of the other clichés you'd ordinarily expect from something like this; it's simply about the importance of having good people around you, particularly to children like Rocks.
Gavron deserves great credit for the incredible performances she gets from her young cast, all of whom provide the beating heart of the story. Kosar Ali is the stand-out performer as Rocks' best friend Sumaya, stealing virtually every moment in which she appears, but there is truthfully no weak link here.
The performers are likeable enough to engage their audience even when doing very little. In fact, some of the best scenes involve the girls not doing much at all besides laughing and joking with one another; simply watching these girls hanging out makes for excellent viewing. Rocks isn't short of emotional beats, and when those moments come, they'll hit hard, but the reason they succeed so well is precisely because we have grown to love and care for these characters so much.
The film finds that perfect balance between drama and comedy, and is at once moving, powerful and often just plain fun. Despite the frankly traumatic nature of Rocks' experiences, and the growing fear that she is being stripped of her potential and that her teenage years are being stolen from her, the film is surprisingly optimistic in its outlook. Sure, it's difficult viewing at times, but it's certainly not bleak. This is a story about knowing when to ask for help, and about the power of that support when we seek it. The difficult decisions that Rocks has to make are made easier by the presence of those around her, and the closing moments present a potentially positive future for her and her brother, so long as they each surround themselves with good people.
There's no other way to put it: Rocks is positively joyous to watch. It's that rare film that has something for everyone, particularly children of a similar age, as it's one that speaks to their own experiences better than most others. It's a fascinating study of friendship, and one of the most respectful, heartfelt and authentic looks at adolescence in quite some time.
Both stylistically and thematically, the film is a wonderful mix of Andrea Arnold's Fish Tank, Céline Sciamma's Girlhood, and the work of Ken Loach, while also being unique and true to its own vision. Simply put, Rocks is one of the finest films of the year.
Flickering Myth Rating – Film: ★ ★ ★ ★ ★ / Movie: ★ ★ ★ ★ ★
Dan Barnes