Bad Tales, 2020.
Directed by the D'Innocenzo brothers.
Starring Elio Germano, Max Malatesta, Gabriel Montesi, Cristina Pellegrino, Giulia Melillo, Justin Korovkin, Giulietta Rebeggiani, Tommaso Di Cola, Ileana D'Ambra and Laura Borgioli.
SYNOPSIS:
A series of families living in or close to Rome intersect as the actions of parents exert a corrupting influence on their children.
If parents are messed up, the chances are their kids will be even worse. That's the central thesis put forward in Italian drama Bad Tales by the D'Innocenzo siblings. Their sophomore feature is a pitch-black take on that most well-worn of ideas. Surely, by now, we all know that the elegantly designed gardens of suburbia often conceal something that's sinister and corrupt. We've all seen American Beauty. Or The Stepford Wives. Or Blue Velvet.
Interestingly, the most obvious comparison point for Bad Tales is none of those films, but in fact Todd Solondz's very controversial Happiness. That pitch-black 90s comedy threw extreme themes at the audience in service of a bleak, nightmarish tale. That's where the D'Innocenzos are reaching. Sadly, their playfully grim comedy never really comes off and the drama is simply too uninteresting. Beyond the obvious, they don't really have anything to say.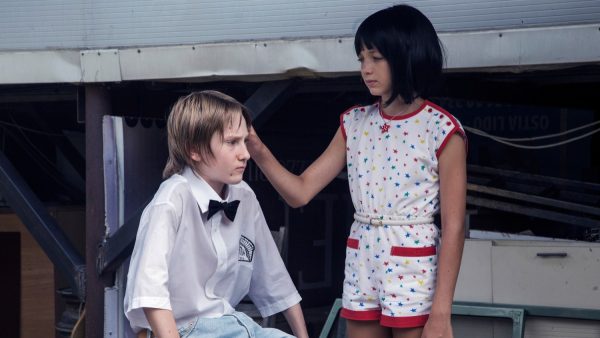 Everyone in this world is a vile specimen – and often borderline psychopathic. Suburban dads Pietro (Max Malatesta) and Bruno (Elio Germano) casually discuss the sex acts they'd carry out on a woman while at a neighbourhood party. Pregnant teen Vilma (Ileana D'Ambra) squirts breast milk on to a biscuit. Cowboy-like father Amelio (Gabriel Montesi) sees a measles outbreak as an opportunity to get his pale teenage son laid. Half of the neighbourhood kids are building DIY explosives on the advice of a depressed teacher. It's not a nice place to live.
Among the myriad problems with Bad Tales is the lack of variation between these characters. They're all exactly as evil as each other and exactly as suburban as each other. Amelio and son Geremia (Justin Korovkin) live a little off the beaten track and are marginally poorer but, beyond that, everyone seems to dissolve into a nebulous blob of loathsomeness. The D'Innocenzos are presumably trying to say something about real life, but the nonsensical opening contortion about being based on a "true story inspired by a lie; the lie was uninspired" – perhaps lost a little in translation – rather puts paid to any attempt at serious commentary.
The story unfolds in episodic form. It's more a selection of vignettes than it is a coherent narrative, zipping from location to location and family to family. Characters loom large for certain segments only to disappear for half an hour at a time. Most notably, sexually curious teenager Ada (Laura Borgioli) pops up at the centre of one of the movie's most intriguing scenes, but is never seen again. It's difficult to ever get a handle on anyone's story when the film isn't prepared to sit still for long enough.
And despite this episodic feel, Bad Tales still has a leaden, glacial pace that meanders aimlessly. It never seems as if it's going anywhere, with little chance that the stories will cohere or converge in any meaningful way. The D'Innocenzos have certainly constructed a suitably bleak delve into the world of suburban awfulness, but it's more than a little unoriginal and almost entirely inert.
Flickering Myth Rating – Film: ★ ★ / Movie: ★ ★
Tom Beasley is a freelance film journalist and wrestling fan. Follow him on Twitter via @TomJBeasley for movie opinions, wrestling stuff and puns.