Siberia, 2020.
Co-written and directed by Abel Ferrara.
Starring Willem Dafoe, Dounia Sichov, and Simon McBurney.
SYNOPSIS:
A barman in Siberia heads to a nearby cave where he explores his dreams and memories.
Abel Ferrara's sixth collaboration with Willem Dafoe is by a measure their most challenging – if perhaps not their most successful – to date, a beguiling 92-minute fever dream of a drama sure to confound and irritate as many as it entrances.
Clint (Dafoe) is a man living a mostly solitary life in Siberia, where he runs a down-and-out bar in the remote tundra, largely only visited by locals and transients, neither of whom the English-speaking Clint can communicate with. As Clint encounters an array of hallucinations, he finds himself drawn to a nearby cave, where he comes face to face with memories of his past and his dreams, "searching for his soul at the ends of the universe," as one character puts it.
If that logline sounds vague, it's because Siberia is a film all about obfuscation; Ferrara has little interest in spelling much out for viewers, even refusing to subtitle the dialogue of those who frequent Clint's bar, to place us in the same bemused-yet-intrigued position as the protagonist.
But that's really just the tip of the iceberg, because Ferrara adventurously abandons most semblance of conventional narrative form by more or less having Dafoe perform in a series of scarcely strung-together segments which seemingly plumb the depths of Clint's unconscious.
In one scene, Clint finds himself staring down a memory his own father – inexplicably played by Dafoe himself, with shaving cream smeared over his face – and that's honestly one of the more grounded, not-ridiculous asides on offer.
To spoil much of what Ferrara has in store simply wouldn't be fair, because most of Siberia's perverse watchability comes from its free-wheeling, anything-goes approach to style and plot. One minute we're watching a discomfortingly intimate sex scene between Clint and one of the several women he beds throughout, and the next he's dancing around a maypole to Del Shannon's "Runaway," these peculiar sights building towards a final scene which will raise eyebrows and hearty gut-laughs in equal measure.
Rather than attempt to extrapolate a specific meaning, Siberia is a film best bathed in as the stew of a man's subconscious that it presumably is. With enough slippery, dreamlike non-logic to make a David Lynch movie blush, pursuing a singular thematic takeaway is a fool's errand, though if it is about any one thing for sure, it's clearly an anguished, regretful father-son dynamic.
Willem Dafoe is of course far too interesting an actor – and clearly thoroughly invested in Ferrara as an artist – to do anything less than dive headlong down the rabbit hole with his director, and to that end his fearless performance is the glue which holds Ferrara's deranged popsicle stick house of dreams aloft.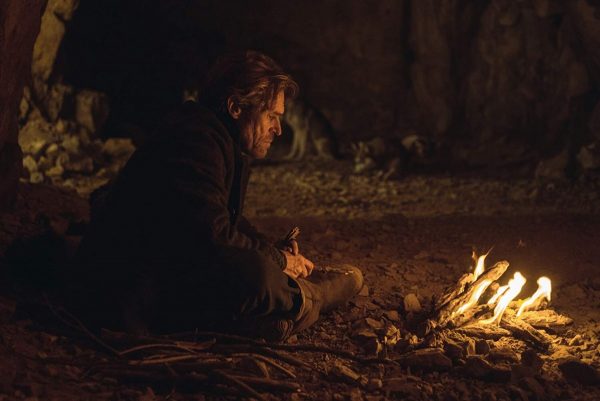 But it's certainly a frequently beautiful film in any regard, taking enthusiastic advantage of its titular locale's sweeping vistas, and milking the beauteous orange glow of that mysterious cave for every drop it's worth. The imagery throughout proves viscerally compelling enough that it needn't be tethered to a concrete meaning, even if it's easy to see how that may lose even fans of the director and star's prior collaborations.
Ferrara is at least smart to keep his ambitious spectacle of the bizarre short and snappy, because it has to be said that its ideas and indulgences likely wouldn't sustain quite so well over, say, two hours.
It is, for better and worse, pure uncut Ferrara madness that bleeds unsettling atmosphere from its every pore, and as transfixing as it is, I couldn't ever fault anyone who found it frustrating or even insufferable. In the very least, the film's occasional dips into outright silliness suggest Ferrara has a sure sense of humour about the whole head-scratching excursion.
I can't say with any certainty what Siberia is really about, but as a barmy subconscious sandbox for Willem Dafoe's compellingly unhinged performance, I was never bored. And many hours after watching it, its often troubling imagery continued to tick over in my mind.
Flickering Myth Rating – Film: ★ ★ ★ / Movie: ★ ★ ★
Shaun Munro – Follow me on Twitter for more film rambling.