Assemble Entertainment and developer Crazybunch have today released a playable demo of Leisure Suit Larry – Wet Dreams Dry Twice onto Steam.  This new demo includes over an hour of gameplay and will be available until the game's release on Steam and GOG on 15th October.  Want to watch how the demo goes? Watch the demo playthrough below…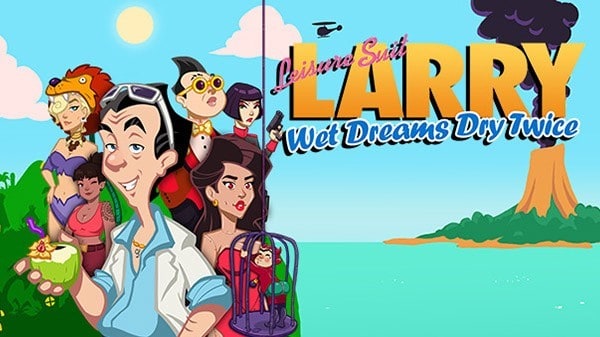 The Steam demo of Larry Laffer's latest exploits includes the game's official tutorial, a story recap, the entire first act on the island of Cancum and the first island of the Kalau'a archipelago.
In Leisure Suit Larry – Wet Dreams Dry Twice, Larry's adventure begins after the end of the events of Leisure Suit Larry – Wet Dreams Don't Dry and finds the love of his loins, Faith, has disappeared with barely a trace.  The only clue to her whereabouts is a faint signal from her PiPhone which points him on his journey to reunite with his love. Of course, on his way he will be tempted by many beautiful women.
Featuring:
50 beautifully hand-drawn locations spread over the Kalaua'a archipelago.
Meet and interact with over 40 new and old friends and chat up some attractive new women.
Help Larry Laffer solve cleverly designed (and sometimes slightly erotic) riddles and quests.
Sort Larry out with a happy ending.
Download the demo on Steam now.  Leisure Suit Larry – Wet Dreams Dry Twice will release on Steam and Gog on 15th October.
Assemble Entertainment has teamed up with ShareTheMeal to launch a Save the World edition of the game. Every purchase of this edition will provide two meals for hungry children around the world.  Both this and the regular edition can be pre-ordered now with a limited time 20% discount.