Eighteam, 2014.
Directed by Juan Rodriguez-Briso.
Starring Kalusha Bwalya, Dennis Liwewe, Christopher Katongo, Ciro Ferrara, Mauro Tassotti and Hervé Renard.
SYNOPSIS:
The against-the-odds story of how Zambia rebuilt its national football team after an air disaster led to the death of almost their entire squad in 1993.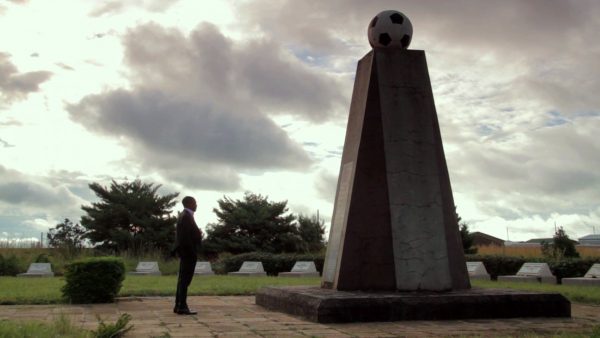 Football loves an underdog story. And it's difficult to find a tale of battling against adversity which is more poignant than that of the Zambian national football team. In 1993, a military plane carrying 18 members of the squad, along with the manager and multiple coaching and support staff, crashed into the Atlantic Ocean off the coast of Gabon. All 30 people on board were killed. What followed was a colossal rebuilding effort, culminating in a heavyweight clash with the Ivory Coast in the 2012 Africa Cup of Nations final – played just a few miles from the site of the crash.
That's the story told in Juan Rodriguez-Briso's inspiring documentary Eighteam, which premiered way back in 2014 on the anniversary of Zambia's independence, but is just now making it to British screens courtesy of Rakuten TV.
It's a written in the stars tale of sport as poetry, beginning with a metaphorical discussion of the phoenix and how it rises from the ashes before delivering a very real story of how, as one talking head puts it, "football normally pays off its debts". That match in Gabon took place 18 years after the disaster in which 18 players were killed, with 18 penalties taken in the incredible climactic shootout. Things don't get more perfect than that. The movie uses that shootout as a slightly awkward framing device, scything its relatively slight 65-minute running time into unnaturally short segments that mean there's never much of a cinematic flow.
But any structural concerns are secondary to the sheer emotion at play in this story. Rodriguez-Briso sets out the incredible potential of the Zambian team, established on the world stage via their 4-0 battering of Italy at the Seoul Olympics in 1988. Led by Zambian sporting icon Kalusha Bwalya – who was barred by his club from travelling with his teammates on the fateful 1993 flight – the team blazed a trail that seemed set to take them to their first ever World Cup finals, until tragedy struck.
Bwalya's contributions as an interviewee sit at the centre of the documentary, given his pivotal role on and off the pitch over the last 20 years. He's a charismatic figure with a clear love for both football and the country for which he scored so many goals and made such a difference. The doc was finished before his 2018 ban for allegations of accepting bribes from Qatari officials in his then role with FIFA.
Despite being slightly hamstrung by the awkward framing structure and perfunctory chapter headings, Eighteam unfolds as an exciting journey to the big moment. Zambia were at odds of 40/1 going into the tournament and, ahead of the final, the Ivory Coast were massive favourites at 1.5/1. It's a typical story of sport at its most unpredictable, powered by the clear passion of the interviewees. Football is described as a "universal sport" with the power to unify countries, and that's seldom truer than it is in Zambia.
Eighteam takes viewers on an uplifting journey through a nation's determined pursuit of sporting greatness, having had its "golden generation" rubbed out in tragic circumstances. It's somewhat ungainly from a cinematic perspective, but it has a terrific story at its heart and allows the genuine emotion of its interviewees to shine through. As a depiction of the power of sport to heal wounds, it's very powerful indeed.
Eighteam is available exclusively on Rakuten TV's Free Channel from 29th October.
Flickering Myth Rating – Film: ★ ★ ★ / Movie: ★ ★ ★ ★
Tom Beasley is a freelance film journalist and wrestling fan. Follow him on Twitter via @TomJBeasley for movie opinions, wrestling stuff and puns.