Mangrove, 2020.
Directed by Steve McQueen.
Starring Shaun Parkes, Letitia Wright, Malachi Kirby, Rochenda Sandall, Sam Spruell, Jack Lowden, Alex Jennings, Nathaniel Martello-White, Llewella Gideon, Gershwyn Eustache Jnr, Gary Beadle, Richie Campbell, Jumayn Hunter, Joseph Quinn, Derek Griffiths, Jodhi May, Richard Cordery, Tahj Miles and Samuel West.
SYNOPSIS:
Mangrove tells this true story of The Mangrove Nine, who clashed with London police in 1970. The trial that followed was the first judicial acknowledgment of behaviour motivated by racial hatred within the Metropolitan Police.
Expert filmmaking – as ever – from Steve McQueen, Mangrove is also storytelling at its finest. A part of McQueen's Small Axe anthology film series, set to debut on the BBC in the UK and Amazon Prime Video elsewhere, Mangrove is one of four episodes that all examine separate, real-life experiences of London's West Indian community.
Here, the director teams up with a sprawling, heavyweight cast, including Shaun Parkes (The Mummy Returns, Line of Duty), Letitia Wright (Black Panther), Malachi Kirby (Roots) and Jack Lowden (Dunkirk, Fighting with My Family), to shine a spotlight on the injustice faced by the Mangrove restaurant, a Notting Hill institution, and the Mangrove Nine, who faced a trial at the Old Bailey in 1971 on trumped-up rioting charges. This was a landmark case, being the first time the Metropolitan Police was forced to acknowledge institutional racism within its ranks.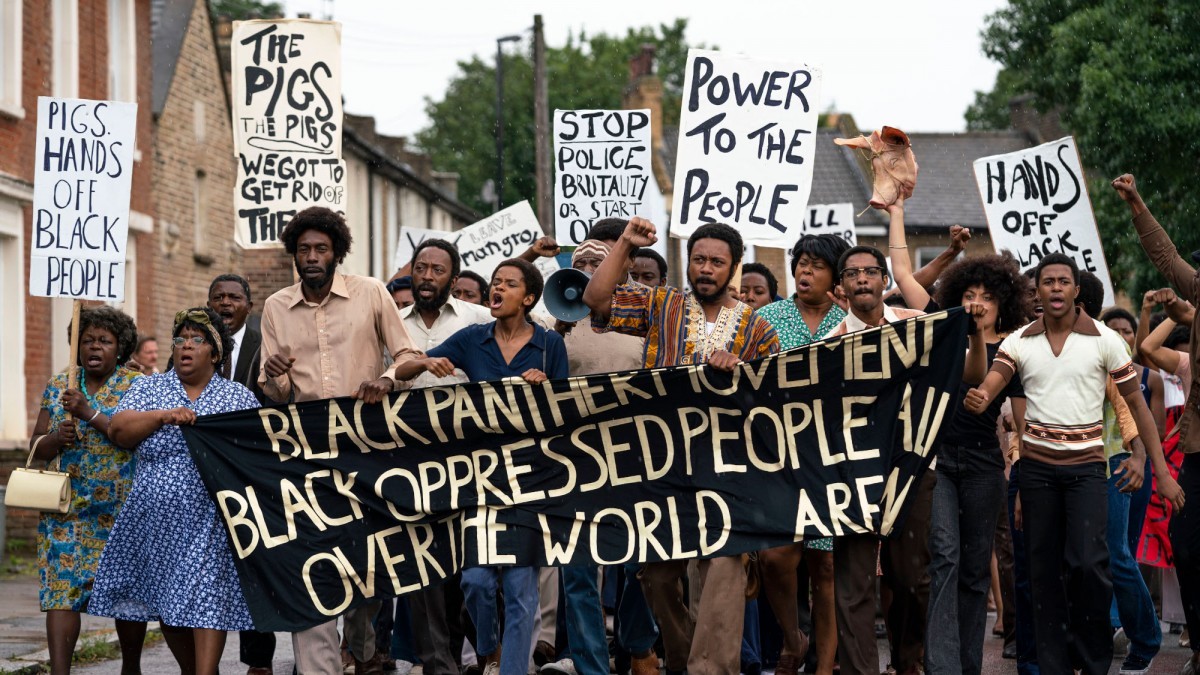 Mangrove is a deftly balanced film that sets up the tense atmosphere in West London for its Black inhabitants, adroitly moving between the interweaving storylines of it primary characters, including that of the Mangrove itself and its owner Frank Crichlow (Parkes), ahead of the culmination of their story at trial. It's a lot of ground to cover, but the story is kept tight and well-paced and allows the events to speak for themselves. As such a charged moment in twentieth-century British history – but one that is not widely taught nor spoken of – its importance and timeliness has only increased in the last few months. As such, Mangrove offers an engrossing, truly cinematic and hard-to-forget account of true events.
The whole cast doesn't put a foot wrong, and their passion is evident. It's particularly welcome to see actors like Alex Jennings and Samuel West taking on roles that reflect their usual casting as posh, educated white men – but this time in particular, as members of Britain's judiciary system, that's not a good look. Sam Spruell (Outlaw King, Legend) is superbly cast as the racist, bent PC Frank Pulley, both menacing and slippery, permanent (fast becoming trademark) sneer in place as he harasses the Black community of Notting Hill. The emotional beating heart of the film belongs to Parkes though, who, as Crichlow, refuses to bow to the pressure of a corrupt system. Having provided stalwart comfort to his community for so long, he clearly feeds on the commitment of his fellow accused, brought to life particularly ardently by Wright as Altheia Jones-LeCointe and Rochenda Sandall (Line of Duty, Criminal: UK) as Barbara Beese. The lengthy close-up on Parkes' face, as the foreman of the jury reads out the defendants' verdicts, is surely in line to be one of the most powerful shots of the year.
It's fascinating but sobering to see Mangrove put this story in its place in British history, less than fifty years ago. However, despite the frustrations of its characters' circumstances, and the heaviness of the storyline, Mangrove still makes space to celebrate the vibrant West Indian community of Notting Hill. Music, dance, food and togetherness are crucial ingredients of a film that pays loving tribute to its real-life inspirations.
Flickering Myth Rating – Film: ★ ★ ★ ★ ★ / Movie: ★ ★ ★ ★
Tori Brazier