Hannibal Rising, 2007.
Directed by Peter Webber.
Starring Gaspard Ulliel, Gong Li, Rhys Ifans and Dominic West.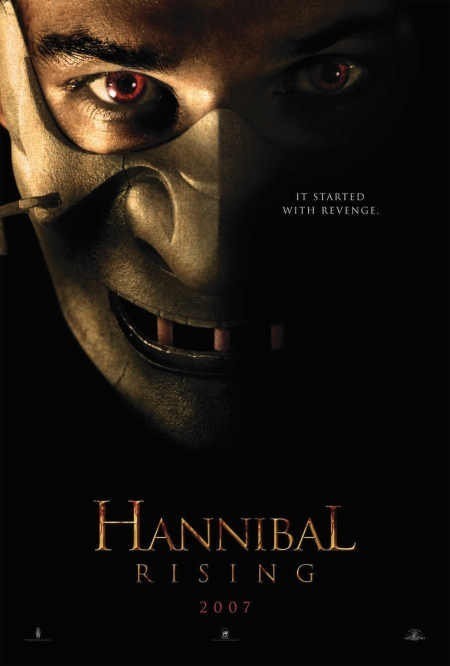 SYNOPSIS:
Years after the murder of his sister at the hands of Nazi collaborators during World War II, young Hannibal Lecter begins to systematically hunt down and kill the men responsible.
Leaping from the pages of Thomas Harris's best-selling novels, culinary cannibal Dr Hannibal Lecter has long been cited as one of the most iconic villains in cinema history. After four films showing Lecter in his cell and on the loose, it was only inevitable that we go back to the beginning to discover the origins of the charming psychopath. So today, we're going back to the beginning of the good doctors' story in Hannibal Rising.
What marks Hannibal Rising out from its predecessors is that it is the only film in the franchise to boast a screenplay by novelist Thomas Harris, the creator of the Hannibal character. Yet, despite Harris's involvement, its been strongly suggested that he only wrote the film (and the original novel) to prevent producers from going ahead with a prequel without a source novel to draw from. And, based on how the film turns out, you can tell. This is a story that could have easily focused on an original character, and perhaps it should have. Yet, because Harris was determined to maintain control over his most famous creation, he instead uses it to tell what is, frankly, an unnecessary origin story.
The film provides an ambitious backstory to Lecter what with it featuring scenes of war, the Iron Curtain, and the hunt for Nazi war criminals in post-war Europe. This plot is not a bad one and, while it's perhaps unoriginal, it could have easily made for a decent Boys from Brazil/Odessa File style Nazi-hunting adventure, if only it had a different character as its lead. Yet, because this is supposed to be Hannibal Lecter's back story, a man who is a murderous psychopath, his out of place presence in a Nazi-hunting revenge story severely undermines its dramatic impact. The decision to make the men that he kills sadistic war criminals who probably deserve what's coming to them, awkwardly turns Hannibal Lecter, who is destined to become a monstrous serial killer, into an anti-hero. This change in character is terribly ill-fitting and clumsy, robbing Lecter of the mysterious energy that made him such a compelling and terrifying villain and undermining the film as a whole.
The only real question I had by the end, is wondering why, after getting his revenge, Hannibal moved to America and started to kill people who, aside from rudeness, were mostly innocent. It's things like these that show why not every character needs a prequel. Also is it me or is the climax of the film almost exactly like the ending of Liam Neeson's Taken? I only ask because it features Hannibal being forced to save a loved one from the villains who happen to be sailing through Paris on a boat. It did make at least wish I was watching Taken.
On a technical level, Hannibal Rising is a competently made film. The production values are decent, with the World War II set opening boasting an ambitious battle scene with tanks and pyrotechnics that stands out as a rare high point. What is severely lacking, however, is in the directing department. I should stress that while the direction from Peter Webber is decent enough, he never seizes the opportunity to do anything that would mark the film out from any other generic post-war drama. Given that this is a series whose success, I feel, is based on its directors attempting to give each film its own style, Webber's pedestrian direction and bland visual style serves to make the film all the more disappointing.
Taking on the unenviable task of following Anthony Hopkins iconic portrayal of Lecter is French actor Gaspard Ulliel and, honestly, he does a pretty decent job. Ulliel looks the part of a charming sophisticated killer, impossibly handsome (he was the face of Chanel after all) and sporting a smile that is chilling as it is alluring. Ulliel's only falters whenever he attempts to mimic Hopkin's distinctive manner of speech, with his delivery (and noticeable French accent) not quite suited to this approach. It's not a terrible impression by any stretch, but it does take away from an otherwise decent performance.
The supporting cast of Gong Li and Dominic West is solid enough, Li as Lady Murasaki, Hannibal's aunt and love interest (aunt by marriage, so that makes it less weird?), with West, diligently taking on the role of a detective suspicious of Lecter's exploits. Rhys Ifans, an otherwise fine actor, gives what is easily the worst performance of the film, portraying a villain so cartoonishly evil it's unintentionally funny.
Hannibal Rising isn't a great film by any stretch, nor is quite as terrible as some reviews would suggest. Yet, it is also a boring forgettable film that provides a lacklustre and unnecessary backstory to one of cinema's scariest villains. Check this one out if you're curious, but otherwise, give it a miss.
Flickering Myth Rating – Film: ★ ★ / Movie: ★ ★
Graeme Robertson