The Descent, 2005.
Directed by Neil Marshall.
Starring Shauna Macdonald, Natalie Mendoza, Alex Reid, Saskia Mulder, MyAnna Buring and Nora-Jane Noone.
SYNOPSIS:
A group of friends on a spelunking holiday themselves trapped within the complex maze of dead ends cramped caves. Their ordeal is only worsened when they are forced to fight for survival against vicious creatures lurking in the darkness.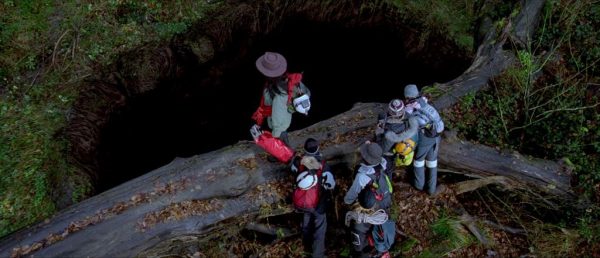 There are a lot of things I like to do for fun. Reading, watching films or TV, drinking excessively to drown out the voices in my head, playing video games etc. However, the one thing I will never do under any circumstances, even if I was threatened with bodily harm, is go fucking cave diving. Yet, people seem to think exploring deep subterranean caves from which there are no apparent means of escape is the ultimate ideal of a good time. Well, for those people I have something for them; Neil Marshall's The Descent, a film bound to convince anyone not only to avoid diving into caves but also to seal up the damn things forever.
Set almost entirely within a system of caves, The Descent has the perfect setting for a horror film. Every minute spent underground and every step deeper into its caverns serving to tighten that already tangled knot in the pit of your stomach. The first scary sequence is nothing fantastical, but terrifyingly simple as our main heroine Sarah, suffers a panic attack and becomes momentarily stuck. It's a scene in which there initially appears to be no urgency, but as she struggles to break free, her panic quickly becomes the viewers panic, breaking out into a nervous sweat as we worry she might really be stuck.
This nightmare is followed by an even worse nightmare after the characters realise they are lost and have to delve deeper into the cave to find an exit. Forced to climb over a vast and deep chasm, the first and last climbers forced to set and retrieve the hooks needed for the ropes. It's another terrifyingly simple scene and another that had me gripping my chair and breaking out in sweats, the tension being almost unbearable to endure.
The entire first half is a terrifying and exhilarating ordeal and one of the most unrelentingly scary films I've ever sat through. The production design by Simon Bowes is incredible, a meticulous recreation of a dark, damp underground cave system that looks and sounds like the real thing to the point that I honestly thought it was upon my first viewing. The limited lighting makes scenes near impossible to see at times, and while this is something that should ruin the film, it instead enhances the experience. Putting the viewer in the shoes of our protagonists, never able to quite make out what is in front of them or lurking just over their shoulders.
The first half of the film is entirely devoted to our heroines increasingly disastrous cave dive. And then, just as things have already gone from bad to worse, the film introduces carnivorous cave-dwelling creatures who stalk our heroines. The film could have discarded the monsters entirely, and it would be brilliant regardless. Yet, by including them, director Neil Marshall is essentially adding a cherry on top of what is already a wonderfully terrifying experience.
These creatures are fast, ferocious and utterly relentless in their pursuit of our heroines who are forced to quickly adapt themselves in a series of increasingly vicious fights. The special effects are exemplary with the scenes of blood spewing, bones poking out and skulls being bashed in a gruesome fashion that often looks a tad too realistic. Suffice to say; this is not a film for the faint-hearted.
The ensemble cast is brilliant throughout, quickly gaining our sympathies as their trip turns into a nightmare. However, I would have liked them more if the characters had been developed a bit more thoroughly. However, the stand out is my fellow Scot Shauna Macdonald as Sarah, who, as the film goes on, undergoes a terrifying transformation from a grief-stricken widow into a blood-drenched killing machine with an icy stare.
While The Descent is superb, it does have a few, albeit very minor issues. While the scenes of the creatures attacking our heroines are frightening, the sometimes chaotic editing style and jerky camera movements can make things difficult to follow. Although, I concede that this could very well be a deliberate move to create a disorienting chaotic atmosphere. My biggest gripe comes with the musical score. I should stress that I do not think there is anything wrong with composer David Julyan's score, it's perfectly fine. I just think the film didn't need one. The scenes of our heroines trying to stay quiet are already terrifying enough with music, just imagine how much more terrifying they would if played out in silence. Again, these are minor issues, and I admit at this point that I am just nitpicking.
Dark, damp, claustrophobic, gore-soaked and brilliant from start to finish, The Descent is a fantastic and terrifying film I will gladly rank as one of the best horror films of the 2000s and a rare bright spot in what was a rather dark time for horror cinema. Do yourself a favour, don't go diving into dark caves, check this film out instead.
Flickering Myth Rating – Film: ★ ★ ★ ★ ★ / Movie: ★ ★ ★ ★ ★
Graeme Robertson