Although the upcoming adaptation of Frank Herbert's Dune from director Denis Villeneuve has been delayed to 2021 as a result of the ongoing global health crisis, the film has received its age rating from the MPA.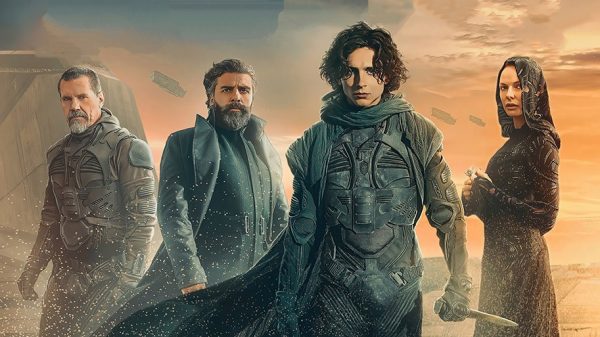 Denis Villeneuve's Dune has officially been rated PG-13 for "sequences of strong violence, some disturbing images, and suggestive material."
Although the film is still almost a year away, Brain Herbert, son of Dune author Frank Herbert, has recently offered his thoughts on the upcoming adaptation and currently has nothing but positive endorsements for the film.
"I was very impressed by the trailer, and I was thrilled to actually be on the movie set in Budapest last year, where my wife and I watched the filming of several scenes," Herbert said. "This is a really big movie, a major project that will forever be considered the definitive film adaptation of Frank Herbert's classic novel. Fans are going to love this movie. Denis Villeneuve is the perfect director to do Dune."
SEE ALSO: Alejandro Jodorowsky has a mixed reaction towards the first trailer for Denis Villeneuve's Dune
Are you looking forward to Denis Villeneuve's adaptation of Dune? Let us know on Facebook or Twitter @flickeringmyth…
A mythic and emotionally charged hero's journey, "Dune" tells the story of Paul Atreides, a brilliant and gifted young man born into a great destiny beyond his understanding, who must travel to the most dangerous planet in the universe to ensure the future of his family and his people. As malevolent forces explode into conflict over the planet's exclusive supply of the most precious resource in existence—a commodity capable of unlocking humanity's greatest potential—only those who can conquer their fear will survive.
Dune is directed by Denis Villeneuve (Blade Runner 2049) and sees Timothee Chalamet (Call Me By Your Name) leading the cast alongside Rebecca Ferguson (Mission: Impossible – Fallout), Oscar Isaac (Star Wars: The Last Jedi), Dave Bautista (Avengers: Infinity War), Stellan Skarsgard (Mamma Mia! Here We Go Again), Charlotte Rampling (Red Sparrow), Zendaya (Spider-Man: Far From Home), Javier Bardem (Loving Pablo), Jason Momoa (Aquaman), Josh Brolin (Avengers: Endgame), Stephen McKinley Henderson (Fences), Sharon Duncan-Brewster (Sex Education), and Chang Chen (The Assassin).