Tom Jolliffe looks at one of the surprise critical successes of the year, Greenland…
Remember when there seemed to be a new disaster film out every 6 months? Some world ending disaster, either natural or extra-terrestrial, would put the fate of mankind in the balance. The CGI tools at the disposal of filmmakers also meant that these big budget opuses could feature relentless and occasionally dazzling scenes of apocalyptic destruction. Often these films (in many cases directed by Roland Emmerich) were less inclined to pay as much heed to the drama, often opting for rote characterisations given minimal depth throughout the picture. A film like 2012, a hodgepodge collection of every single disaster film cliché imaginable never quite feels dramatically genuine, and often resorts to melodrama. The result feels cheesy as the film clumsily blunders between the drama and the sizeable (and admittedly impressive at the time) sequences of tsunamis et al. Whatever the focus in many of these 21st century disaster blockbusters, they often get annihilated by critics and enjoyed predominantly by those who just want some overblown CGI laden spectacle. The drama can come secondary.
Some films occasionally manage to be a bit different. Cloverfield had an interesting spin but as CGI gets continually more dazzling, it becomes increasingly overused as a crutch, at the expense of intimate characterisation. For a few years now, with very few exceptions, it felt like we might not see a decent disaster film again. Stepping aside from Disaster films momentarily too, let's look at Gerard Butler. He's become something of an action hero, cross unlikely romantic comedy lead in films that since breaking out with the enjoyably ludicrous 300 (probably remaining the best harnessing of Zack Snyder's abilities) seemed to get worse. That being said, he found somewhat surprising success with the Has Fallen trilogy. It began well with Olympus Has Fallen (a better movie than White House Down which had the beefier backing and more A-list cast on the identical premise), stuttered with the oddly xenophobic and nasty London Has Fallen, before delivering Angel Has Fallen (which I thoroughly enjoyed as a slice of B movie action that does exactly what you want it too, no more/less). Butler is to film critics, what a slab of ham is to a militant vegan. The two, almost entirely, don't mix. Butler has starred in films that have predominantly been savaged. Sometimes fairly, sometimes a bit harshly.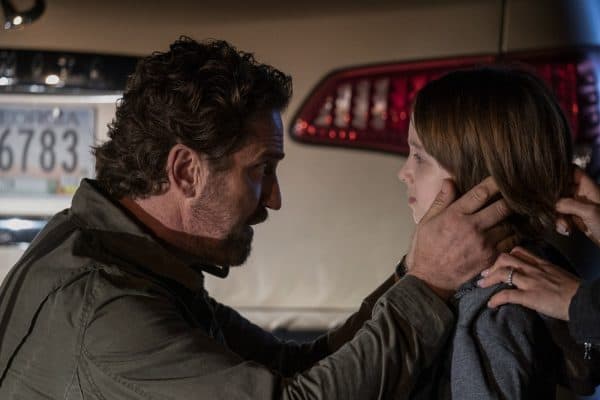 So Greenland comes along. You place Butler in the disaster film genre. It's helmed by his Angel Has Fallen director, Ric Roman Waugh (who's had a steady directing output so far, including one of the last films to get Dwayne Johnson to not rest on his personality in Snitch). If you were gonna play a Rotten Tomatoes guessing game about the film score, even the most generous among us might have put their chips somewhere between 30-40%. The betting man would have surmised that at best this could passably entertaining but decidedly mediocre outside of the set pieces. Well colour him surprised and colour me surprised because Greenland clocked in at 77% and you know what else? I think some people were still a little unnecessarily snobby on the film.
Greenland has had some excellent reviews. It's had some begrudgingly good reviews, but still dismissed as dumb as a bag of spanners or compared in lugheaded terms to many other Butler genre pictures. Does it break new ground? No. What it does do, is deliver a disaster film with a decent script, tense pace and a journey that often feels grounded in some kind of reality. Additionally, and most importantly, the film sensibly opts to keep its big visual FX moments to very select points in the film. The moderate budget probably aiding that choice, but in actuality, it allows us tense set pieces with a mother and son trapped inside a pharmacy currently raided by armed looters, or Butler involved in a fight to the finish in the back of a moving truck. It's not all about the flaming comets coming down (but when they do, those set pieces play their VFX card well). This is effective, nicely written and expertly rejuvenates a genre becoming increasingly hackneyed and overly reliant on the FX (we'll be seeing a giant ape battle a giant lizard later this year which might produce entertainment, but perhaps less dramatic heft).
There are of course recognisable tropes. Butler as John Garrity has only just reconnected with his estranged wife to make amends after an affair. That clichéd tension is there, but it's a backdrop to what becomes a desperate quest to find a salvation that may not even exist. It's absolutely gripping start to finish which is credit to writer Chris Sparling and Waugh's direction (and it's very well edited). I mean this film was surprisingly engrossing. Is it the best disaster movie you'll see? No, but in recent years, certainly. It's 2012 with subtlety and emotional weight. Additionally, key to the film being so effective is in the central performances of our two leads. Morena Baccarin is superb. Sparling manages to find an effective way to split her and Butler apart during the film, which leads to individual struggles the pair face before they can reconnect. The oft maligned (again, a tad unfairly) Butler gives what might be his best performance ever. He's superb. A film like this, which goes at a juggernaut pace, needs its drama to hit you quickly and effectively and the tension built, the situations they're put in and the performances are brutally effective in keeping the audience involved (and making us care). It sounds basic, but the more you care about the characters and situations, the more effective the bells and whistles of your set pieces will be.
The most important reason the film succeeded was in the creative ambition, to do something that would keep the audience emotionally invested. It feels like it's the first order of importance and the set pieces are secondary (in this genre, but in blockbusters generally, it can often by the opposite). This is a key reason it works, by taking a well worn formula and engaging us. John Wick did this well for the revenge genre, in a film that would ordinarily have been tiptoeing around the straight to video market. Wick took those old elements, refreshed the material and created an iconic hero, and whilst it didn't call for quite as much emotion, still managed to carry enough weight to make it stand out from many similar of the genre. Greenland very much proves there's life in the old dog yet. You can decide whether I'm talking about disaster films, Gerard Butler or both (it's both).
Tom Jolliffe is an award winning screenwriter and passionate cinephile. He has a number of films out on DVD/VOD around the world and several releases due out in 2021, including, Renegades (Lee Majors, Danny Trejo, Michael Pare, Tiny Lister, Ian Ogilvy and Billy Murray), Crackdown, When Darkness Falls and War of The Worlds: The Attack (Vincent Regan). Find more info at the best personal site you'll ever see…https://www.instagram.com/jolliffeproductions/