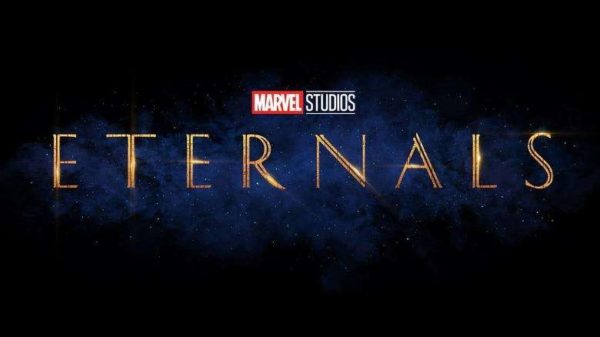 If it hadn't been for the coronavirus pandemic, we'd have already met Marvel Studios' newest superhero team this past November, but as it happens we still have some nine months to wait before the Eternals make their grand entrance into the Marvel Cinematic Universe.
So far, we've seen very little in the way of promotional material from Eternals, but some new promotional artwork has surfaced online from the cover of a 2022 calendar, and it gives us our very best look yet at the cast of the cosmic superhero blockbuster.
Angelina Jolie's Thena and Kit Harington's Black Knight are absent, but from left to right we have Lia McHugh as Sprite, Barry Keoghan as Druig, Gemma Chan as Sersi, Brian Tyree Henry as Phastos, Richard Madden as Ikaris, Kumail Nanjiani as Kingo, Don Lee as Gilgamesh, Salma Hayek as Ajak and Lauren Ridloff as Makkari…
SEE ALSO: Thanos creator Jim Starlin believes the Mad Titan will make a "guest appearance" in Eternals
🚨 LINDOS | Uma imagem comercial para #Eternals mostra com detalhes todos os personagens

Via: https://t.co/brlDD6Wwg0 pic.twitter.com/ltBGjQrdj0

— ETERNALS BRASIL (@EternalsBRA) February 26, 2021
Marvel Studios' Eternals features an exciting new team of Super-Heroes in the Marvel Cinematic Universe, ancient aliens who have been living on Earth in secret for thousands of years. Following the events of Avengers: Endgame, an unexpected tragedy forces them out of the shadows to reunite against mankind's most ancient enemy, The Deviants.
Eternals is directed by Chloe Zhao (The Rider) and features a cast that includes Angelina Jolie (Maleficent), Richard Madden (Bodyguard), Don Lee (Train to Busan), Salma Hayek (The Hitman's Bodyguard), Lauren Ridloff (The Walking Dead), Brian Tyree Henry (Child's Play), Lia McHugh (American Woman), Kumail Nanjiani (The Big Sick), Kit Harington (Game of Thrones), Gemma Chan (Captain Marvel) and Barry Keoghan (Dunkirk).