Ricky Church on the best Darkseid stories…
There were many things to be excited for with Zack Snyder's Justice League, from the restoration of Snyder's (mostly) intended vision for the DC team-up film, Ray Fisher's full story as Cyborg and the removal of Henry Cavill's moustache-less CGI'd face. One of the most exciting aspects, however, was the inclusion of DC's biggest and most powerful villain Darkseid. Referenced only in name in the original 2017 version, Darkseid is actually seen full-on in a few scenes and though his appearance still amounts to an extended cameo, his first time on the big screen showed off how menacing and evil he is compared to the likes of Steppenwolf and other villains in the DCEU.
What makes Darkseid such a threat to Superman and the rest of the Justice League is the depth of his ruthlessness and cruelty. He's not like The Joker where Joker may have been a tragic failed comedian who experienced one bad day that sent him over the edge. He's not like Lex Luthor where Lex blames Superman for all his problems and views himself as the true hero for humanity. Darkseid is just an irredeemable, unrelenting force of darkness who seeks to conquer all life in the universe and beyond. His film introduction completely captures his character and though it may be a while before we see him again now that Warner Bros. has shelved Ana Duvernay and Tom King's New Gods, his presence is still exciting nonetheless. To celebrate his arrival on the big screen and scratch that itch the film and New Gods' absence leaves, here are some of Darkseid's best stories in the comics that best captures Darkseid's evil essence.
Fourth World
There is no better place to begin than the Fourth World saga from the legendary Jack Kirby, the man responsible for Darkseid's creation as well as that of the New Gods, Mister Miracle and other characters who inhabit the Fourth World. Telling the story through several series Kirby wrote and drew himself, he sought to elevate the comic book medium in the early 1970s through an epic saga that introduced readers of the DC Universe to the pantheon of New Gods and their eternal war of good and evil. Ruling Apokolips was Darkseid, a powerful tyrant who would stop at nothing until all life bent to his will. Kirby set a tone for Darkseid that has rarely changed from his vision as he showcased Darkseid's strength as a master manipulator. He would rarely throw a punch or engage in a fight, often using his vast collection of underlings to do his bidding across multiple fronts.
Darkseid seemed to always be in control of a situation and was easily adaptable if he wasn't, making it to his benefit in the long run. Darkseid was patient and preferred playing the long game rather than jumping right in as most supervillains are wont to do. And the moments where he did engage in a fight showed how strong, ruthless and brutal he could be whether he was using his omega beams, lasers from his eyes that could bend in any direction he wishes and instantly vaporize his foe, or simply slapping Desaad around for speaking out of turn. It was clear Darkseid was not a villain to be trifled with and he still stands as a testament to Kirby's influence in the comic industry.
Superman/Batman: Supergirl
If Darkseid has any superhero as his primary enemy, it is without a doubt Superman. The Man of Steel is the polar opposite of everything Darkseid represents: good, compassionate, selfless, heroic. The only thing they have in common is how powerful they are and even then it can be argued Darkseid is the stronger of the two. Superman's power is why Darkseid has made attempts to control Superman through mind control or other means since a Kryptonian by his side would give Darkseid even more power. However, if Superman is not the Kryptonian to be controlled, there is always another with his cousin, Supergirl.
In the 2004 Superman/Batman: Supergirl from writer Jeph Loeb and artist Michael Turner, the heroes discovered Kara Zor-El, Superman's long-lost cousin who also survived their planet's destruction and was sent to Earth, arriving decades after Superman. As he, Batman and Wonder Woman attempt to teach her how to control and properly use Kara's powers, Darkseid learns of her existence and kidnaps her, brainwashing her to lead his guard and armies. It forces the three DC icons and Darkseid's former lead guard Big Barda to travel to Apokolips and rescue Kara, leading to some very entertaining battles. Throughout it all Darkseid is cool and collected, watching Supergirl fight Superman with a detached curiosity. The only moment he loses his cool is with Batman in a rare one-on-one moment these two characters share. Loeb captures much of Darkseid's character in the story with how in control he is while Turner's depiction of the villain is quite intimidating, especially when he actually does engage in physical battle. Of particular note to Darkseid here is how he honours his word to release Kara and never make a move against her again… only to later show up at the Kent farm revealing to Superman that his word said nothing about coming after Superman himself. It further displays how Darkseid is, for better and worse, a man of his exact word.
The story was also adapted as the 2010 animated feature Superman/Batman: Apocalypse with Brooklyn Nine-Nine's Andre Braugher voicing Darkseid.
Final Crisis
In every story where Superman or the Justice League face off against Darkseid, they prevail and save Earth and/or the entire universe. However, writer Grant Morrison began his big DC event series Final Crisis with one question: what if Darkseid actually won? After finally gaining the Anti-Life Equation, a source of power that would allow him to control the universe, nearly all of Earth is a thrall to him with Wonder Woman now leading his Furies, Batman captured and experimented on and Superman vanished to places unknown. Darkseid's victory doesn't just threaten the universe, but the entire multiverse of alternate worlds and realities. Only a small band of resistance fighters and heroes who remain outside of Darkseid's control have any hope of stopping him.
Morrison's Final Crisis is a very crazy and trippy story that is typical of his style, but that doesn't stop the fact the story is one of the more darker series DC has done in recent memory. To Morrison, Darkseid is evil incarnate and he certainly nailed that aspect as Darkseid was unforgiving and ruthless whenever he showed up. Throughout Final Crisis he revels in his actions and is gleefully evil, taking a certain amount of pride in seeing Superman's reaction to a devastated Earth and the 'death' of one of his best friends. J.G. Jones and Doug Mahnke did a great job in the series of presenting the dark world of Darkseid's victory and what a monstrous being he was after inhabiting a human, slowly transforming their body into a new one for him. Final Crisis may not be everyone's cup of tea, but it definitely is one of the most significant stories featuring the Apokoliptican villain in his publication history.
Justice League: Origin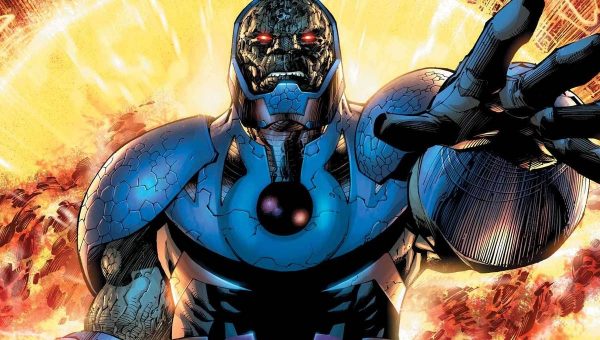 When DC rebooted their comics continuity in 2011 with The New 52, the Justice League became a team of fresh heroes who had never fought alongside each other, much less even really knew each other. Writer Geoff Johns took this opportunity in his first arc of the Justice League title to showcase a big enough threat that would cause such a group of different heroes (as well as conflicting egos with Batman and Green Lantern) to team up together. For Johns, there was no other being than Darkseid who demanded such an action. As Darkseid's forces suddenly began invading the world, Batman, Superman, Wonder Woman, Green Lantern, The Flash, Cyborg and Aquaman joined together and came face-to-face with Darkseid himself when he arrived on Earth.
Unlike previous iterations of the character, Johns' introduction to Darkseid didn't use subtlety or manipulating tactics to achieve his goals. Rather, he showed up and immediately engaged in battle with the soon-to-be League, wiping the floor with them in their initial encounter. He also didn't speak very much, but that wasn't much of an issue thanks to Jim Lee's stunning visuals as he displayed how imposing and threatening Darkseid can be in battle. Though the New 52 had its flaws, Johns' Justice League included, his new origin for the Justice League and their first battle with Darkseid still made quite an impression.
This story was also adapted as 2014's Justice League: War, the first in DC's shared animated continuity of films at the time.
Justice League: The Darkseid War
Just as Johns began The New 52 with a threat from Darkseid, he ended that era of DC's continuity with Darkseid returning to Earth in a war not against the Justice League, but another powerful enemy of the DC Universe with the Anti-Monitor. Though Darkseid himself doesn't feature much in the story, particularly in the second-half, his presence and power is always felt even as the Justice League go through very drastic transformations thanks to the actions of the Anti-Monitor. Johns uses the story to close some threads that were opened in Origin and all throughout his run on Justice League, leaving a pretty satisfying conclusion to his saga.
This is a fairly important story for Darkseid as Johns writes him in a very cold and evil manner, casually dismissing his son and even nearly killing him in the process. The interesting part though is how Johns uses the idea of Darkseid. Whereas Final Crisis imagined a universe where Darkseid succeeded, The Darkseid War delves into the ramifications of his defeat and what the resulting power vacuum would mean to Apokolips and the universe. Jason Fabok's artwork is on fire as he depicts large-scale fights between Darkseid, the Anti-Monitor, the Justice League and others. For the closing chapter of The New 52, it really puts a spotlight on how powerful Darkseid is – both as a physical being and a figurehead of stability (however authoritarian) to his homeworld and the universe at large,
What are some of your favourite Darkseid stories? Let us know on our social channels at @flickeringmyth…
In ZACK SNYDER'S JUSTICE LEAGUE, determined to ensure Superman's (Henry Cavill) ultimate sacrifice was not in vain, Bruce Wayne (Ben Affleck) aligns forces with Diana Prince (Gal Gadot) with plans to recruit a team of metahumans to protect the world from an approaching threat of catastrophic proportions. The task proves more difficult than Bruce imagined, as each of the recruits must face the demons of their own pasts to transcend that which has held them back, allowing them to come together, finally forming an unprecedented league of heroes. Now united, Batman (Affleck), Wonder Woman (Gadot), Aquaman (Jason Momoa), Cyborg (Ray Fisher), and The Flash (Ezra Miller) may be too late to save the planet from Steppenwolf, DeSaad, and Darkseid, and their dreadful intentions.
Zack Snyder's Justice League is directed by Zack Snyder and features Henry Cavill as Superman, Ben Affleck as Batman, Gal Gadot as Wonder Woman, Ray Fisher as Cyborg, Jason Momoa as Aquaman, Ezra Miller as The Flash, Amy Adams as Lois Lane, Jeremy Irons as Alfred Pennyworth, Diane Lane as Martha Kent, Jesse Eisenberg as Lex Luthor, Connie Nielsen as Queen Hippolyta, Robin Wright as General Antiope, J.K. Simmons as Commissioner Gordon, Amber Heard as Mera, Joe Morton as Silas Stone, Willem Dafoe as Vulko, Ciaran Hinds as Steppenwolf, Joe Manganiello as Deathstroke, Harry Lennix as Martian Manhunter, Kiersey Clemons as Iris West, Zheng Kai as Ryan Choi, Peter Guinness as DeSaad, Ray Porter as Darkseid, and Jared Leto as The Joker.
Ricky Church – Follow me on Twitter for more movie news and nerd talk.