Martin Carr reviews HBO's The Nevers…
With Oscar nominees on production design and behind the camera, this Penny Dreadful throwback comes with pedigree. Featuring steam punk invention, this turn of the century X-Men gender mash starts strong with Joss Whedon writing, directing and world building. Tangible characters created through slick dialogue and perfectly executed set pieces make The Nevers a pleasure.
Of the central characters, which run into double digits, Penance Adair, Amalia True and Hugo Swann immediately make an impression. Laura Donnelly imbues Amalia with sass, while Ann Skelly is technically savvy without appearing superior as Penance Adair. Meanwhile, James Norton plays Hugo Swann with a deviancy and disregard for others, which is almost commendable.
In the opening fifty minutes introductions are orchestrated with care, events unfold with precision and everyone gets their moment to shine. Science and technology clash with political self-interest, in a similar way to season two of The Alienist. Female emancipation and matters of individual identity also feature in a show which extols the virtues of progressive social change. Time and place are perfectly captured, everything looks picture postcard pristine and threats are gradually introduced. This is world building on a grand scale with an ensemble cast on top form.
Nick Frost from Truth Seekers and Pip Torrens latterly from Preacher, are both sophisticated and barbaric in equal measure. Language is very much an R rated affair, while depictions of violence and torture also fall squarely into that category. VFX are extensive, seamless and never feel showy or less than essential to story. In terms of casting and visual aesthetic then The Nevers ticks every box. However, it hits trouble in other areas which fall outside these perimeters, for reasons which are never entirely clear.
Performances within the show are uniformly excellent, however when Whedon is not controlling narrative things slow down. His ability to channel multiple characters, forge believable bonds and inject edgy humour is an essential element in this show. Comebacks are more vitriolic, F bombs have purpose and provide impetus, while actions infer consequences. Given the controversy and bad press Whedon is experiencing, audiences may find it difficult to separate art from the artist. However, unfortunately, his absence from all bar two episodes undermines The Nevers, sapping its potential and diminishing its substance.
Production designer Gemma Jackson and cinematographer Seamus McGarvey put back much of this through their depiction of Victorian London. From aristocratic debauchery through to steam punk inspired laboratory equipment, The Nevers always feels fully realised. It may borrow from a certain superhero franchise, whilst tipping hats to both Carnival Row and Penny Dreadful, but that is no bad thing either.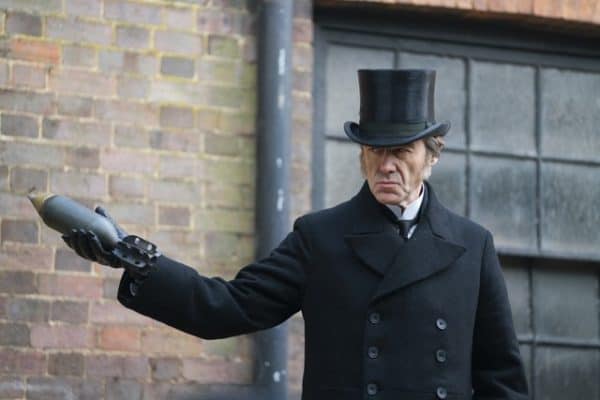 That being said, The Nevers is worth watching for performances from a cast of world class character actors. Each one not only striving to bring this world to life, but injecting substance into an idea brimming over with potential.
The Nevers will be streaming on HBO Max from April 11th and debut on Sky on May 17th.
Martin Carr