Beginning an A-Z series on action cinema, Tom Jolliffe offers up a selection of movies from A-D…
Action cinema. Explosions, fist fights, one liners and occasionally mullets. From the early westerns to the modern Marvels of blockbuster cinema, action cinema has entertained and excited audiences for decades. Sure, everyone knows Die Hard is one of the pinnacles of the genre, so perhaps there's no need to recommend that one. However, through a continuing series I will offer up a varied selection of films. Prepare as I unleash my encyclopedic knowledge of action cinema upon you. Here's an A to D selection to roundhouse kick things off…
Above The Law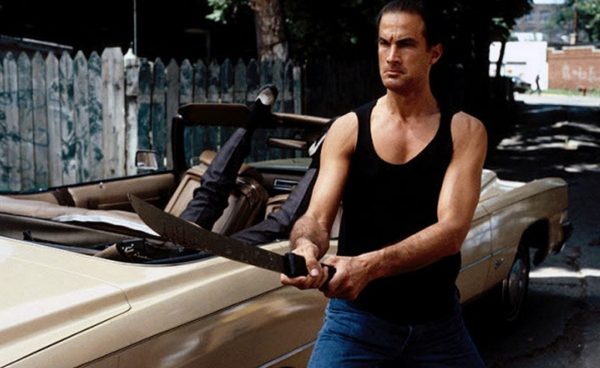 The world's introduction to Steven Seagal was a complete antithesis to the action genre of the late 80's. It wasn't Arnold/Sly musclebound run and gun, and it wasn't the flashy theatrics of the emerging Van Damme. Seagal brought Aikido to light with bone cracking fight scenes that seemed to have more of an air of believability to them, whilst he played his role with an intensity that felt more akin to the decade prior than the wisecracking tone of many 80's action films. Above The Law benefits greatly from Andrew Davis' direction, Seagal's presence and a cracking support cast that includes Henry Silva, Sharon Stone and Pam Grier.
SEE ALSO: The Film Feud of the 90s: Steven Seagal vs Jean-Claude Van Damme
Action Jackson
Carl Weathers never quite had the big launch he probably deserved as an action man to rival his Rocky co-star, Mr. Sylvester Stallone. Action Jackson was one of his all too rare solo leading roles and it's action packed. It's ludicrous, overblown but great fun and Weather's is charismatic. Stuntman turned director, Craig R Baxley delivers a punchy selection of set pieces including a destructive indoor drive with a Porsche.
Automatic
Olivier Gruner had already broken out as a new face in the action video market, playing a part-cyborg in Nemesis. Here he goes full automatic in Automatic. Gruner plays an android who kills an executive at the company who created him whilst protecting a female employee said exec is trying to rape. Now the android and the exec are targeted for termination as the nefarious company seeks to cover up the incident. It's a really great slice of B movie fun and one of the more effective uses of Gruner's skills. In what might have been a little rare in these films, it has some really engaging, tight direction.
Bloodfist III: Forced to Fight
Bloodsport would lead to a slew of copycats (not limited to Van Damme following the same blueprint in Kickboxer). Among the followers was Bloodfist, a Roger Corman produced fighter which launched Don 'The Dragon' Wilson as a popular lead in 90's video action. In the era where kickboxers and martial artists were being pushed as leading men with great regularity, Wilson proved one of the most successful in the video realm. A selection of sequels among his CV (not limited to 8 Bloodfists and 3 Ring of Fires) suggests a willing audience for the affable hero. Bloodfist would evolve through its long series, moving away from Kumites and switching characters and scenarios for each new film. The third entry, sees Wilson as a prisoner caught up in an inner prison race war as he tries to clear his name. It's as expected with nefarious wardens et al, but it's the best of the series and has good support from Richard Roundtree. Wilson's likeability gave him an edge over many rivals.
Bloodmoon
Britain's own Gary Daniels delivers some enjoyable Hong Kong style action in Bloodmoon, which sees a serial killer targeting martial arts masters. There's a slight buddy cop element alongside Chuck Jeffrey's, and a whole slew of great fight scenes and stunts. It should be more of a cult film than it is, but hasn't yet captured the kind of release it deserves. A host of Blu-Ray companies like 88 Films could be an ideal home for this, but salvation for these lesser known actioners always tends to rest on the complex web of rights issues.
Bloodsport
Jean-Claude Van Damme finds a launching pad with Cannon, which he uses to springboard himself into the air and do his patented helicopter kick. Bloodsport took the kumite sub-genre and rejuvenated it, making Van Damme synonymous with tournament fight films. Bloodsport, complete with fantastic Hong Kong locales, and a cheesy (but brilliant) soundtrack is an 80's gem. There's also an early role for Forest Whitaker. Bloodsport is an undeniable classic of the genre and Bolo Yeung is an iconic villain.
SEE ALSO: Enter The Muscles from Brussels: The Jean-Claude Van Damme Tournament Fight Film
China O'Brien
Action Queen Cynthia Rothrock shifted from her breakout stardom in Hong Kong to becoming an ass-kicking headliner back home in America. China O'Brien was one of the first films to push her in the states, and remains one of the better. Teaming with Richard Norton and Keithe Cooke, Rothrock does Walking Tall in a film from the director of Enter The Dragon. Taking down bad guys as well as any of her male contemporaries, Rothrock is a dynamo and this is a great slice of American B movie fisticuffs. Another that really deserves a Blu-ray spruce up from one of the cult collection companies.
SEE ALSO: Cynthia Rothrock: The First Lady of International Action
Cliffhanger
Die Hard on a mountain with Sly Stallone. As his career was beginning a downward trajectory, Stallone still managed to pull off a few hits here and there, and Cliffhanger would mark his most successful film of the decade. Renny Harlin's stylish directions, the stunning locales and some impressive set pieces are well aided by a great support cast. It's a proper action movie, making excellent use of Stallone's everyman qualities, as opposed to doing a Rambo riff. Though Stallone gets a little overshadowed by Michael Rooker and John Lithgow, it's still one of his best action films.
SEE ALSO: Die Hard with Stallone, Seagal and Van Damme
Code of Silence
Though Chuck Norris was becoming a prolific headliner at Cannon, it was his Orion films which were probably his best of the era. Code of Silence, directed by Andrew Davis is a great action film and interesting forerunner to Above the Law, given similar plot themes, the same villain (Henry Silva) and a lot of the same supporting cast (who worked regularly with Davis). Norris has rarely been better (except for another Orion classic, Lone Wolf McQuade) and it's less goofy than some of his Cannon starrers.
Dark Angel
A drug dealing space alien extracts endorphins from his victims by overdosing them with heroin and then shoving a spike into their skull. It's a fantastically odd set up that sees Matthius Hues rampaging the streets of Houston in heavy boots. Dolph Lundgren is the man to stop him, partnered with an uptight FBI agent (Brian Benben). This is loaded with great stunts, an absolutely ludicrous amount of exploding cars (like seriously insane…) and plenty of back and forth buddy cop banter. The Sci-Fi layer on top just makes it stand out too. The film has aged well too, as audiences embrace the silliness and enjoy the superb delivery.
Death Wish 3
Charles Bronson became something of a Bronson caricature through the 80's, starring in a prolific amount of routine action thrillers. Bronson, particularly teamed with Cannon, milked that stoic righteous persona well, whether a vigilante or cop. Death Wish 3 is a trashy, slightly awful, but totally brilliant film that plays out like a Simpsons spoof. All subtlety and striking exploitation from the original film is replaced by fantasy as Michael Winner dials everything to 11 and turns the aging Bronson into an indestructible, slow moving death giver. Bonkers but so much fun. It makes Hot Shots: Part Deux look like a documentary.
Desperado
Antonio Banderas become an action man to look out for in Robert Rodriguez's first star powered vehicle. Desperado is a master class in fun action cinema. It's brilliantly edited, creating a thrilling, musical rythym to the action. Banderas exudes charisma, whilst the film has an exceptional cast. Salma Hayek is dazzling and we get great moments from Steve Buscemi, Danny Trejo and Quentin Tarantino telling a joke. Big stunts, high octane action and sex appeal in abundance.
What are you favourite action films beginning with A-D? Let us know your thoughts on our social channels @flickeringmyth…
Tom Jolliffe is an award winning screenwriter and passionate cinephile. He has a number of films out on DVD/VOD around the world and several releases due out in 2021/2022, including, Renegades (Lee Majors, Danny Trejo, Michael Pare, Tiny Lister, Patsy Kensit, Ian Ogilvy and Billy Murray), Crackdown, When Darkness Falls and War of The Worlds: The Attack (Vincent Regan). Find more info at the best personal site you'll ever see here.