Respect, 2021.
Directed by Liesl Tommy.
Starring Jennifer Hudson, Forest Whitaker, Marlon Wayans, Audra McDonald, Mary J. Blige, Marc Maron, Tituss Burgess, Saycon Sengbloh, Hailey Kilgore, Tate Donovan, Skye Dakota Turner, Heather Headley, Leroy McClain, Lodric D. Collins, Brenda Nicole Moorer, Kimberly Scott, Albert Jones, Beau Scheier, Myk Watford, David Simpson, William J. Simmons, Gilbert Glenn Brown, Alec Barnes, Aba Arthur, Joshua Mikel, Henry Riggs, Leandra Ryan, Christen Sharice, Kelvin Hair, Thelma R. Mitchell, Tony F. Charles, Shaun Schneider, John Giorgio, and Olaolu Winfunke.
SYNOPSIS:
The life story of legendary R&B singer, Aretha Franklin.
Respect to Respect, a biopic that knows what's worth exploring and what should be left either on the cutting room table or for a different story to tell. That's not to say that there aren't the expected rushed elements when trying to chronicle the life of a celebrity icon, but director Liesl Tommy (this is her debut feature, and it's definitely amateurish and standard in many respects) and writer Tracey Scott Wilson (also a first-time effort) at least don't make the mistake of trying to cram an entire life or even an entire career into one film. There's a clear focus of what dynamics to draw from, how to circulate between each one, and how they should inform the film's subject.
The subject would be Aretha Franklin, played here by a transformative and expressive Jennifer Hudson, delivering arguably the best performance of her own career. However, her past directly correlates to many of her actions before and after becoming a superstar (especially her traumatic demons), paving the way for young Skye Dakota Turner to play childhood Aretha. For those uninformed, it wasn't always a happy one as, while seemingly being blessed with a naturally gifted singing voice that she lent to her father C.L. Franklin's (Forest Whitaker) Baptist minister sermons, she became pregnant with her first child at the age of 12 as a result of rape. Her mother, Barbara (Audra McDonald), who had taught her how to play the piano early on, had also passed away.
While this pain-and-suffering somewhat sounds like a recipe for a Lee Daniels sensationalized melodrama that prioritizes re-creating a living nightmare for shock value, Respect takes that depressing past to consistently layer Aretha Franklin's personality and thoughts, alongside her interactions with those closest to her. Following the release of a few unsuccessful albums, Aretha started dating Ted White (an outstanding Marlon Wayans who, between this and last year's On the Rocks, seems to once again give a shit about acting over making some of the most brainless comedies known to humankind), a rebellious figure that was the polar opposite of her religious and overbearing father. The act of dating someone like Ted was Aretha's own act of rebellion.
It should go without saying that these two wildly different men hate one another at first sight, with C.L. pulling out a gun on Ted upon entering the family home. And while this could either be a dramatization or something that did happen, enough is going on with every actor involved that the scene transcends plain hostility. At this point, Aretha just wants to sing hit songs, C.L. wants to ensure his daughter becomes a star at the expense of her own happiness and fulfillment, whereas Ted wants to be her manager and show her love. There's also the fact that the father of Aretha's children has yet to be explained to anyone, adding some depth to C.L.'s reckless behavior and his misguided attempts to protect his daughter.
It's also not a spoiler to say that Ted eventually becomes a terrible man for different reasons. Simultaneously, the script does not sanitize Aretha of her own struggles and unlikeable qualities. The fact this she is only getting into the industry for fame rather than art will undoubtedly rub some people the wrong way (although part of the narrative is centered on the First Lady of Soul finding her musical identity), but the filmmakers also don't hold back from her snaps of jealousy and superiority (sometimes lobbed at her sisters, whom would ultimately go on to become her backup singers following a few more harsh life experiences).
One of the more fascinating sections to unpack sees Aretha working under a record label owned by Jerry Wexler (a sardonic Marc Maron, providing some healthy humor) and collaborating with a band of white Birmingham musicians. Surprisingly, they are not racists, but bandmates that mostly have a vested interest in creating popular music, something that Ted cannot handle, choosing to fight one of them inside a hotel room. At almost every corner, Ted seems to be there, ready to sink Aretha's career whenever she's finally catching a break. Essentially, Aretha is pressured, controlled, and ironically, disrespected by nearly every man she encounters before arranging the titular iconic song.
It's possible to read this and assume that Jennifer Hudson might be lost in all this, but rest assured, these various relationships with everyone in her life add to the complexity of the legendary singer's personal life. Not to mention, there's a string of incredible singing performances (perhaps a few too many) using lyrics to expand on certain scenarios and characters. Respect is not so much a biopic about men defining Aretha's life, but instead her breaking away from different expectations and toxicity to deal with her own internalized trauma and find herself, both personally and professionally.
The narrative also touches on her dedication to activism, sprinkling in other historical figures such as Martin Luther King Jr., Sam Cooke, James Cleveland, Dinah Washington (Mary J. Blige, making as much of an impact as possible with such short screen time), and others that were friends of the Franklin family. As the years go by and the Civil Rights movement takes its course, there are also reactions and insight into how it affects Aretha. Her beliefs also butt heads with her father, who believes that even after the assassination of Martin Luther King, Blacks should remain nonviolent and take whatever rights are given to them when it happens, all without regard for their dignity.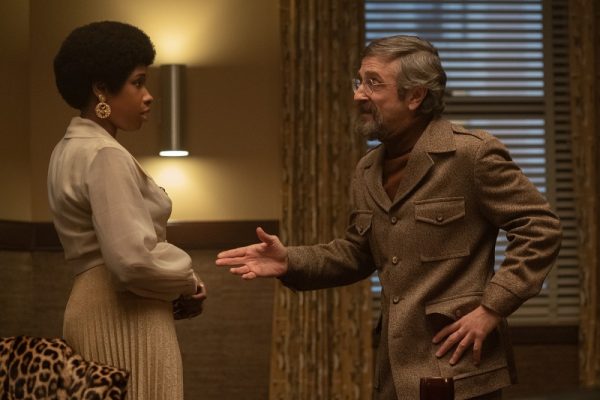 By now, it should be clear that Respect is taking on a tremendous amount of ground to cover, but it's mainly approached with an idea of where the characters should begin and end up. A lesser movie would probably make the Amazing Grace recording its centerpiece. In contrast, here it's the finale, the moment where Aretha Franklin decides to battle her demons once and for all and decide that she wants to be an artist for herself, not just come out with hits. It still has a lot to fly through, even at 145 minutes, but between the terrific ensemble and several compelling dialogue exchanges, there's some respect to go around for Liesl Tommy's conventional but effective biopic. It could use a tighter and more focused script, but what's here is mildly salvaged by everyone on screen.
Flickering Myth Rating – Film: ★ ★ ★ / Movie: ★ ★ ★
Robert Kojder is a member of the Chicago Film Critics Association and the Critics Choice Association. He is also the Flickering Myth Reviews Editor. Check here for new reviews, follow my Twitter or Letterboxd, or email me at MetalGearSolid719@gmail.com