The Long Goodbye, 1973.
Directed by Robert Altman.
Starring Elliott Gould, Nina van Pallandt, Sterling Hayden, Mark Rydell, Henry Gibson, David Arkin, Jim Bouton, and Warren Berlinger.
SYNOPSIS:
Robert Altman brought his maverick filmmaking sensibilities to a staid property in his adaptation of Raymond Chandler's The Long Goodbye, using Elliott Gould to turn hardboiled detective Philip Marlowe into a droll character. Kino Lorber commissioned a new 4K master of the film for this Blu-ray, along with a big batch of bonus features.
The Long Goodbye may be based on a Raymond Chandler novel, but don't put this new Blu-ray from Kino Lorber in your player expecting a movie in the old school hardboiled style. This is a Robert Altman movie, after all, so this is his one of Philip Marlowe's adventures as filtered through the director's droll lens.
Elliott Gould plays the title role and ex-baseball player Jim Bouton takes on the small part of Terry Lennox, which nonetheless figures prominently in the plot. Terry asks Marlowe to give him a ride to Tijuana and the detective returns home only to be questioned by a pair of police detectives who say that Terry murdered his wife, Sylvia.
The police later say that Terry committed suicide in Mexico, so Marlowe seems to be off the hook, but when a woman named Eileen Wade hires him to find her missing novelist husband and the detective realizes there's a connection between the Lennoxes and the Wades, he begins to suspect there's more going on than the official police story.
Gould would be an odd choice for Marlowe in a more conventional adaptation, but here he's playing the famous detective as interpreted by Altman, courtesy of a screenplay by Leigh Brackett. (If her name sounds familiar, that's because she wrote the initial draft of The Empire Strikes Back.) As such, Gould's Marlowe seems indifferent to everything around him, whether it's the naked young women who sun themselves outside the apartment near his or it's Roger Wades' destructive, alcohol-fueled tirades.
The rest of the cast plays their roles the same way, even Mark Rydell as the gangster Marty Augustine, who at one point demands that his goons all strip down to their skivvies to demonstrate their transparency. It's an absurd moment, but it's one that Altman fans will go right along with.
Kino Lorber commissioned a new 4K remaster of the film, giving The Long Goodbye a restoration to the way it looked when it was originally released in 1973. The only issue I noticed was a white spot that appeared near the top of the screen and stayed there for several minutes.
Kino also commissioned a nice batch of bonus features. Many of them were obviously ported over from past releases, but I believe the commentary track is new. I'm not sure what else is new, in the sense that it hasn't been available on home video before. Here's the rundown:
Commentary track with film historian Tim Lucas: This is one of those "film class in a box" discussions in which Lucas comes clearly prepared to talk about the movie. It's a bit dry, but there's no dead air, which is nice, and it's highly informative. It's definitely worth a listen.
Rip Van Marlowe (24.5 minutes): This featurette stars Altman and Gould looking back on the film. Altman starts it by talking about the idea of "Rip Van Marlowe," which was his concept that Marlowe had fallen asleep for 20 years and woken up to apply 1950s ideals to a 1970s world.
Vilmos Zsigmond Flashes The Long Goodbye (14.5 minutes): The cinematographer looks back on the making of the movie and, in particular, working with Altman.
David Thompson on Robert Altman (21 minutes): The writer and filmmaker gives an overview of the director's career, which was marked by many films that were deconstructions of various genres in the same way The Long Goodbye is a deconstruction of Chandler's hardboiled detective stories.
Tom Williams on Raymond Chandler (14.5 minutes): Williams wrote a biography of Chandler and here he gives a discussion of how and when the author made his mark with his Philip Marlowe books.
Maxim Jakubowski on Hard Boiled Fiction (14.5 minutes): The crime writer, critic and editor talks about his definition of hard-boiled fiction, which he says is in the eye of the beholder. He then moves on to discuss the noir genre, pulp fiction, and other related terms in the context of novels, movies, pulp magazines, and other media.
Trailers From Hell with Josh Olson (2.75 minutes): The screenwriter talks about the film over its trailer.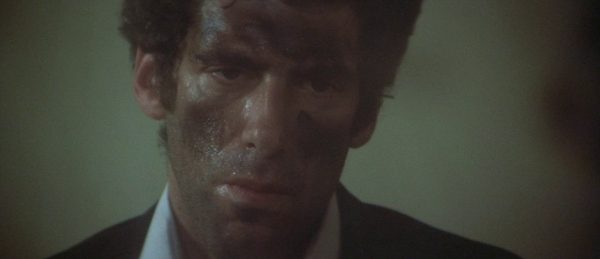 A 1973 American Cinematographer article is included as a text piece that you can page through with your remote. It's a shame that Kino didn't put it in a physical booklet, but they don't usually do that, unfortunately.
Radio and TV commercials, along with a pair of trailers, round out the disc.
Flickering Myth Rating – Film: ★ ★ ★ ★ / Movie: ★ ★ ★
Brad Cook