Hasitha Fernando revisits Blade, which just celebrated its 25th anniversary…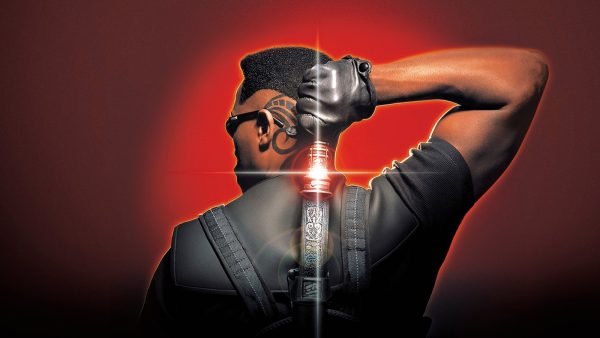 1998's Blade was release during a time when comic book movies had reached their proverbial nadir, with the likes of Richard Donner's Superman and Tim Burton's Batman being a thing of the past. However, the effort was blessed with some serious talent in front of and behind the camera, and the collective effort of all these creatives transformed the project into something truly special.
Now, 25 years later we look back at the horror action classic, and what went on behind-the-scenes during the production of now iconic superhero film…
Blade was something of a side character in the comics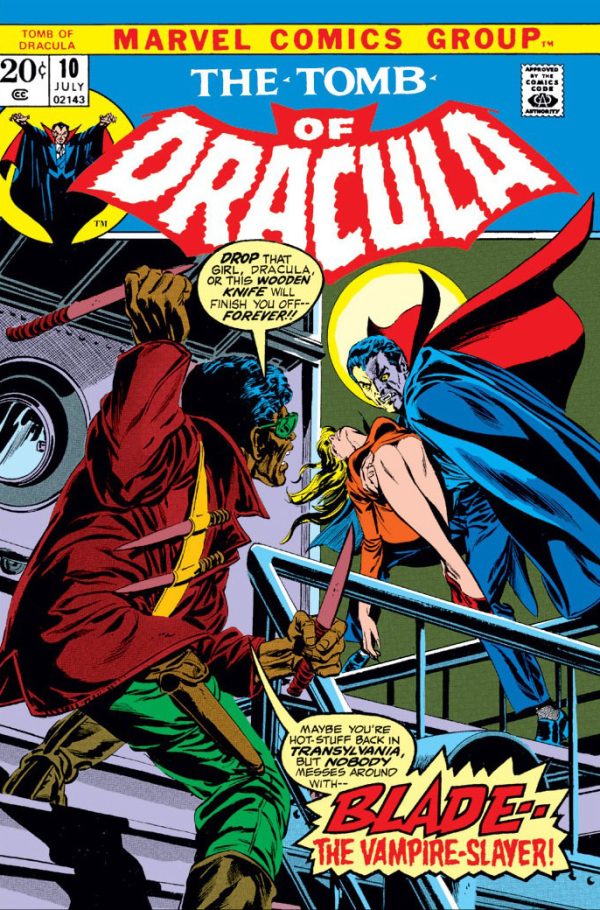 The creation of writer Marv Wolfman and artist Gene Colan back in 1973, Blade was first conceived of as a supportive character to be featured in Marvel's horror comic The Tomb of Dracula. The 70-issue series, which ran from April 1972 to August 1979, was largely influenced by British Hammer Films and Universal's monster movies and centered around a group of avid vampire hunters who fought off the likes of Count Dracula, as well as, other supernatural entities. And it's within the pages of issue #10 of this particular series that Blade the Vampire Slayer, made his first ever appearance.
The character was reimagined significantly for the film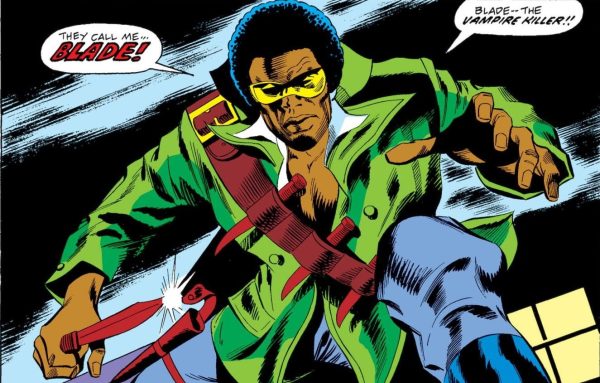 Those who've read the source material are aware that, there's a considerable difference between the Blade featured in the comics and its feature film incarnation, brought to life by the inimitable Wesley Snipes. The comic book iteration was a teakwood knife wielding loner with a serious hard on for vampires, but Snipes version was something different altogether.
Blade screenwriter David S. Goyer and its director Steven Norrington played a pivotal role in redefining the aesthetic of the character for its big screen adaptation. Norrington and Goyer wanted their moody antihero to exude the 'cool factor' and so, sleek leather jackets and black shades came into the picture. Goyer also decided to replace the teakwood knives in the comics, with a katana sword to give the character a samurai-esque vibe. Blade's iconic scalp tattoos were entirely Norrington's idea, who adored Balinese tattoo designs.
The journey from the comics to the big screen was a lengthy one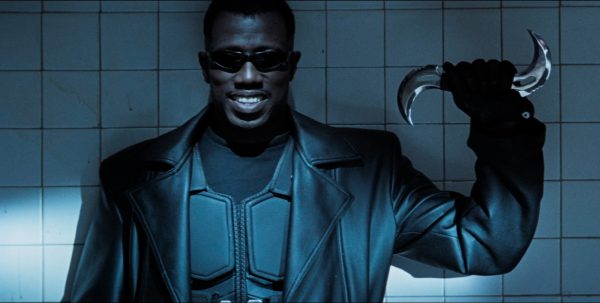 A film adaptation of our favorite vampiric antihero had been in the works since the late 80s, back when New World Pictures owned the rights to all Marvel Comic related IPs. When things didn't materialize Marvel Studios took a crack at it in early 1992 with rapper/actor LL Cool J attached to play the lead role. This idea too was scrapped in its entirety.
Things, however, started shaping up with the involvement of up-and-coming talent David S. Goyer, who with the involvement of filmmaker Ernest Dickerson pitched an epic, dark retelling of the titular character to New Line Cinema. The scribe wanted to revamp (pun intended) the romanticized Hollywood image of vampires, and go for an edgier, post-modern feel for Blade. We should also be thankful that Goyer put his foot down at a pivotal point in production, when the studio was contemplating on making Blade a white protagonist.
Wesley Snipes was the top choice for the lead role since the beginning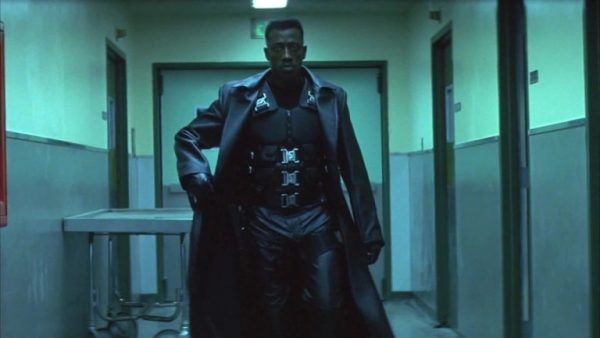 Quite unlike most critically lauded movies where the top choice for the lead role eventually went to alternative considerations, Wesley Snipes was one of the leading contenders to play Blade. Along with Snipes, Denzel Washington and Lawrence Fishburne were also in conversations, but once the script was finalized it was sent to only one actor – Wesley Snipes.
Previously the actor was heavily involved with producing a Black Panther flick, however, with innumerable delays and multiple unsatisfying scripts the project was put on ice and Snipes fully committed to making Blade a reality, and to this day it is the character that he's become synonymous with.
A spinoff based on Deacon Frost nearly happened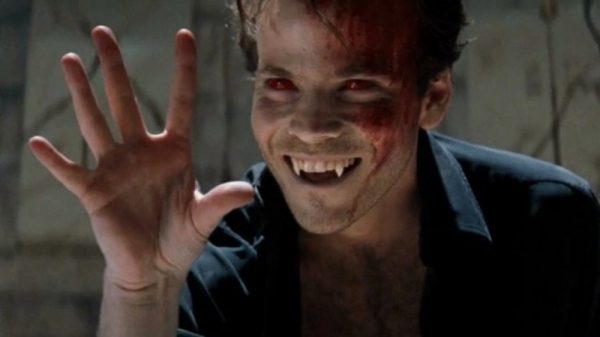 Stephen Dorff was a star on the rise in the 90s with multiple indie hits but it was with Blade's Deacon Frost that mainstream audiences the world over got a taste of the talented auteur's scene stealing acting prowess. His brilliant performance was deemed so good that there was an initial plan to resurrect the character for a spinoff helmed by Norrington himself. But alas, it was not to be. As the project got scrapped because the character's rights reverted back to Marvel in 2012.
The first cut of the film had a disastrous test screening
Since time immemorial early screenings of movies have been used as an effective way of gaining insight about a creative output from an audiences' perspective. As such, this same method was utilized to assess a rough 140-minute cut of Blade and the results were… far from favorable. In particular, people's response to the climax of the film tested horribly. This prompted Norrington, Goyer and co. to go back to the drawing board and conceive a better conclusion.
Originally, the story's antagonist Deacon Frost turned into a mass of swirling blood once he became La Magra. However, with the limitations visual effects had back in the day, there wasn't a convincing way to bring this vision to life. In addition, audiences found it hard to relate to a gelatinous red blob as Blade's nemesis. Because of this, the climax underwent heavy reshoots and the end result became the epic, action-packed finale we now see today.
The pre-Matrix bullet-time sequence certainly deserves praise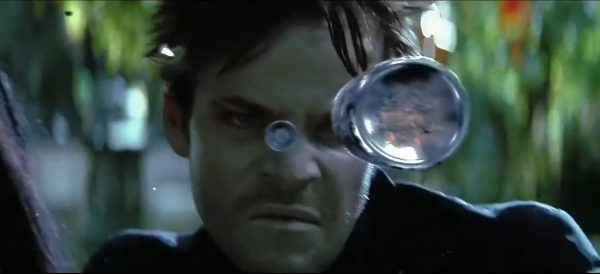 The term bullet-time was popularized by fans of The Matrix after its release, and every action movie since had tried to ape or spoof this iconic effect with diminishing returns. But what about the pre-Matrix era which successfully pulled off the gimmick? They are few and far between, but a great example of it would be Blade.
The scene in question takes place in Chinatown during the latter half of the story, where Deacon Frost has captured a little girl and is holding her hostage. The effects aren't perfect or as polished as it was in The Matrix, a year later, but it certainly should be given due praise for trying to achieve something radical and new, at that point in time.
Blade's creators initially weren't going to get credit for their characters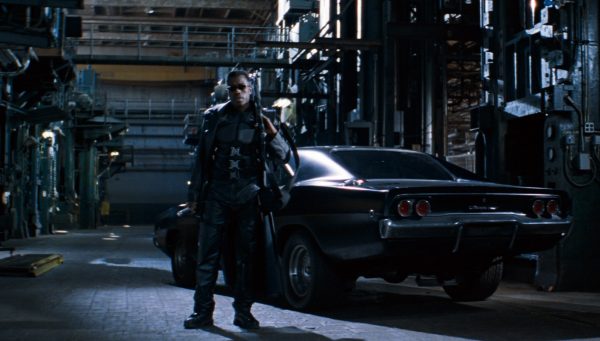 Once again, Goyer played a pivotal role in getting Blade's creators – Marv Wolfman and Gene Colan – their due recognition in the film. Initially Marvel was unwilling to give credit for the characters the duo had created, but Goyer insisted. Following successful negotiations with New Line and Marvel, both Wolfman and Colan received credit for their creations in the movie.
The movie was Marvel's very first box-office success
With a budget of $45 million Blade went on to make a thrice that amount at the box-office by the conclusion of its theatrical run, effectively making it Marvel's first box-office success. It also received praise by critics for its dark visual flourishes, bold creative choices and Snipe's performance as the titular Blade. Film critic extraordinaire Roger Ebert gave the film 3 out of 4 stars writing, "Blade… is a movie that relishes high visual style. It uses extreme camera angles, the bizarre costumes and sets, the exaggerated shadows, the confident cutting between long shots and extreme close ups. It slams ahead in pure visceral imagery."
The aunch of a franchise and an undisputed legacy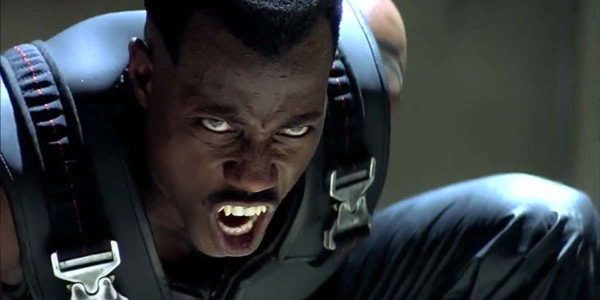 The success of Blade's first installment led to the production of a duet of sequels – one great and another forgettable – in the years that followed. It also spawned a short-lived live-action television series on Starz in 2006, as well as, an ill-fated anime-series that also got axed after just one season. The character is due to receive its second big screen treatment as part of the Marvel Cinematic Universe headlined by Academy award winner Mahershala Ali, however, since its official announcement at 2019's San Diego Comic-Con presentation the project has been marred with multiple delays and a laundry list of problems.
There is however no denying the impact the first Blade film had on the filmmaking industry and comic book movies in general. Firstly, it opened up the possibility of reimagining and taking certain creative licenses when it comes to the adaptation of such IPs. Secondly, the flick demonstrated that hard R comic book movies aimed at an adult audience, could also find varying degrees of success at the box-office. And lastly, it showed the industry that a cast predominantly composed of black actors can also deliver one helluva kick-ass superhero film that's still remembered and revered.
SEE ALSO: The 1990s in Comic Book Movies
What are your thoughts on Blade? Let us know on our social channels @FlickeringMyth…
Hasitha Fernando is a part-time medical practitioner and full-time cinephile. Follow him on Twitter via @DoctorCinephile for regular updates on the world of entertainment.