Bushwick, 2017.
Directed by Cary Murnion and Jonathan Milott.
Starring Dave Bautista, Brittany Snow, Christian Navarro, Arturo Castro, Jeremie Harris, and Angelic Zambrana.
SYNOPSIS:
While Lucy (Brittany Snow) and her boyfriend are making their way to her grandmother's house, all hell breaks loose in New York, especially the Bushwick area of Brooklyn.  Lucy has to fend for herself, which means dodging bullets, looters and black-clad militia.  Taking shelter in the basement belonging to ex-Marine Stupe (Dave Bautista) she also accepts his offer to help her get across the neighbourhood – and to find out why the usually quiet area is now the scene of carnage.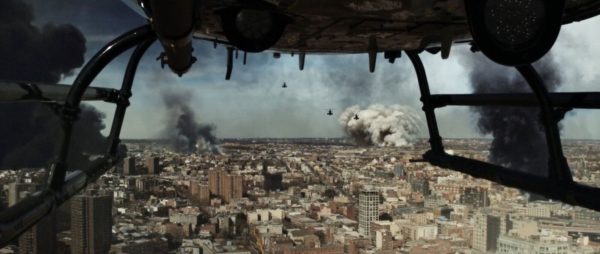 The last place you go for peace and quiet is the New York subway, but that's exactly what Lucy finds when she gets off the train at her destination.  That, plus an evacuation announcement on the tannoy, a man ablaze from head to foot and the sound of gunfire and explosions coming from above ground.  Not exactly a welcoming committee, then.
The film opens with a series of aerial helicopter shots show that something seriously bad is about to go down across the entire city, but co-directors Cary Murnion, Jonathan Milott  have decided to concentrate on the colourful neighbourhood of Bushwick.  And, inevitably, something seriously bad is happening – but the description applies just as much to the film as to what's on the screen.  As Lucy and Stupe (short for Stupid?) make their way through a school, various streets, a house and a church, it's like watching an attempt to bring a basic video game to life – of sorts.  Along the way, they stop off at Lucy's sister, a dopey junkie, and it's there that they discover why there's a bloodbath on the streets.  By this stage, the film is already half over.
As for what's going on – assuming you're still interested at this stage – it's a civil war.  Texas and a handful of other states are attacking New York so that the President will agree to them leaving the Union.  So we have a film with a political angle?  Actually, no, we don't.  Because the script has nothing political to say at all, nor does it have any relevance to current issues.  It has just one function – to create more and more opportunities for Snow and Bautista to run around, dodging bullets as best they can, getting wounded and killing some militia along the way.
Bautista's Stupe, incidentally, is a janitor to the outside world, but in reality he's an ex-Marine who's now a janitor.  Anybody thinking of Steven Segal as the most unlikely cook ever in Under Siege?  Bautista is just as unconvincing as a janitor: he's the last person you'd go to for odd jobs – unless, of course, you wanted somebody killed.  But if he was hoping this film would add to his acting credentials, he really should have chosen a script that asked a bit more of him than just shouting "Shit!" and running around a lot.
Bushwick is a low budget film and it looks like one.  The helicopters are never seen overhead, explosions and screaming hoards take place off screen, leaving the audience with just a few sound effects to play with.  Everything else has to live in their imagination.  And, on the rare occasions when there is some CGI, it's pretty low grade.
It simply isn't a good movie.  It's also one where the main female character wears a red coat and is trying to get across town to her grandma's house.  Sound familiar?
Flickering Myth Rating – Film: ★ ★ / Movie: ★ ★
Freda Cooper.  Follow me on Twitter, check out my movie blog and listen to my podcast, Talking Pictures.