Cage Dive, 2017.
Directed by Gerald Rascionato.
Starring Joel Hogan, Josh Potthoff, Megan Peta Hill, Pete Valley, Mark Fell, and Christopher Callen.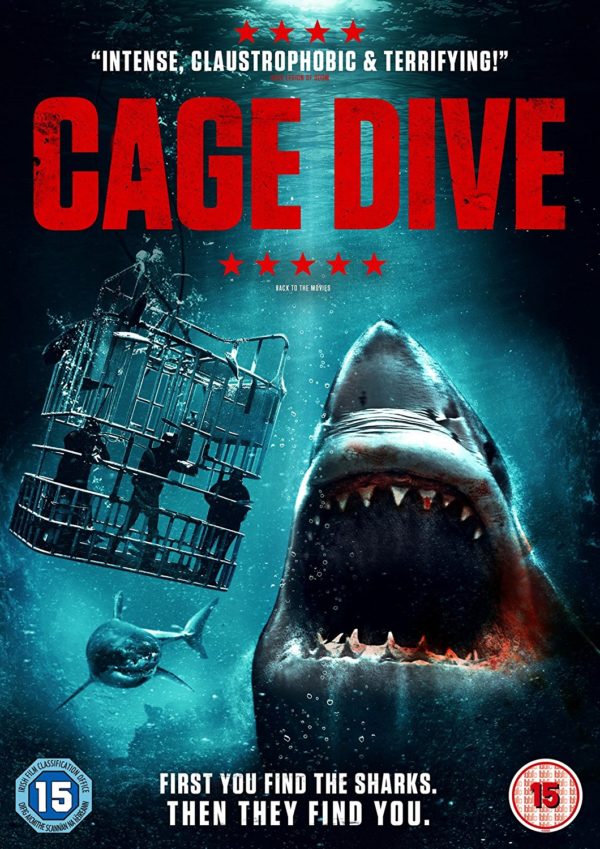 SYNOPSIS:
Three friends go shark cage diving in a bid to get on a TV reality show, only for things to go very wrong.
In some territories Cage Dive comes with the prefix of Open Water 3 which, if you are familiar with the original Open Water, should clue you in to what you are going to get, and that is a shark-based found footage movie. Whether that fills you with joy or dread is a matter of personal preference of course but the fact remains that found footage movies filmed at sea are few and far between so, at the very least, you may get to see something that the seemingly endless production line of ghost/haunting found footage movies don't offer as they go through the motions and tick all the boxes while people inexplicably film things instead of running away, fall over and then get dragged off into the darkness by a CGI blob.
And you do, to a point, get something different because the one thing – and it is only one thing – that Cage Dive does have going for it is that the actual shark footage is very good and edited in with the staged attack scenes quite well. However, none of this matters when you consider that you have to spend the whole 70-minute running time with three of the most obnoxious and just downright annoying characters seen in a film since… well, the last no-budget found footage movie you saw. The shark attacks don't amount to a great deal of screen time so when they are not happening you get to see how three idiots cope with their situation of being stranded at sea by setting off flares inside their inflatable raft, high-fiving each other simply for responding to anything that gets said and one of the two brothers present confessing to having an affair with the other brother's girlfriend, a love triangle that precisely nobody cares about because it doesn't come into play or impact the story in any way whatsoever.
Bear in mind that the three main characters – Jeff (Joel Hogan), his brother Josh (Josh Potthoff) and Jeff's girlfriend Megan (Megan Peta Hill) – are the types of people who are filming themselves going shark cage diving in order to win a place on a reality TV show and you have to wonder why nobody thought to question whether these are the types of people a viewing audience would want to spend any time with. It is probably not the fault of the actors as they just seem to be going with the flow with what little direction they were given but after the initial setup – which includes a fairly authentic-looking mock-up of a TV news item detailing how the three divers' camera was found with the memory card inexplicably still intact and undamaged – we soon learn that Jeff is going to keep filming everything no matter what which, as is traditional in found footage movies, is the most ludicrous thing anybody faced with impending life-threatening danger could do. Even when the sharks are battering the cage we get some close-ups that could be called impressive if it weren't for the fact that you know full well that trying to get away would be at the forefront of your mind rather than seeing how many teeth a shark has using a zoom lens. And then Megan sets off a distress flare inside the inflatable raft – all they had to do was shut up and float…
So there you go – a found footage shark movie that isn't tense or scary, features nobody with anything likeable about them and will have you reaching for the skip button in order to make it move on a bit quicker, and for a 70-minute movie that is not a good thing. What is a good thing, though, is that thanks to the imbeciles on-screen and the well-shot shark footage you will end up rooting for the sharks so in that respect Cage Dive does do something different. Make of that what you will.
Flickering Myth Rating – Film: ★ / Movie: ★
Chris Ward