Early during Marvel's Phase Three, El Mayimbe and Latino-Review shared a "hot rumour" about the studio's plans for the Hulk, claiming that Avengers: Age of Ultron would finish with the Hulk going into space and subsequently leading to a Planet Hulk adaptation, before culminating with the World War Hulk storyline in Avengers 3.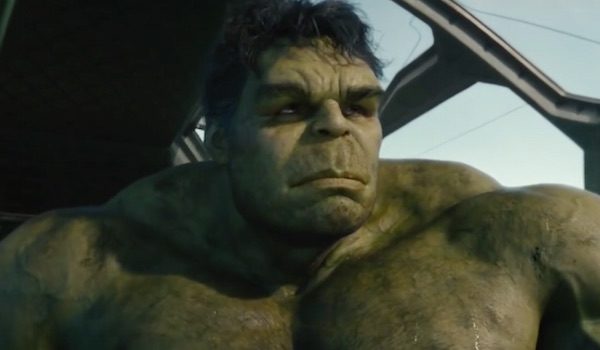 Well, speaking to Mayimbe (now at The Wrap), Marvel Studios chief Kevin Feige has revealed that the original "scoop" was false, although Age of Ultron would have indeed suggested that the Hulk had ventured into space – something they decided to change in the wake of the report.
"You had the big scoop about us doing Planet Hulk," said Feige. "It turned out to be accurate [but] at the time, it was not accurate because we didn't have any plans to do it and Joss Whedon was doing Age of Ultron at that time. The way it ends as you recall with Hulk in the Quinjet going off, right? We said, 'Joss, we can't do that because he's not going into space and people are going to think we're doing Planet Hulk because Umberto has some big hot scoop that we're doing Planet Hulk, we can't do it.' He goes, 'Well, what are you going to do?' We said, 'We don't know.' So, if you go back and look at that shot of the movie, he's in the sky. It's blue sky."
Feige then went on to discuss how the Planet Hulk storyline came about for Thor: Ragnarok: "We wanted to do something totally different with Thor. Chris Hemsworth really was like, 'When do other Marvel players come in with me?' Definitely, [we] want Hela in the movie. Definitely wanted, of course, the continuing relationship with Loki. We had early ideas for Valkyrie. We were talking about Balder. We were talking about Beta Ray Bill, but, that's not enough. But we were like, 'We need something big.' Well, what if he did go to space? We would jokily call it Planet Thor, for a while. I went, 'You know what that means?' They go, 'What?' I go, 'That means Hulk went to space at the end of Ultron.' So, I had to tell Joss. And this was a year after Ultron came out. It was kind of a big thing. We were like, 'You gotta change it Joss, he's not going to space.' A year after I go, 'Joss, guess where he's going?' 'He's going to space.'"
And then Joss went to the DCEU…
In Marvel Studios' "Thor: Ragnarok," Thor is imprisoned on the other side of the universe without his mighty hammer and finds himself in a race against time to get back to Asgard to stop Ragnarok—the destruction of his homeworld and the end of Asgardian civilization—at the hands of an all-powerful threat, the ruthless Hela. But first he must survive a deadly gladiatorial contest that pits him against his former ally and fellow Avenger—the Incredible Hulk.
Thor: Ragnarok is being directed by Taika Waititi (What We Do in the Shadows) and features Marvel veterans Chris Hemsworth as Thor, Tom Hiddleston as Loki, Anthony Hopkins as Odin, Idris Elba as Heimdall and Mark Ruffalo as the Hulk alongside Cate Blanchett as Hela, Tessa Thompson as Valkyrie, Jeff Goldblum as the Grandmaster, Karl Urban as Skurge, Taika Waititi as Korg, Clancy Brown as Surtur, Rachel House as Topaz, Tadanobu Asano as Hogun and Sam Neill in an as-yet-unrevealed role. It is set for release on October 24th in the UK and November 3rd in the States.