Jungle, 2017.
Directed by Greg McLean.
Starring Daniel Radcliffe, Thomas Kretschmann, Alex Russel, Joel Jackson, Lily Sullivan, and Yasmin Kassim.
SYNOPSIS:
A group of friends join a guide for a trek into the Bolivian jungle, searching for an Indian village. The men soon realize that the jungle is a difficult place to be.
Seeing as Daniel Radcliffe (AKA the boy wizard Harry Potter) hit a grand slam with his similarly themed but far less reality grounded performance in Swiss Army Man (a severely overlooked and underrated film, easily the best of 2016), it's a no-brainer that he was attracted to the script for director Greg McLean's (Wolf Creek and his first 2017 film, The Belko Experiment) survivalist biopic Jungle, a genre feature about a tightknit band of close friends and a shady travel guide exploring uncharted Bolivian territory for pleasure, treasure, and a hidden Indian tribe. However, heading back to the well of success didn't really pay off, as Radcliffe, portraying the real-life Israeli Yossi Ghinsberg circa 1981 (the movie is also adapted from his memoirs of the experience titled Jungle: A Harrowing True Story of Survival) consistently gives an unconvincing performance namely due to an equally wonky accent. This flaw is distractingly noticeable during the first act's few scenes that utilize narrative exposition, which not so surprisingly disappears rather quickly from the film entirely.
The set-up as a whole to the journey into the unknown is a wobbly affair, quickly thrusting Yossi and the buddies he comes across into a strong brotherhood, never really giving each character depth beyond announcing their occupation or other general tidbits. As a result, there also isn't a believable or rational understanding as to why risking life by trekking into probable dangerous territories is so important. Even the conniving and convincing done by Karl to coerce Yossi into embarking on a wild goose chase with his pals is accomplished weakly with one dialogue exchange. There are poorly placed random flashbacks to Yossi's home life showcasing his disgruntled parents annoyed by his thirst for adventure over the tried-and-true blueprint of attending a prestigious college subsequently earning a financially lucrative and prestigious job, but they don't mean anything or carry any emotional significance.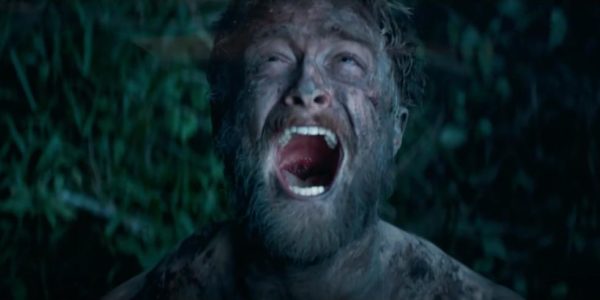 Jungle does succeed by pitting the group up against some devastating forces of nature, whether it be a makeshift riverboat raft or disgustingly painful looking feet sores on the weakest link of the bunch. Also, considering that there is so little character development outside the minor touches here and there for Yossi, the film actually becomes far more enjoyable and intense once he gradually gets separated from the rest of the pack until he is all by his lonesome. This also hides the aforementioned accent issue, allowing Daniel Radcliffe to thrive in the role on a purely physical level. Greg McLean takes this opportunity to really spearhead Yossi through hell and back with some graphically violent but appropriately primal acts of violence toward different species. There's even some always welcome gross-out body horror.
Continuing along with that thought, Jungle seemingly makes it a point to demonstrate just how brutal humanity's instincts become when facing life or death peril. It can't be denied that the film does fall into some cliché traps occasionally (there are fairly amateurish hallucination sequences that are obvious to catch); the script is all around shoddy. With that said, filming on location this grueling tale of the human spirit's resiliency and drive to not perish adds layers of authenticity that propel the flick up a few notches in quality. Unfortunately, there are also some really bad CGI distractions, but for the most part, it feels like we are there with the characters, especially when the focus has settled in on solely Yossi. Appropriate jungle-themed music definitely enhances the atmosphere and is another positive point worthy of mention.
However, when the typical post-biopic pre-credits factual notes started appearing on the screen one by one, it was further evidence that this story of remarkable survival deserved more character depth, especially considering a fairly major reveal about the tour guide. It misses the mark in creating palpable brotherhood, in turn sinking many aspects of the narrative overall. The script by frequent television writer Justin Monjo clearly needed another rewrite, but the direction by Greg McLean is efficient enough to make the film well above watchable and entertaining. Regardless, Jungle most definitely expands on the meaning of the expression "it's a jungle out there".
Flickering Myth Rating – Film: ★ ★ / Movie: ★ ★ ★
Robert Kojder is a member of the Chicago Film Critics Association and the Flickering Myth Reviews Editor. Check here for new reviews, friend me on Facebook, follow my Twitter or Letterboxd, or email me at MetalGearSolid719@gmail.com