Red Stewart on 10 Justice League scenes that were not in the movie…
Justice League has opened to mixed reviews, with many praising the cast and action scenes but taking jabs at the tonal inconsistencies. You can read our own review here, but the overall message is that the film is enjoyable and fun. The marketing team did a good job showcasing the humor and heart the titular team has, and you can see just how much fun it is to see your favorite heroes come together.
But Justice League was also the victim of executive meddling, with reports that Warner Bros. CEO Kevin Tsujihara required that the movie come in under 2 hours, including credits. As such, a lot of cuts had to be made, and they can evidently be seen in the final movie's first act where scenes jump between the heroes almost instantly.
More attentive fans may have also noticed a significant number of scenes from the trailers not make it into the final cut. It is disappointing, and we at Flickering Myth have found 10 in particular that were not there.
1) Flash attacking the Parademon
Despite the mixed reviews, Ezra Miller's portrayal of Barry Allen/The Flash has been met with universal acclaim from all critics. His fast-paced delivery of the dialogue combined with Flash's childlike optimism has won over many fans and will more than likely make his future solo effort a priority.
Unfortunately, during post-production he was not free of the editing mandates, and ended up losing some scenes. One of the more notable ones audiences may recall from trailers was Flash facing off against a Parademon in the Gotham Harbor battle. He does three quick dashes before knocking it through a door. Pretty cool.
2) Lois's engagement ring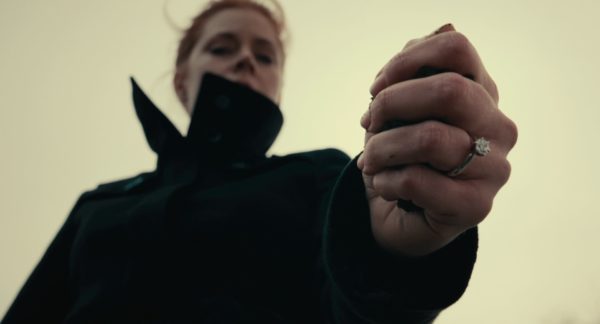 The third and final trailer for Justice League gave a lot more attention to Superman, who, for the most part, was deliberately kept out of most of the marketing and the previous two trailers. The beginning in particular opened up Clark talking to Lois in a field of cornstalks. While appearing to be the real Superman, he immediately inquiries about the engagement ring she's wearing from the end of Batman v Superman: Dawn of Justice, resulting in an angled close-up of the aforementioned gem on Lois's finger from Batman v Superman, followed by her immediately waking up from a dream.
That was not in the film, nor was the sequence itself a fake like it was played out to be in the trailer, leaving the question up in the air.
3) Wonder Woman's kick and hair toss
Wonder Woman's stopping of a bank robbery was something we were all waiting for as it would provide her with an opportunity to show off her superhero skills. Two shots that were included in almost every single trailer was what was presumably the final blow: Diana knocking down one of the burglars with two swift kicks followed by her doing an awesome hair flip. Sadly it got trimmed.
4) Victor playing football
The first act of Justice League seemingly suffered the most from the run time as a lot of the new characters that needed backstory lost it. Victor Stone/Cyborg was one of these people, with his background of suffering from an accident and having to be rebuilt mostly revealed through dialogue (minus the brief clip from Lex Luthor's files in Batman v Superman). There was one shot in the trailer that hinted more of Victor's origins would be disclosed, and that was of him playing football evidently prior to the event. If you go in expecting it, expect to be disappointed instead.
5) Wonder Woman saying "Shall we"
After Wonder Woman broke box-office records and received rave reviews, there were reports that Justice League was being refocused to include more of Gal Gadot's portrayal. Strangely enough, it seems a lot of Wonder Woman-related scenes were removed altogether. We have stated one before, but there was another that came at the end of the very first trailer and that was Wonder Woman landing between Aquaman and Cyborg with a sword and shield before asking them "shall we?"
…Click below to continue on to the second page…