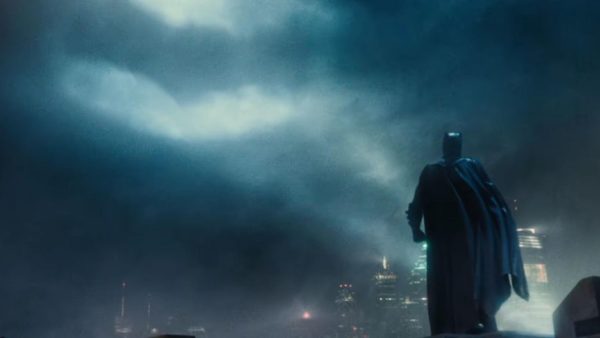 Justice League has polarized fans, and isn't exactly leaping-tall-buildings-in-a-single-bound at the box-office. However, one thing that everyone seems to agree on: the opening was awesome. Gotham City felt alive in a way that hasn't been captured since Tim Burton's Batman. The colors, dialogue, fight choreography… it simply felt right. Another pleasant surprise was (the EXCELLENT) Mindhunter's Holt McCallany being the subject of Batman's rooftop beating. According to McCallany, that opening – which was written and directed – was originally very comedic. Speaking to Men's Fitness, the actor reveals that Warner Bros. was not too keen on opening with a comedic scene:
"I love Joss Whedon. My scene with Batman was originally conceived as a comedic scene. That's how Joss wrote it, and that's how we shot it. I thought it came out great, but the studio felt it would be a mistake to open the film with a completely comedic scene, so it was re-edited a little bit. I was disappointed, but when I got home to New York I found a bottle of my favorite Champagne and a note from Joss that said 'To Battles Lost. Gratefully, Joss.' I can't tell you how much it meant to me that he took the time to write to me. Joss Whedon is a class act. I had the letter framed."
Well, at least the scene that did make it to the screen ended up being one of the strongest moments in the film. If there is one common complaint about Justice League, it's that the film feels uneven tonally. This particular scene, arguably, does not suffer from that problem.
SEE ALSO: Jason Momoa defends Justice League, says it could have been two movies
SEE ALSO: Justice League cinematographer wants a Zack Snyder director's cut
Fueled by his restored faith in humanity and inspired by Superman's selfless act, Bruce Wayne enlists the help of his newfound ally, Diana Prince, to face an even greater enemy. Together, Batman and Wonder Woman work quickly to find and recruit a team of metahumans to stand against this newly awakened threat. But despite the formation of this unprecedented league of heroes—Batman, Wonder Woman, Aquaman, Cyborg and The Flash—it may already be too late to save the planet from an assault of catastrophic proportions.
Justice League reunites Batman v Superman: Dawn of Justice stars Henry Cavill as Superman, Ben Affleck as Batman, Gal Gadot as Wonder Woman, Ray Fisher as Cyborg, Jason Momoa as Aquaman, Ezra Miller as The Flash, Amy Adams as Lois Lane, Jeremy Irons as Alfred Pennyworth, Diane Lane as Martha Kent, Jesse Eisenberg as Lex Luthor, Connie Nielsenas Queen Hippolyta and Robin Wright as General Antiope alongside J.K. Simmons (Whiplash) as Commissioner Gordon, Amber Heard (The Danish Girl) as Mera, Willem Dafoe (Spider-Man) as Vulko and Ciaran Hinds (Game of Thrones) as Steppenwolf.
… You can find Jordan on Twitter, and Facebook.