Back in 2008 THQ Nordic introduced gamers to de Blob, an amorphous blob of liquid and hero to the people of an alien world where colour was made illegal.  Now, thanks to THQ and Blitworks, gamers on Xbox One and Playstation 4 can once more play as our liquid hero in this remastered version of de Blob.  Having already been released on PC in March it is now time for gamers on console to put a bit of colour into their current gen consoles.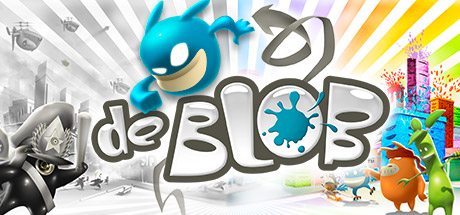 In de Blob the evil I.N.K.T. Corporation has declared that all colour is a crime and as a result has drained all the colour, life and vitality out of Chroma City making it a monochromatic hell.  Without colour Chroma City is not the place it once was but the quest to return colour and life back to the city is just starting for our hero de Blob.
Players will take the role of de Blob as he splashes in different coloured paints to bring his world back to life and defeat the evil Comrade Black of I.N.K.T. Corp.
de Blob features:
As de Blob flip, bounce and smash your way past the I.N.K.T. Corporation and save Chroma City from a future without colour.
Join the Colour Revolutionaries in their resistance against Comrade Black and his diabolical array of hot plates, electric shocks, and ink turrets.
Free your friends from a black and white world by painting the city back to life.  Dodge ink cannons, flatten I.N.K.T. tanks and outsmart Inky soldiers to gain victory.
Eight different multiplayer modes allow players to compete to control Chroma City in 4-player split screen.
Paint Chroma City's skyscrapers, bridges and massive landmarks in your own style using custom colours and patterns.
de Blob is available now for Xbox One and Playstation 4.