Emma Withington reviews Assassin's Creed Origins…
I had been prepared to renounce my hidden blade after Assassin's Creed Syndicate: 'My favourite time periods have been covered,' I thought, 'and Assassin's Creed Unity doesn't bear thinking about.' As you can see, this didn't happen. For the first time since Black Flag there was a real buzz and build up of fevered excitement around Assassin's Creed Origins – and of course with ancient Egypt as a setting, made it hard to ignore.
Who's that assassin? You will be journeying through Egypt, during a particularly rocky patch of the Ptolemaic dynasty, with Medjay Bayek of Siwa – a protector of Egypt and its people. So, let's go Bayek in time! (ahem…) Bayek fast becomes one of the best assassins to date; a truly nuanced character that seamlessly dances between Altair's stoicism, focused and well attuned, with splashes of the Ezio charm as he 'appreciates' his wife Aya, interacts with Egypt's children, and some of its…stranger residents. Bayek makes the questing experience more engaging by having his own perspective on the task at hand and doesn't blindly accept quests without question – cough, Connor, cough – he might even have a debate (or outright brawl) with the NPC, if necessary. He will then investigate and come to his own conclusions – reminiscent of the Geralt approach in Witcher 3, just without alternate choice-based results. To this effect the side quests alone feel dynamic and varied. While there are recurring factors, such as enemy camps and investigation areas, they are presented as their own self-contained adventures – ones which you have genuine investment in and some that will provide more meat to aspects of the main storyline.
It's time to play 'create-your-own-assassin' with Bayek, as the Assassin's Creed Origins gameplay overhaul moves the series forward into Action RPG territory. As Bayek levels up you can mould him into the play style you fancy, by choosing your attributes via three skill trees. You will have seen these in the more recent Assassin's Creed games, however these three trees are linked into a honeycomb effect, rather than separate, and contains three main class types: Warrior (for the brawler), Hunter (traditional stealth and ranged), and Seer (become Egyptian Q, a master of the environment and gadgets). You can pile ability points in one tree, or create a complete hybrid with attributes from each. The attainment of some abilities will connect you to attributes in other areas, for example if you are focusing on the Warrior path and get 'Hijack' (GTA Egypt – pull that bastard off his camel!), this provides a connection to the 'Smoke Bomb' ability in the Seer category. This gives you a chance to dip into abilities that might help you closer to endgame, keeps you in tune with the core assassination gameplay of Assassin's Creed, and gives you a bit of extra headway in battle.
There are myriad of common, rare, and legendary weapons in the world, which are levelled, and your base gear requires crafting and resources to be improved – a nice touch is that you can wear whatever outfit you want and retain all of your gear stats. Bayek running around in a towel it is then! Of course, you'll want to keep legendary weapons levelled up with you, but this comes at a hefty price. There's no hourly cache or source of income to make you obscenely rich – instead you feel like the vagabond you are. This can seem like a monumental grind at first – particularly when it could be roughly 15k for three legendary weapon upgrades. You can make fast cash in the Hippodrome and Gladiator arenas, attack transports and raid as many tombs as possible, but of course that costs you time.
This may be the point at which you yell in outrage about micro transactions and believe that you actually need them to help poor Bayek out and enjoy the game. No. I paid about as much attention to the micro transactions in Assassin's Creed Origins as I have done since Black Flag's 'Time-Savers' – none. If you can't enjoy the game without them, then I'm not interested. Ubisoft's recurring statement over the years has been that they are 'entirely optional', and this still rings true in Origins – it's by no means a 'pay-to-play'. There are cosmetic items such as mounts or outfits that may take your fancy and tempt you to purchase a bundle of store currency, 'Helix Credits', but aside from this I have a full legendary set-up without spending a penny. Of course it would be better if they weren't there at all, but you can ignore it like that family member no one wants to see.
While occasionally a bit of a pain, particularly as I felt I was out-levelling gear quite quickly, the fact that money really doesn't grow on trees provides scope for strategic thinking and I eventually came to enjoy the system that I put in place for myself – which didn't require hours of chasing transports across the desert or mashing people to a pulp in the Gladiator arenas (which is fun, in any case!). It's the same with resources and again, can seem like a grind at first – forcing you to hunt for hours. However, if you take on some side missions and explore each local area you'll come across what you need organically and sometimes in abundance! Exploring the world itself is not a chore and you'll likely find yourself sidetracked – before long you'll be able to create your own time-savers, if you are really that desperate to reach end-game at reviewer speed.
Holy Hell! It's a hippo! Huh….! The fear evaporates instantly as the hippo turns to chase me. Open mouthed, its head bobbing along as it totters rapidly toward me…This is too much to handle as my sides split apart. However, as it gets closer I come to my senses and realise, it is still going to eat me…Never play knock down ginger with a Hippo.
As you ride across the dunes, the horizon becomes hazy and the environment begins to trick your senses with sporadic mirages. Taken in by this atmosphere I rode on, continuing to give poor Bayek heatstroke – going from seeing a burning bush and crying out 'I'm Moses!', to enjoying a scarab shower, as the sand whispered coarsely in my ears. We even caught a glimpse of Aya – luckily he realised she was a mirage, it would have been a distressing sight to see Bayek rolling around in the sand, believing he was lying with his wife…
It's little added details like this that make Assassin's Creed Origin's open world so enthralling and engaging. As you uncover the map there are countless jaw dropping 'wow' moments, as you stop and admire your surroundings – which in turn leads into an excessive use of photo mode. I spent most of my time rummaging around tombs (not a euphemism), making discoveries, and behaving like a tourist – taking countless photos to bore the relatives with. While the idea of a photo mode isn't revolutionary, taking photos with the historic backdrop and existing locations connects you to the world and, for the first time in Assassin's Creed, provides a line of gameplay which feels as if you are creating your own story.
With a more minimalist UI which reflects the approach of Skyrim, by removing the mini-map and using compass based navigation, this enables that immersion even further. Not forgetting your trusty eagle Senu, as she sits as the precursor to eagle vision in a spectacular way. You no longer have to distort how you see the surroundings to pick out enemies, locate treasure, and resources as you gain a whole new perspective of the land from the sky – hey, what's that? I spy some Iron on the move described as 'working'…Ha, 'working Iron', must be Arnold Schwarzenegger. I'm impressed with myself. Until my companion and I spot some wood on the horizon. It's 'sleeping'. He asks me: 'How does wood sleep?' and before I could answer says, 'like a log.' Back to the game then, I think…
With Bayek sitting as your own pet project, features synonymous with the series have been scrapped – some for the better. Achieving full synchronisation within memories is no longer a thing, while this did grant a sense of achievement in previous games some were incredibly frustrating – particularly if the assassin in question ended up spinning around on a wall and didn't fancy listening to you. With this removed you can take on the various missions and camps, and instead of having a systematic approach, can assess and deal with each situation however you see fit. The combat is no longer reliant on a reactionary counter system and instead takes a pinch of Dark Souls with hitboxes; creating more dynamic battles as you dodge, parry, and strike your foes. While a leap in the right direction it's not quite as smooth or polished as it could be, the lock-on during melee combat was more often than not a bit of a hindrance rather than a helpful aid, and could make dodging more difficult. This is not something you have to use, I used it very rarely, but as a prominent feature isn't quite where it should be.
Each district has a recommended level, with enemies to match – not like Assassin's Creed Syndicate, mind you, where everything in that zone is fixed up to, say, a recommended level of 5. In Origins, you might be in a zone that recommends you are 20-25, but will have content for you to return to at level 35, for example. There are also mini-bosses, known as Phylakes, hunting you around the map at varying levels – most are best avoided while levelling, but this also means you won't be running around a lower level zone feeling entirely invincible, as the game continues to challenge you. It was rarer for me to be defeated by enemies, but rather in true Assassin's Creed fashion in the ministry of silly deaths as the result of mobility glitches (and occasionally my own stupidity – playing with fire is a risky business in Egypt…) The most notable glitches were environmental, including floating rats, raining cats, and an oasis which became a bottomless pit to 'leap of faith into' – I think I'll pass, mate. Origins may still have buggy moments like this, but it is a much rarer occurrence than in other games in the series, rare enough that the incidents are countable rather than countless. There's nothing on the scale of Assassin's Creed Unity here and can generally be laughed off, as they aren't detrimental to gameplay for the most part.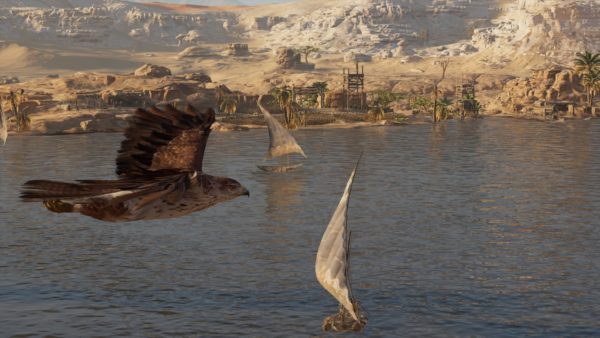 Assassin's Creed Origins has a strong sense of authenticity within the land of Egypt and its people, the locals and protagonists aren't running around sounding like aristocratic Brits or cockneys – I'm looking at you Unity – and you walk and talk like an Egyptian should. However some of that is lost when the high-powered players in 'Game of Thrones Egypt', notably Cleopatra, Ptolemy XIII, and Caesar all have English accents. This doesn't affect your time exploring the land, but when you meet Cleopatra for the first time – which should be quite an exciting moment – it detracts from that solid, well rooted world that has been meticulously built around these interactions.
The modern-day aspect returns to the franchise in a technically more agreeable way – you now know who's in the animus, a woman called Layla, and how it links back into the story is reminiscent of the Desmond approach with a much clearer purpose. However, even when the modern-day was intrinsically linked to the storyline until the close of Assassin's Creed III, I would always have a niggling to get my ass back into the Animus – but, I still had a level of investment in that aspect, as it felt like the present day was leading into something much bigger than it became. The brief moments you spend with Layla didn't compel me to leave the Animus more than was required – why would I want to leave the lush Egyptian setting and return to a small cave? We don't see enough of Layla to care for the character, but then conversely you don't want to spend more time out of the Animus – so it's a bit of a catch 22. Potentially, for its return, those very brief moments would have been better as cutscenes to provide enough intrigue for its playable inclusion in future instalments? While this isn't necessarily a major negative or a glaring error, it's something that still needs to find its feet if we are to fully reinvest in it as a package deal. The overall appeal of the series has always been to play with history and this is most definitely where it succeeds.
Experience: 
'Sand. It's everywhere!'
Just when you thought the Assassin's Creed franchise was fading away, Assassin's Creed Origins comes forth from the shadows and takes you on an epic journey of intrigue and mystery through ancient Egypt. Taking a time-out has worked wonders for the series and we are presented with the most expansive and visually spectacular Creed yet, bringing you a world you want to explore with a fine-tooth comb – from the highest peaks to the depths of ancient tombs. Assassin's Creed Origins takes a leap of faith in the right direction and it's imperfections are outshined by its personality.
Replayability factor: High
Game Mastery level (Trophies): Medium
Pros:
+ Vast open world that you want to explore
+ Engaging characters
+ Gameplay overhaul moves in the right direction
Cons:
– Some noticeable glitches
– Combat lock-on
– Minor narrative concerns
Rating: 9/10
Emma Withington – @EWithingtons
Follow the gaming team @FMyth_Gaming