Pitch Perfect 3, 2017.
Directed by Trish Sie.
Starring Anna Kendrick, Rebel Wilson, Hailee Steinfeld, Brittany Snow, Anna Camp, Hana Mae Lee, Ester Dean, Alexis Knapp, Chrissie Fit, Kelley Jakle, Shelley Regner, Elizabeth Banks, John Michael Higgins, John Lithgow, and Ruby Rose.
SYNOPSIS:
Pitch Perfect 3 follows the a cappella group, The Bellas, who have now graduated from university and come to the horrible realisation that making music with your voice doesn't guarantee you a career. Beca (Anna Kendrick) has recently quit her job, Patricia (Rebel Wilson) still doesn't have one, and everyone else's jobs are not working out. When the opportunity arises to join a tour of army bases to compete for a spot as opening act for DJ Khaled (yes, really), they go for it. Competing on the tour as well are a rock band called Evermoist (Ruby Rose plays the lead singer), a country band, and a rapping/DJing combo. 
The Pitch Perfect movies are built on a simple premise, that of an all-female acapella group conquering the a capella world. Despite this potentially off-putting premise, the first two films were a delight — particularly the first one — original and funny and full of funny moments that land and entertaining songs.
The third instalment is no different. It increases the ridiculousness at times, and even features instruments (much to the Bellas' dismay), but it is a fitting final act for this quirky and entertaining trilogy. Like almost all comedy movies it loses its footing somewhere close to the middle, then changes the tone slightly and starts to get pretty ridiculous – but it generally all works. A couple of plot points are forgotten completely and a few of the strands don't come together or don't work particularly well, but you won't notice. The comic delivery is great from the entire cast, and even though this third entry lags at times, it ramps up the absurdity to make up for it. The jokes are great, Anna Kendrick, Rebel Wilson, Elizabeth Banks, and Brittany Snow stand out, but the entire ensemble cast is great (even Ashley and Jessica). Self-aware as always ( at one point someone goes "that's a lot of exposition", after a lot of exposition), the film is also laugh out loud funny throughout.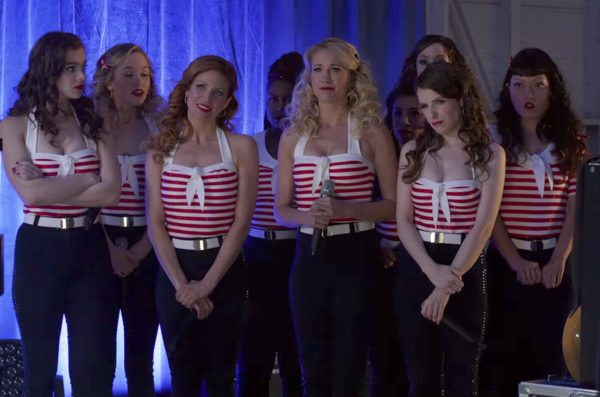 It subverts as many cliches as it happily partakes in, and is a movie written by, directed by, and starring women. It is also not just about romantic arcs for each character (although there is some of that), but the plot really is not the point of this movie. There are shark week period jokes, Toxic by Britney Spears is performed (a capella, of course) aboard an exploding yacht, and there's a fight that involves throwing wasabi and crippling nipples. None of this is a bad thing, because the comedy timing is, as always, perfect, as are the pitches.
If you enjoyed any other previous entries, if you like having fun, or if you find the idea of a capella music hilarious, then Pitch Perfect 3 is for you. It doesn't take itself too seriously, and neither should you.
Flickering Myth Rating – Film: ★ ★ ★ / Movie: ★ ★ ★ ★
Rachael Kaines