Sideshow has revealed its upcoming life-sized Kylo Ren bust which is based on the appearance of Adam Driver's character in the latest Star Wars trilogy. The limited edition collectible is available to pre-order now, pried at $1,150 and is expected to ship between May and July 2018; check it out here…
SUPPORT FLICKERING MYTH: Pre-order via Sideshow Collectibles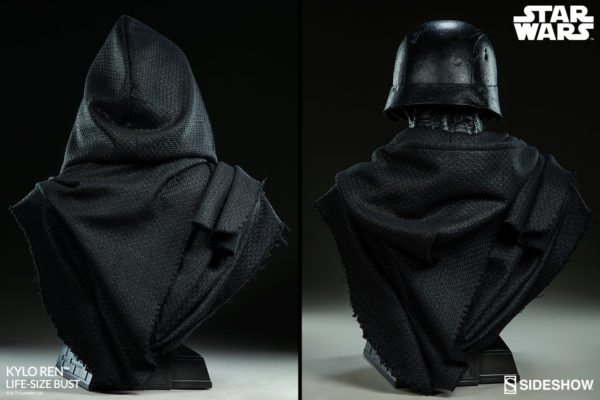 Prepare to bow to the might of the First Order- Sideshow is proud to present the Kylo Ren Life-Size Bust. Measuring 29" tall, this bust captures the ruthless and intimidating presence of Kylo Ren, a dangerous student of the dark side of the Force. Following his grandfather's storied legacy, Kylo Ren has a highly accurate and intricate helmet sculpt, complete with details of weathering and battle-damage as seen in the newest Star Wars trilogy.
Kylo Ren has tailored fabric garments, with the textured material forming the hood and cloak at his shoulders. The Kylo Ren Life-Size Bust can be displayed with the hood up or down, allowing you to customize your ultimate Star Wars display. Feel the dark side of the Force and add the Kylo Ren Life-Size Bust to your collection today!
SEE ALSO: Star Wars: The Last Jedi concept art features a bald Kylo Ren
In Lucasfilm's Star Wars: The Last Jedi, the Skywalker saga continues as the heroes of The Force Awakens join the galactic legends in an epic adventure that unlocks age-old mysteries of the Force and shocking revelations of the past.
Star Wars: The Last Jedi sees returning cast members Mark Hamill (Luke Skywalker), Carrie Fisher (Leia Organa), Adam Driver (Kylo Ren), Daisy Ridley (Rey), John Boyega (Finn), Oscar Isaac (Poe Dameron), Lupita Nyong'o (Maz Kanata), Domhnall Gleeson (General Hux), Anthony Daniels (C-3PO), Gwendoline Christie (Captain Phasma), Billie Lourd (Lieutenant Connix), Andy Serkis (Supreme Leader Snoke), Peter Mayhew and Joonas Suotamo (Chewbacca), Tim Rose (Admiral Ackbar), Mike Quinn (Nien Nunb) and Warwick Davis joined by new additions Jimmy Vee (Pan) as R2-D2, Kelly Marie Tran (Ladies Like Us) as Rose, Benicio Del Toro (Guardians of the Galaxy) as DJ and Laura Dern (Jurassic Park) as Vice Admiral Holdo.