Red Stewart reviews the first episode of Black Lightning…
Since Marvel's reinvention of the genre in the 1960s, superhero comics have extended past the two-dimensional good vs. bad dynamic and delved into some tragically deep themes. Though this has been downplayed in the current renaissance of superhero movies and television shows, we still get bursts of this every now and then, from Captain America: The Winter Soldier exploring global security to Batman v Superman: Dawn of Justice taking a look at xenophobia.
For the most part The CW's own little shared universe of properties, officially dubbed the Arrowverse, has remained free of exploring stronger societal issues, with the exception of some episodes like "Spectre of the Gun." You can thus expect my surprise when I watched the pilot of Black Lightning and came away feeling enlivened by what I had just witnessed.
The appeal of this show lies in the fact that, unlike almost every other comic book-based TV series both Marvel and DC, Black Lightning focuses on someone who is not a newcomer to the life of superheroics, nor is he naive about the kind of world he lives in. That someone is Jefferson Pierce, a school principal who, nine years prior to the start of the series, operated as the titular character before the violence and stress began to significantly affect him and his family. This aspect alone is fascinating. Too often human superheroes are treated as invincible machines that can dodge bullets and take an invincible amount of punches without faltering, and it is something I hope the series continues to feature in later episodes.
Because of this, Pierce has taken up the role as principal of Garfield High School, where he hopes to help his city through enlightening the next generation. "I've saved more lives as principal than I ever did as Black Lightning," he tells his ex-wife Lynn Stewart, an idea that is called into question when it is revealed that one of the top gangbangers in the area graduated under his wing from Garfield High. This hoodlum, calling himself Lala, is a member of a criminal enterprise known as "The 100," which has been taking over the local neighborhoods in an attempt to expand their influence.
As stated before, Black Lightning does not limit itself to a good vs. evil paradigm. The 100 are vicious gangsters, but their foundation is clearly shown to be the societal decay of the city itself: law enforcement officials are employing broken windows policies, city hall wants to treat all high schools as criminal breeding grounds, and gun laws are clearly outdated. At the same time, the police are overworked and demonized, recidivism is high for parolees, and many citizens are expressing their frustration through rioting. Creator Salim Akil, who directed and wrote the pilot, openly draws upon real-world issues that are viscerally prominent in today's age, from Black Lives Matter to gang violence in Detroit to everything that is Ferguson, Missouri.
These are all storytelling elements that could overwhelm a feature-length film, let alone a 42 minute pilot. Yet through some great pacing, Akil manages to guide viewers through all these issues: not delving heavily into them, but giving each enough of a taste that you know it will continue to remain a part of the series' long-term initiatives. I was particularly interested in one aspect touched upon by a conversation Pierce has with his old friend Gambi (essentially this show's version of Cisco Ramon or Melvin Potter), which is the infinite nature of crime yet the finite nature of the human body.
The acting is great for the most part. Much like with the cast of Boyz N the Hood, the actors in Black Lightning draw upon their own experiences with these racial problems and methodically project them in their performances. As the lead actor, Cress Williams gives a powerful performance as a man who dilutes between world-weariness, protective father, and sheer frustration. I especially liked his interactions with ex-wife actress Christine Adams, as the two do a good job of conveying the heavy history between their characters despite no doubt meeting for the first time on the set of the show.
My only problem with the acting had to do with Nafessa Williams, who plays Pierce's older daughter (and future sidekick) Anissa Pierce/Thunder. She seemed to overact at times, specifically during scenes where she converses with younger sister Jennifer (China Anne McClain). But, like with many entertainment mediums, there is always room to improve in the future.
Overall Black Lightning was the spark of energy (no pun intended) that the superhero genre needed. With a focus on hard drama, deconstructed view of superheroes, and a limited run of 13 episodes, it is a sign that The CW is learning from its past mistakes with the Arrowverse by trying to create a more focused narrative that honors the comics, but at the same time expands their mythology to fit our current world.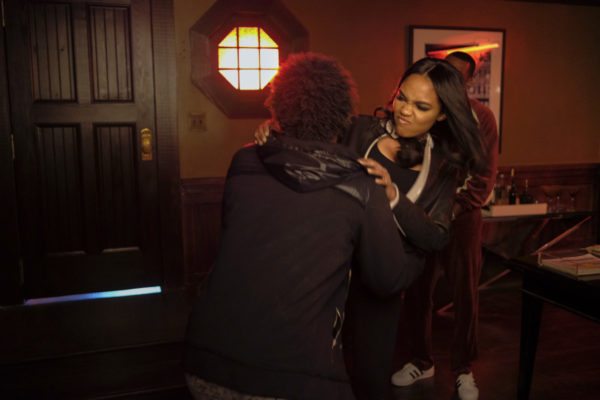 Notes:
-At the moment there is no confirmation on whether or not Black Lightning exists in the Arrowverse, but there is a mention of other superheroes active in other cities, so fingers crossed.
-I personally think it is a mistake to introduce Pierce's daughter's alter egos this early in the show. One of the problems I felt Arrow and The Flash has been the introducing their trademark sidekicks too soon. But we'll see how things go.
-They need to do a better job in future episodes of explaining the extent of Pierce's powers, as I do not understand why he engages in hand-to-hand combat when he can just constantly shoot lightning at everyone.
-Lynn's immediate change from being against Black Lightning returning to being for it felt a little sudden. We will have to see how future episodes treat her relationship with Pierce's return.
Rating: 9/10
Red Stewart