Alex Moreland reviews the eleventh episode of  Star Trek: Discovery…
Can you hide your heart? Can you bury your decency? Can you continue to pretend to be one of them? Even as, little by little, it kills the person you really are.
It's something that I touched on briefly in my review of last week's episode, but 'The Wolf Inside' makes it clear just why Star Trek: Discovery went to the mirror universe: the relationship between Ash Tyler and Voq is paralleled by Burnham pretending to be her alternate self. It's actually a really clever conceit to use, and – if one was still needed – a great justification to use the mirror universe; it's taking an old Trek concept and using it to strengthen the story they're telling currently, which is pretty much the perfect way to use these old continuity details.
The final reveal about Voq and Tyler has been a long time coming, but I don't think there was a better way of doing it than this. It would have been easy, I think, to simplify the reveal considerably – for Voq to always know his identity, perhaps, or have L'Rell awaken him without any difficulty. In drawing it out, and staging the realisation as a much more gradual breakdown,
It's worth taking a moment to focus on and celebrate Shazad Latif here; playing a dual role is difficult under any circumstances, but he really excels here. Latif has given a very mannered performance up to this point, with a precise awareness of his performance; watching the façade slip, and seeing the distinction between Voq and Tyler begin to fall away, it becomes evident just how skilled he is. With a lesser actor, it'd be easy to imagine this plotline not quite working – but Shazad Latif really elevates it, with a brilliantly nuanced performance underscoring just how painful this process is. Hopefully (and I do suspect this will be the case) we'll get a chance to see him dive deeper into the dichotomy between Ash and Voq in future episodes. Surely Ash is still in there on some level, and I've little doubt that Shazad Latif will continue to pitch that duality perfectly.
And, indeed, much the same can be said of Sonequa Martin-Green – it's been a while since I've drawn specific focus to her in these reviews, but it really must be said once again that she is an absolute highlight. Martin-Green and Latif play off one another really, really well; there's been an obvious chemistry for a while now, but they do a great job of flipping that relationship on its head here and dwelling in the negative space when the bond between Burnham and Tyler is brought down. While I did admittedly have some doubts about a relationship between Burnham and Tyler initially, it proved vital to the eventual reveal – it's an engaging scene, and the heightened emotions wouldn't work anywhere near as well as they do without that relationship.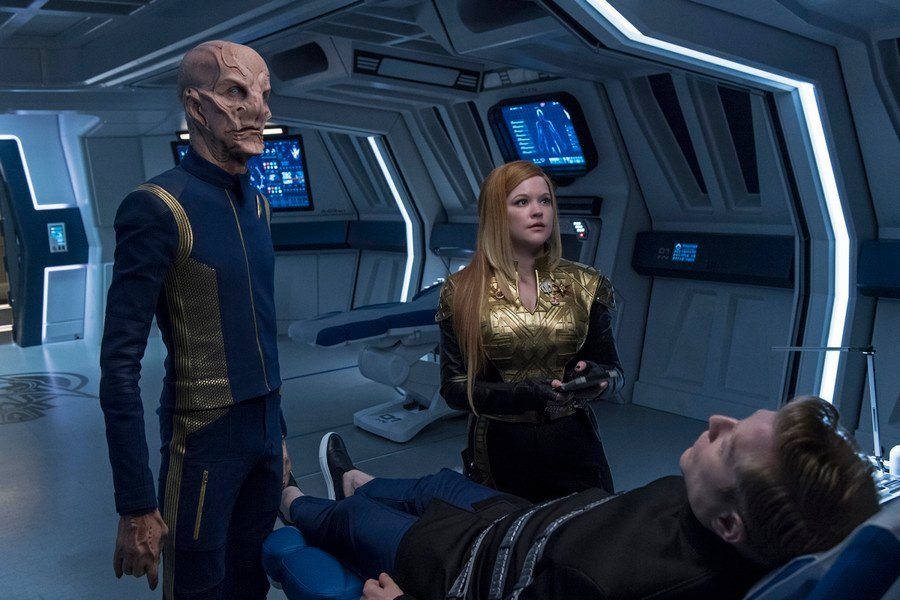 Elsewhere, we pick up on the Discovery in the wake of Dr. Culber's death. Much as I still have reservations about killing off Culber (though I am starting to think it's not quite as simple as we've been lead to believe), 'The Wolf Inside' does pick up this thread fairly well. The assumption by the rest of the crew that it was Stamets who killed Culber positions the plotline in a place of dramatic irony; there's a sense that we're a step ahead of them, yes, but not trying to build a mystery out of it lets the episode focus on other things – namely, the relationship between Saru and Tilly.
From time to time, I've commented on how Discovery perhaps hasn't always been able to find the right weighting in terms of how it approaches characterisation – an underdeveloped subplot here or there, leaving our supporting characters a little thinly sketched. Thankfully, it's proving to have just been a matter of time; 'The Wolf Inside' strikes the balance better than a lot of episodes have previously. Arguably, that is because this is episode eleven – we've reached a point where you can just bounce the characters off one another and it'll be reliably compelling. Certainly, positioning Saru as another of Tilly's mentors, alongside Burnham, is something that has a lot of potential – both in terms of developing the characters more as individuals, but also in terms of how they interact with one another. (Something I'd like to see next week, perhaps, would be to contrast Acting Captain Saru with 'acting Captain' Tilly – even if the pun wasn't there, it'd an area worth exploring.)
There's a nice parallel, incidentally, between Burnham and Saru as they each lie to one another; Burnham as she hides the truth about mirror-Saru, and Saru as he doesn't tell her about Dr. Culber. It's a small detail, but a nice way of emphasising certain similarities between Burnham and Saru. It's moments like these that I appreciate from Star Trek: Discovery; certainly, it's nothing groundbreaking, but there's something to be said for including these subtle moments and letting them inform our understanding of the characters. A lot of equivalent programmes wouldn't make the time for something like that, or if they did they'd be amongst the first moments lost in the edit bay – that they can still be found in Discovery makes it clear enough that this show is doing something right.
Last week, I noted that Discovery is starting to feel like it's on a precipice – that we're about to see the show make some grand, sweeping changes to its premise. 'The Wolf Inside' largely continues this, with its closing revelation about Stamets and the mycelial network. Establishing the link between the different iterations of Stamets was perhaps an obvious move, but definitely an exciting one, particularly considering the question it raises:
Where next?
There is a feeling, at the close of this episode, that the rest of the series really could go anywhere – that it's not quite beholden to any of what it's previously established. If Discovery didn't go back to the Klingon war, I'd be far from surprised; indeed, it'd almost feel disappointing. In opening up the wider possibilities of the mycelial network, Discovery has widened its own potential – as I commented last week, it's created a brand new final frontier all of its own. The show might well be about to have its cake and eat it too – having spent eleven episodes as a prequel, running through various references to the original series, Discovery has a chance to write its vision anew. In a way, it'd be in keeping with Bryan Fuller's original suggestion of an anthology show – from here, you could easily picture Discovery finding itself in another parallel universe, or existing in the Kelvin timeline, or arriving home at a point post-Voyager. Or, indeed, anything.
Ultimately, a very strong offering from Star Trek: Discovery. What's really worth remarking on, I'd argue, is just how well it's been able to use the mirror universe concept – lending it a degree more depth than we've seen before, with both a nuanced exploration of just what it would mean to survive in an 'evil' alternate universe as well as using the concept to strengthen Discovery's own character work. All in all, 'The Wolf Inside' is a really impressive instalment of Discovery, and I hope the show can maintain this level of quality moving forward.
Rating – 9/10
Alex Moreland is a freelance writer and television critic; you can follow him on Twitter here, or check out his website here.