I, Tonya, 2017.
Directed by Craig Gillespie.
Starring Margot Robbie, Allison Janney, Sebastian Stan, Paul Walter Hauser, Caitlin Carver, Bobby Cannavale, and Julianne Nicholson.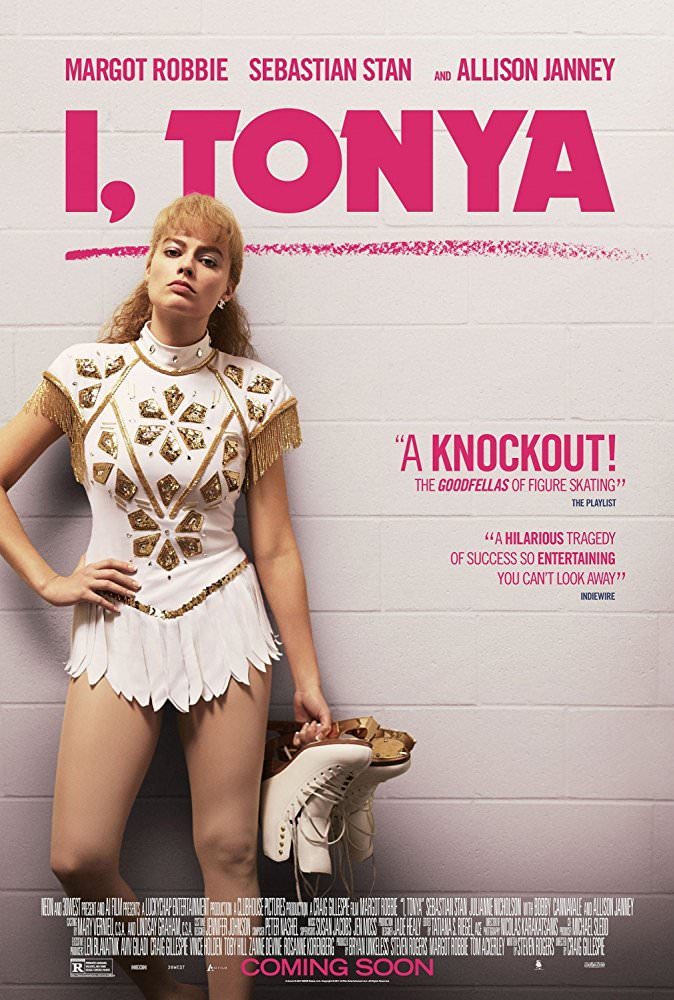 SYNOPSIS:
The true story of Tonya Harding, who was the world's best female figure skater despite a deprived background. She found her career derailed after she was implicated in a brutal assault on one of her skating rivals.
The thing I kept coming back to after I saw I, Tonya was how awful 1994 was for the world of sports. My parents have never let me forget that Brazilian racing driver Ayrton Senna died the same day I was born. If that wasn't enough, both the Tonya Harding/Nancy Kerrigan incident and the whole O.J. Simpson circus happened that same year.
The issue with all biopics and films "inspired by true events" is how much of the real story they chance for dramatic purposes, and how it seems like the film is just trying to rewrite history. The Greatest Showman got criticized for this very reason, but it appears that I, Tonya found a way around it. How? By repeatedly pointing out that certain things did not happen, by making everyone an unreliable narrator. This is where most of the humour of the film comes from, as the juxtaposition between what the characters do and what their current day counterparts say in interviews makes room for quite a few laughs. Harding and other characters constantly break the fourth wall to clarify to the audience how the events transpired, or at least they try to while looking like they're obviously lying.
Margot Robbie gives a career-best performance as the infamous Tonya Harding, making you both feel bad for her while also seeing why it's so easy to root against her and not believe a word she's saying. She constantly makes excuses and makes it look like nothing it's her fault. Robbie completely disappears in the role and makes it her own. The stand out of the film, however, is Paul Walter Houser as the scene-stealing and enigmatic Shawn. Houser plays an asshole of cosmic proportions, but all his obviously preposterous lies provide the biggest laughs in the film.
The biggest flaw in I, Tonya is the dodgy use of CGI to paste Margot Robbie's face in a body double whenever she's doing skating stunts, which is jarring and useless since she's moving so fast we don't really see her face, but still notice the CGI. If it was done once, I could look past it, but it happens so often I'd rather them skip the skating entirely.
The film has a big theme of heroes and villains and how we all want someone to hate, specially the media. The film criticizes the media circus that went on around Harding, and how quickly they move on to the next big thing after. And yet the film plays all of this for laughs. As a critic I was conflicted when the film treated some of the scenes of abuse in a comedic way. I laughed just as the filmmakers intended, but it's concerning that that's the direction they went for. A big part of the story in I, Tonya is the domestic abuse Harding suffered her entire life, but the filmmakers chose to play it for laughs and it is deeply disturbing.
While I, Tonya features powerhouse-performances from rightfully Oscar-nominated Margot Robbie and Allison Janney and I was entertained by what I saw, to downplay disturbing tale of the damaged caused to a woman for laughs makes this a difficult film to recommend.
Flickering Myth Rating – Film: ★ ★ ★ / Movie: ★ ★ ★
Rafael Motamayor