One of the many curveballs thrown by director Rian Johnson in Star Wars: The Last Jedi revolved around the character of Supreme Leader Snoke, played by Andy Serkis.
While the majority of fans expected to learn more about this mysterious, force-powerful villain in Episode VIII, Johnson chose instead to cut his story short when he was struck down by his apprentice Kylo Ren (Adam Driver).
Speaking to USA Today, Serkis has been discussing how he found out about the Supreme Leader's fate in The Last Jedi, which he says left him "in a state of semi-shock."
"I was taken to my trailer on the lot at Pinewood Studios, where I was to read the script for the first time on a tablet. We were never handed printed scripts, and had to hand back the tablet as soon as we were done. I was swiping through the story, and landed on this epic scene, where Snoke is goading Kylo Ren to kill Rey, to fulfill his destiny. It was riveting, the tension building with each line. I just couldn't work out where it was heading.
"And then as I swiped up … there it was. The end … not for Rey, not for Kylo Ren, but for the Supreme Leader … just gone. I walked out of the trailer in a state of semi-shock, feeling the weight of knowing I would have to mask a great secret for a very, very long time and that my brother, a massive Star Wars fan, was going to be heartbroken."
SEE ALSO: Star Wars: The Last Jedi novelisation has revealed details of Snoke's violent past
Asked about the possibility of a surprise Snoke return in J.J. Abrams Star Wars: Episode IX, Serkis played coy, stating that: "I've had to carry that to his death. I cannot reveal that, just in case. Because in Star Wars, anything can happen."
Assuming that Snoke was actually killed in The Last Jedi, it doesn't necessarily rule out a flashback or Sith Ghost-style appearance in Episode IX. If not, we may still not have seen the last of him however, as Serkis has revealed that he's been asked not to reveal any details on Snoke and his backstory, suggesting that Lucasfilm may have plans to explore the character further, either in an Anthology movie or some other medium such as books or comics.
SEE ALSO: Watch Andy Serkis perform as Snoke without visual effects in Star Wars: The Last Jedi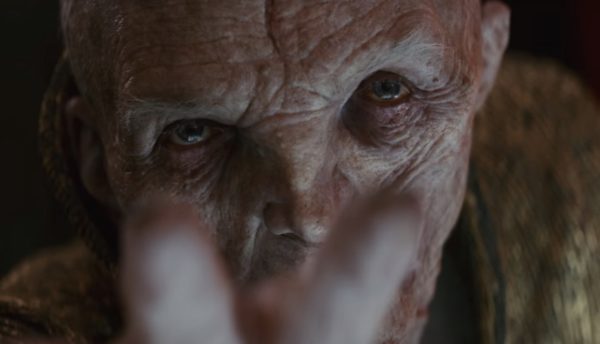 In Lucasfilm's Star Wars: The Last Jedi, the Skywalker saga continues as the heroes of The Force Awakens join the galactic legends in an epic adventure that unlocks age-old mysteries of the Force and shocking revelations of the past.
Star Wars: The Last Jedi sees returning cast members Mark Hamill (Luke Skywalker), Carrie Fisher (Leia Organa), Adam Driver (Kylo Ren), Daisy Ridley (Rey), John Boyega (Finn), Oscar Isaac (Poe Dameron), Lupita Nyong'o (Maz Kanata), Domhnall Gleeson (General Hux), Anthony Daniels (C-3PO), Gwendoline Christie (Captain Phasma), Billie Lourd (Lieutenant Connix), Andy Serkis (Supreme Leader Snoke), Peter Mayhew and Joonas Suotamo (Chewbacca), Tim Rose (Admiral Ackbar), Mike Quinn (Nien Nunb) and Warwick Davis joined by new additions Jimmy Vee (Pan) as R2-D2, Kelly Marie Tran (Ladies Like Us) as Rose, Benicio Del Toro (Guardians of the Galaxy) as DJ and Laura Dern (Jurassic Park).