Details regarding Snoke's rise have been revealed thanks to the novelisation for Star Wars: The Last Jedi.
Supreme Leader Snoke was one of the most intriguing aspects of the sequel trilogy, generating an incredible amount of fan interest and speculation about who he was and where he came from.
We didn't find out much of anything about the character in The Last Jedi and now that the villain has been killed off by his apprentice Kylo Ren, fans are left wanting to know further details.
Well, thanks to Dork Side of the Force, certain information regarding Snoke and his rise to power has been revealed, all stemming from the upcoming novelisation for The Last Jedi (due out on March 6th).
So what do we know? Here is what Dork Side of the Force has revealed:
Snoke has murdered and destroyed legions of countless adversaries, who underestimated him in time's past.
Snoke was an unexpected leader of the First Order.
Imperial leadership who survived the Battle of Jakku did not foresee his rise to power.
Gallius Rax, Sloane, the political lunatic Ormes Apolin or even Brendol Hux did not see this rise coming.
The Supreme Leader either killed them or arranged for their death himself. Only Armitage Hux (General Hux from The Last Jedi) is spared, but Snoke only uses him as a tool.
The rise of the First Order was more opportunistic for Snoke, and not his grand plan.
Emperor Palpatine's contingency, Operation Cinder, was engineered to destroy the Empire upon his death and bring forth a rebirth of it, stronger than it was before. Snoke used that to his advantage, with Darth Sidious unaware that Snoke would be the one to see it through.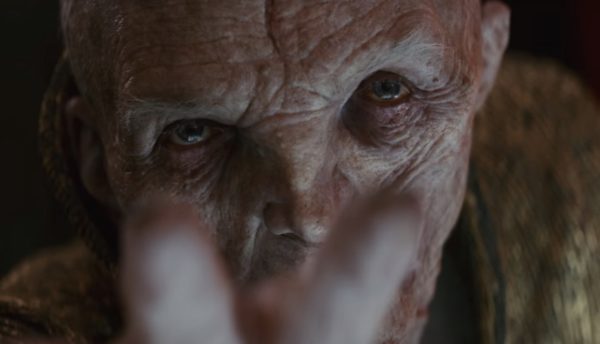 Snoke does not need Rey for her powers like Sidious did with Luke, but, he muses that she would have been a worthy apprentice in his past endeavors.
Even though Snoke claims that Kylo Ren has redeemed himself, his use for Kylo is over — due to his unstable nature within the Force.
Snoke contemplates that after Kylo Ren kills Rey and the Resistance is destroyed, he'll re-think Kylo's future or even kill him.
When Snoke reveals that he was the one to connect Rey and Kylo Ren through the Force, he notices Kylo's surprise reaction to that very truth.
Snoke believes Kylo Ren is capable of greatness if he entirely turns away from the Light Side.
Well, there's certainly a lot there and the above should hopefully suffice fans yearning for a little extra knowledge about the mysterious Dark Side user.
There's always a chance of course that Snoke could turn on the big screen once more but for now, fans will have to make do with the info learned via the novelisation.
SEE ALSO: Rian Johnson calls the conversation around Star Wars: The Last Jedi "wonderful"
In Lucasfilm's Star Wars: The Last Jedi, the Skywalker saga continues as the heroes of The Force Awakens join the galactic legends in an epic adventure that unlocks age-old mysteries of the Force and shocking revelations of the past.
Star Wars: The Last Jedi sees returning cast members Mark Hamill (Luke Skywalker), Carrie Fisher (Leia Organa), Adam Driver (Kylo Ren), Daisy Ridley (Rey), John Boyega (Finn), Oscar Isaac (Poe Dameron), Lupita Nyong'o (Maz Kanata), Domhnall Gleeson (General Hux), Anthony Daniels (C-3PO), Gwendoline Christie (Captain Phasma), Billie Lourd (Lieutenant Connix), Andy Serkis (Supreme Leader Snoke), Peter Mayhew and Joonas Suotamo (Chewbacca), Tim Rose (Admiral Ackbar), Mike Quinn (Nien Nunb) and Warwick Davis joined by new additions Jimmy Vee (Pan) as R2-D2, Kelly Marie Tran (Ladies Like Us) as Rose, Benicio Del Toro (Guardians of the Galaxy) as DJ and Laura Dern (Jurassic Park)