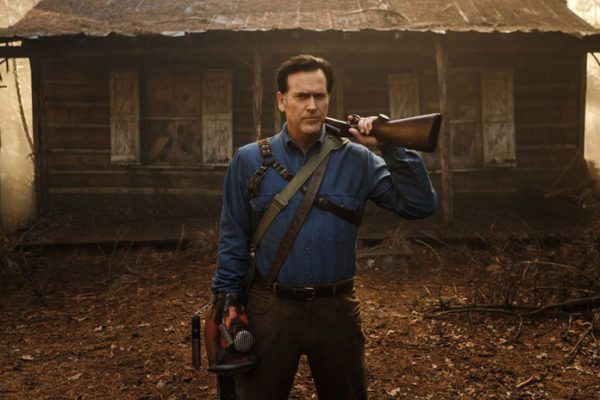 For a while back in 2013, it seemed as though we might get the long-rumoured fourth instalment in the original Evil Dead series, with Sam Raimi revealing that he was planning on developing a script for Army of Darkness 2.
While the movie never materialised, we did get to see Raimi returning to the series – and Bruce Campbell returning to his role as Ash – for the TV series Ash vs Evil Dead, and speaking to EW to promote the third season, Campbell has hinted that Evil Dead 4 could be revived if the show isn't renewed by Starz.
"We won't know till the middle of March," said Campbell when asked about a potential season four renewal. "We're in the horrible television limbo right now. We're going to see what the TV gods have in store for us. We're ready either way. If they take us off the air, we can think about another movie. And if they don't, we can just keep plugging away."
SEE ALSO: Exclusive Interview – Bruce Campbell on Ash vs. Evil Dead Season 3, Stuntmen, and Stephen King
Would you like to see a fourth Evil Dead with Campbell and Raimi, or are you quite happy with Ash vs. Evil Dead for the time being? Let us know in the comments below…
Season three of Ash vs Evil Dead airs on Starz on Sunday nights.