While promoting season two of Jessica Jones, star Krysten Ritter has explained that she was surprised at how audiences reacted to the character.
Jessica Jones' second season premieres on Netflix in just a couple of days and while audiences are looking forward to seeing more of one of the MCUs most tragic characters, Ritter has expressed her surprise at how audiences have received Jessica.
Speaking to Collider, Ritter said that she has always loved the character but was taken aback by audiences feeling as strongly as she did: "I know that I'm excited for them to see Jessica again," Ritter said. "I like the show. I like the character. I like what she represents. I've loved her from the first day that I read the script. What surprised me the most was how much other people also loved her. I keep my blinders on and look at the work in front of me. I was only thinking about making my part really great and shoving my whole self into every detail. But then, you're like, 'Oh, right, it's gonna come out and other people are gonna see it,' and that's terrifying.
"I never think about that when I'm doing the work," Ritter continued. "When it came out and was well-received, and people really liked it and liked Jessica, and they dress up like her and quote her, it's so amazing. I'm hoping that we don't disappoint our fans and that they're just as excited to see her return as I am."
Season one was certainly well received by critics and audiences alike, and while season two isn't proving to be quite as well acclaimed, it will likely prove to be another successful venture for Netflix.
SEE ALSO: Marvel's Jessica Jones season 2 episode titles revealed with pulp-style posters
SEE ALSO: Jessica Jones has put Krysten Ritter into a dark state of mind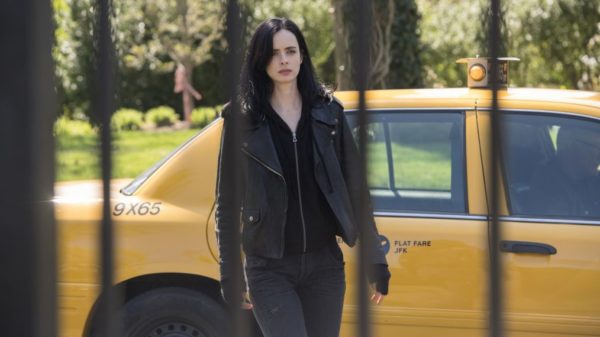 New York City private investigator Jessica Jones (Krysten Ritter) is beginning to put her life back together after murdering her tormenter, Kilgrave. Now known throughout the city as a super-powered killer, a new case makes her reluctantly confront who she really is while digging deeper into her past to explore the reasons why.
The second season of Jessica Jones arrives on Netflix on March 8th and will see the return of Krysten Ritter as the hard-drinking super-powered private eye, along with Rachael Taylor (Trish Walker), Carrie-Anne Moss (Jeri Hogarth), Eka Darville (Malcolm Ducasse) and new cast members Janet McTeer and J.R. Ramirez. David Tennant is also confirmed as reprising the role of Kilgrave for one episode.