Having been absent from all of the marketing material so far (including the credits list of the latest poster), it's understandable why fans of Hawkeye are starting to get a little concerned that Jeremy Renner's Clint Barton may not have much – if anything – to do in next month's Avengers: Infinity War.
We have of course seen Renner on set, but there's no indication whether that was as part of Avengers: Infinity War, or its as-yet-untitled sequel Avengers 4. However, Marvel Studios prop master Russell Bobbitt has now confirmed that Hawkeye "is there [and] a part of the world".
"Hawkeye is getting a lot of cool new stuff," said Bobbitt. "We're developing a lot of interesting stuff for him. All in the, sort of, bow related but some new gadgets he has in addition to the bow."
Hawkeye's new gadgets and equipment will presumably fit his new Ronin persona and costume, which we glimpsed back in October of last year. However, given that Renner's name is absent from the poster, it would seem very likely that Hawkeye's role is going to be limited at best in Infinity War, before presumably enjoying a bigger part in Avengers 4.
SEE ALSO: Robert Downey Jr. has revealed his favourite Avengers: Infinity War moment
SEE ALSO: Rumour: Silver Surfer to appear in Avengers: Infinity War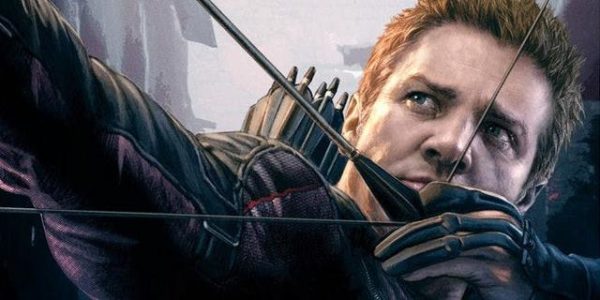 An unprecedented cinematic journey ten years in the making and spanning the entire Marvel Cinematic Universe, Marvel Studios' "Avengers: Infinity War" brings to the screen the ultimate, deadliest showdown of all time. The Avengers and their Super Hero allies must be willing to sacrifice all in an attempt to defeat the powerful Thanos before his blitz of devastation and ruin puts an end to the universe.
Avengers: Infinity War opens on April 27th 2018 and will feature an all-star cast including Robert Downey Jr. (Iron Man), Chris Evans (Captain America), Mark Ruffalo (Hulk), Chris Hemsworth (Thor), Scarlett Johansson (Black Widow), Jeremy Renner (Hawkeye), Chadwick Boseman (Black Panther), Tom Holland (Spider-Man), Sebastian Stan (Winter Soldier), Anthony Mackie (Falcon), Paul Rudd (Ant-Man), Paul Bettany (Vision), Elizabeth Olsen (Scarlet Witch), Don Cheadle (War Machine), Josh Brolin (Thanos), Benedict Cumberbatch (Doctor Strange), Benedict Wong (Wong), Chris Pratt (Star-Lord), Zoe Saldana (Gamora), Dave Bautista (Drax), Bradley Cooper (Rocket), Sean Gunn (Rocket, Kraglin), Vin Diesel (Groot), Karen Gillan (Nebula), Pom Klementieff (Mantis), Tessa Thompson (Valkyrie), Tom Hiddleston (Loki), Samuel L. Jackson (Nick Fury), Cobie Smulders (Maria Hill), Benicio Del Toro (The Collector), Danai Gurira (Okoye), Winston Duke (M'Baku) and Peter Dinklage and Terry Notary in as-yet-unrevealed roles.