Flower, 2018.
Directed by Max Winkler.
Starring Zoey Deutch, Kathryn Hahn, Adam Scott, Dylan Gelula, Tim Heidecker, Eric Edelstein, Maya Eshet, Joey Morgan.
SYNOPSIS:
A sexually curious teen forms an unorthodox kinship with her mentally unstable stepbrother.
Max Winkler's Flower is unorthodox sibling kinship from a painfully quirky perspective. Breakdowns are festively crass, attitudes unstable and actions with little reprimand. Sex is represented as both a deflection of personal powerlessness and weapon that aimed at perversion – by instigating it? Moral compasses aren't easily managed, but the cast itself keeps us involved no matter how dicey your hottest takes. This is Zoey Deutch we're talking about, after all. A goddamn cinematic treasure who could get me to watch colonoscopy B-roll if she provided narration.
Seventeen-year-old Erica (Deutch) is a rebellious product of single parenthood with her adoration in all the wrong places. She doesn't need a job because of her orally-fixated blackmail schemes with besties Katie (Dylan Gelula) and Claudine (Maya Eshet), her accomplices/video crew. Mother Laurie (Kathryn Hahn) giggles and friendship-parents Erica, but struggles to keep her mouthy child from getting into frequent trouble. Stepfather Bob (Tim Heidecker) feels Erica's bluntly-stated wrath the worst, doubly so when his recovering addict son Luke (Joey Morgan) returns home. Erica this selfish, misguided child of sin whose give-no-shits act is about to get cracked – along with her record, family life and entire goddamn universe.
Some of you are going to *hate* Flower and I get that. Erica is an "unlikable" punk whose sole existence seems to be fueled by other's discomfort. She treats people as her own personal playthings, almost as to see how quickly they'll scowl in reaction. Laurie and Bob blanket nothing but words of tenderness and care, yet Erica pines for her deadbeat father who got caught being "awesome" aka robbing a casino – rotting away while his daughter performs sexual acts as a means to raise bail money. Erica is a venomous bitch when she wants to be – Luke's fat shaming, Bob's nerd bashing, her inability to let Laurie find companionship – but it's hidden behind an excuse of honesty. Can you project anger towards someone for being 100% at all times? 'Tis the question.
Frankly, I too wrestle with surface-level observations of "Is Erica's demeanor too mean spirited?" In the way World's Greatest Dad is one narcissistic gut-punch after another, Flower commits felonies and verbally slices characters to shreds with less mercy than a Friday The 13th sequel. Some might characterize Erica as manipulative, callous, "c" word-y (Laurie's own words), and if you do, you'll have trouble digesting this Spring Breakers/Affluenza teenage wasteland. Glazed-over gazes that don't flinch when discussing date-rape drug home invasions or suicidal trauma – going for "real life, yo" with spitfire regard.
Then again – if you press deeper – the intricacies of Zoey Deutch's performance can set you free. A pint-sized actress who explodes with high-voltage energy, her smile and head-cock wink enough to stop anyone in their tracks. She plays Erica fast and loose – for example, offering to fellate panic-prone Luke if that'll calm him down (yes, step-bro Luke) – but her schemes are selfless. The money stolen off "dirty" men? For her father. Her altercation with "Hot Dad" from the bowling alley (played by Adam Scott)? With Luke in mind. The softness that follows her sisterly hazing towards Luke? Genuine. Few actresses can tease emotional turmoil like this little Anna-Kendrick-on-crack fireball and show it with such distinguishable range – instant empathy in the eyes of audiences alike.
Actually – most of the performances are spot-on given what Flower demands. Hahn the equally-sassy mama who acts like she should be gossiping inside a hair salon. Heidecker the impossibly uncool "homewrecker" (Erica's opinion) played tucked-shirt straight. Gelula and Eshet two parroting sidekicks with equally anarchistic personalities that only feed into Erica's angst-driven screams for help. All living in Winkler's disturbed little reality of inappropriate hero moments, but no other actor finding more success than Morgan. Another arc that may have you wincing in disbelief, but Morgan sells every bit of the tortured, corroded-by-one-secret shy guy (chemistry with Deutch sweet as pie).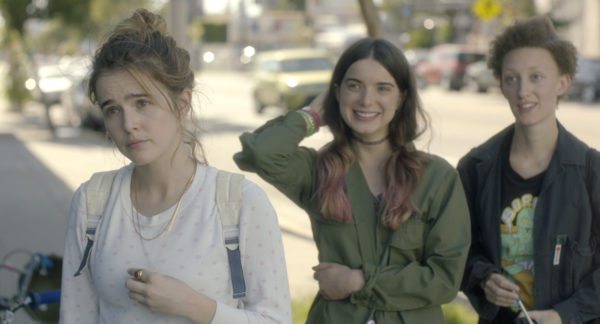 Players are not the issue here, it's more about if Winkler can sell you on the cinematic world itself. For me he does – but only with Deutch's help.
Flower is the Zoey Deutch show, which luckily for Max Winkler is a program I'll never flip off. Few actresses can play down to high school ages and still retain believability in character, but her baggy clothes, detailed dick artwork and cafeteria brawls don't skip a beat. Deutch fans, (as always) she delivers the wit and magnetism that'll soon be household knowledge. As long as you can stomach a plot that gets away with murder (maybe literally), you won't be disappointed by this raucous black sheep of an age-defining story – even lacking the relatability of, say, Edge Of Seventeen.
Flickering Myth Rating – Film: ★★★ / Movie: ★★★
Feel free to follow Matt Donato on Twitter (@DoNatoBomb) – if you dare.