Pyewacket, 2018.
Directed by Adam MacDonald.
Starring Nicole Muñoz, Laurie Holden, Chloe Rose and Eric Osborne.
SYNOPSIS:
A frustrated, angst-ridden teenage girl awakens something in the woods when she naively performs an occult ritual to evoke a witch to kill her mother.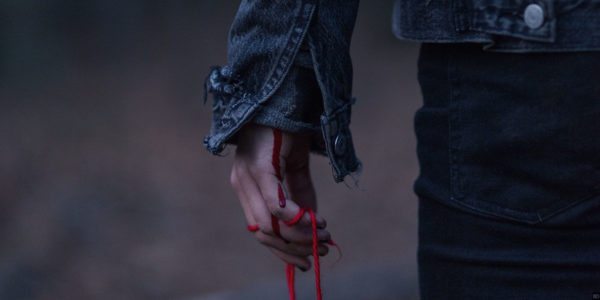 What if Lady Bird decided not to move to New York, but instead performed a demonic ritual to kill her mother in a moment of rage? That is the issue at the heart of Adam MacDonald's sophomore feature, Pyewacket.
Fifteen-year-old Leah (Nicole Muñoz) is still grieving over the death of her father, but has found solace in death metal and occultism as she tries to deal with her inconsolable mother (played by The Walking Dead's Laurie Holden) who's becoming more abusive and has been drinking more and more to cope with her grief and finally snaps and decides to escape the constant reminders of her husband's absence and relocate them both to a remote house in the woods. Separated from their friends, tension begins to rise between mother and daughter, until Mom crosses a line in an argument and the devastated Leah runs off into the woods.
Every kid has had a big fight with their parent, quite a few of them might have thought or wished at some point to have different parents, or no parents at all. Pyewacket takes it a step further by having Leah wish her mother was dead… and then summon a demon to finish the job.
Writer/Director Adam MacDonald beautifully crafted pure dread that slowly creeps up through Leah's immediate regret, made even worse when her mother apologizes the next day, and she realizes it's too late once she notices a strange presence lurking nearby. What follows is horror at its purest, where no big axe ever swings, no river of blood runs down a character's throat, and no jump scares cheapen the horrifying reality that our main character is going through. Instead, we are stuck with Leah, expecting the inevitable and struggling not to closes our eyes as we anticipate something to come out of the shadows at every turn, or her mother to suddenly get struck by lightning. The evil presence slowly makes itself known, first by a noise in the background, and then by the petrifying image of a dark shadowy figure lurking just above Leah's bed. (I saw this film two weeks after Hereditary, and I won't be able to stop double checking the corners of my room).
Pyewacket's horror comes from a sense of urgency and anticipation. We know something bad will happen, but MacDonald keeps us in our toes by stopping just before anything terrible happens – but it would all be for naught if we didn't care for the characters. Laurie Holden gives Laurie Metcalf's performance in Lady Bird a run for her money, as she completely sells us on her grief, and her remorse once she apologizes to Leah for the shitty way she's treated her. Then there's Nicole Muñoz as Leah, if you remove the demon and the horror from the film, we could easily be talking about her come awards season. Muñoz puts us right in the middle of her inner turmoil, giving such a raw performance the audience is able to feel the anger she feels, then the horror and fright she feels once she decides to try and stop Pyewacket from killing her mom.
Unfortunately, while most of Pyewacket works perfectly fine without the need to show anything, once the film reaches its climax, the filmmakers decide they do need to have a big and very visual finale. Not only is this unnecessary, but when they finally show the titular demon, it is underwhelming and takes away most of the fear from earlier.
In the end, Pyewacket works as an intimate drama about moms and daughters, with terrific performances, and characters too easily relatable – before turning into a spine-chilling horror tale that creeps up on you and never lets go.
Flickering Myth Rating – Film: ★★★★ / Movie: ★★★★
Pyewacket is out now in select theaters and on VOD in the U.S. via IFC Midnight.
Rafael Motamayor is a journalist and movie geek based in Norway. You can follow him on Twitter.