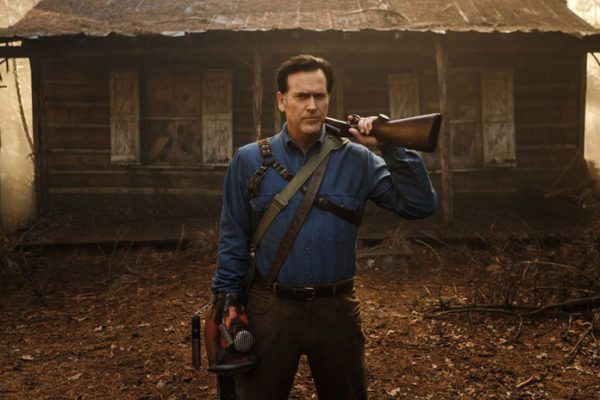 Last week it was announced that Starz has pulled the plug on Ash vs. Evil Dead, with the show set to come to an end with its upcoming season three finale.
In the wake of the news, a fan campaign was launched urging Netflix or another service to come in and rescue the Evil Dead spinoff series. However, regardless of whether there's any prospect of that, it seems we have seen the last of Bruce Campbell's Ashley J. Williams, with the actor taking to Twitter to state that he is officially "retired as Ash".
Big props to fans for the effort, but I'm retired as Ash. #timetofrysomeotherfish https://t.co/Di1aeBV0dl

— Bruce Campbell (@GroovyBruce) April 23, 2018
Campbell had previously teased that Ash could return in a fourth Evil Dead movie if Starz opted against a renewal, but it now seems like that option is off the table, at least with Campbell's Ash involved anyway.
There is of course the possibility of following up the Fede Alvarez-directed remake with a sequel, although that's unlikely to have anywhere near the same kind of appeal to fans as another big screen outing for Campbell's Ash.
Campbell first portrayed Ash in Sam Raimi's 1981 horror classic The Evil Dead, reprising the role for 1987's Evil Dead II and 1992's Army of Darkness.