Tom Beasley sits down with Star Wars: The Last Jedi director Rian Johnson ahead of the film's release on DVD and Blu-ray in the UK…
Three months after its cinema release caused backlash and controversy all over the internet, Star Wars: The Last Jedi is finally due on Blu-ray and DVD in the UK. Featuring the long-awaited return of Mark Hamill as Luke Skywalker, as well as the final appearance of the late Carrie Fisher as General Leia Organa, it's an epic space adventure that is an all-action follow-up to the nostalgic reboot The Force Awakens.
Rian Johnson popped into London this week to chat about the Blu-ray release of the movie and we took the opportunity to ask him a few questions about the fan reaction to the film, as well as the new trilogy of Star Wars stories Johnson is now set to make, separate from the Skywalker saga.
There are some mild spoilers for the movie below.
Congratulations on the film. I really loved it. As a fan, and I'm sure as a filmmaker as well, you always go into a new Star Wars movie with anticipation and also trepidation that it might not come off. But you've had a few months for the dust to settle now. How do you feel looking back on it?
I feel fantastic. It has been so much fun seeing the fans' reaction to it and seeing the depth that people have been diving into it with. It's so nice that it's going to be out on home video because I've got a lot of feedback, especially recently, from folks seeing it for a second or third time or even more. Especially folks who, when they first saw it, weren't quite sure what to make of it, or had stuff they weren't sure about with it or just flat out didn't like it and have now revisited it.
Multiple viewings are affecting people's view of it, which I think is always the case. Star Wars movies have a long shelf life and the reaction to them changes over time. I've felt really proud of the film and so thrilled by the reaction to it.
You mentioned some people not being sure about it. Going into it, did you know that some of the things you were doing were going to polarise people and split opinion?
I wasn't really thinking of it that way. Having grown up as a Star Wars fan, I know that anything that comes out and tries something interesting is going to get pushback, because I've pushed back against stuff when at first I was like 'what is that?' So I get that. But, for me, I always felt very confident that the decisions we made in the movie were coming from the right place and were the right decisions that honoured the characters and honoured the story. So I guess in my head, I always felt that even if for some folks it wasn't what they expected and they were going to recoil from it a little bit, I had this weird confidence that even those folks over the long haul, once the dust settles, they will take a look at it again and see where it's coming from. But maybe they will always hate it. [laughs]
I certainly hope they don't, because there are a lot of really interesting things in the movie. You make some really bold decisions about the Force and what it means…
It was all driven by story which, for me, was all driven by the characters. The very first step was, first and foremost, figuring out Luke and taking Luke from The Force Awakens, knowing the little but very crucial information that we know about him – that he has taken himself out of the fight and exiled himself. The idea was: why would the Luke that I grew up knowing do that? Where is he at now? That's the starting point in trying to figure him out.
Then, it was about figuring out Rey's character and all of the other characters. It was a process. Any of the new things with the Force that we introduced were all a function of the needs of the story. In the same way, in the original trilogy, they introduced the idea of a Force ghost because they needed Obi-Wan to come back and explain a few things to get him to Yoda in the second one.
The lesson that Luke and Rey have where she feels the Force on the island was a scene that, especially for a younger generation for whom this trilogy is their introduction to Star Wars, I thought was very important. In the context of all of the superhero movies that are out now, I wanted to have a scene where we stop and say that the Force is not a super power and not just the ability to pull something across the room. The Force is this bigger spiritual idea. It's this connection between all living things and it's more significant than just the ability to lift rocks. I felt like that was an important point to make.
You mentioned that figuring out Luke was your starting point. Famously, Mark Hamill has said he had some concerns initially. Could you tell me about your working relationship with Mark and whether those concerns affected you?
Well, of course it affects you. The truth is that it was more so in this case just because of who he is and who the character is, but you go through this process with every actor and every character that you have. There is always going to be stuff in the script that they get and stuff in the script where they're like: "Where is this coming from? How does this work? Why am I saying this? Why is this where the character ends up going?" It's a conversation and that's just called working on a movie. This was no different, except it was Luke Skywalker and Mark Hamill. [laughs]
There's also just an adjustment because Luke is different. He's not the same as Obi-Wan, but he's the Obi-Wan of this trilogy. He's not the Luke of this trilogy. More than that, where he was coming from in The Force Awakens meant that it would have been weird and dishonest to just have him be exactly the way he was in his twenties. Obviously these 30 years have changed him, otherwise he wouldn't have exiled himself on that island. So there was a certain amount of asking where his head is at now and why is it there.
Mark was maybe coming into it more expecting what some of the fans might have been expecting – that it was just going to be 20-year-old Luke, except with a beard. [laughs] Because I respected the character and wanted to take that character's arc seriously to figure out why he's doing what he's doing, it was never going to be that.
One of the things that's really refreshing is that everything that happens in the film is driven by character. For everything The Force Awakens does brilliantly, at times it feels like it's driven by nostalgia and driven by a desire to just keep moving, whereas I think this film is really driven by character arcs, which is particularly true of Ren and Rey and their relationship. Could you speak about the character-driven nature and, particularly, that relationship?
That was the starting point – just figuring out each one of the characters' arcs. One of my favourite scenes in The Force Awakens is the interrogation scene between Ren and Rey. It's those two actors and the two characters that J.J. Abrams and Larry and Michael [writers Lawrence Kasdan and Michael Arndt] created and the fact they're these two opposite poles of the Force. That was just instantly fascinating and so, once I started digging into this film and thinking about the hardest thing Rey could be faced with, to me the answer was facing Kylo and facing him, not in a fight, but having to actually the sit the way we are right now and having to talk.
That informed everything, even down to the way we shot their conversations. We tried not to have any special effects get in the way and not to have it be about some trippy, surreal effect. We wanted it as intimate and bare as possible.
Even though it could have been like that? Because of the supernatural nature of the way they converse…
That would have been the first instinct, to have big swirling things and to go into this netherworld where they're communicating and it's like Harry Potter. That's exactly what I wanted to avoid. I wanted to make it as plain as possible because, to me, that would be the most uncomfortable thing in the world and would force them to actually talk.
Without knowing it beforehand, you've found yourself sandwiched between two films J.J. is making. I'm intrigued to know if he said anything to you when you took this on about the threads he started and whether you've done the same to J.J. knowing he's now making the sequel?
Absolutely, there were conversations going back and forth, both coming out of The Force Awakens into this and going from this into the next one. In the same way that it was with J.J. handing it off to me with The Last Jedi, now me handing it back to him with Episode IX, I am very much just passing the torch. We had conversations about some of the things I did and ideas for going forward, but the truth is that each one of these films has to come from the person who's making it. I can't wait to just sit back, be an audience member and be surprised by where J.J. takes it. I am so excited to see where it goes.
One of the things that surprised a lot of people about this film is the way you approached some of the mysteries J.J. created in the previous film. I believe the term is that there were a lot of "fanboy tears" about what you decided to do…
[laughs] Delicious fanboy tears!
I am wondering what drove your decision to make those decisions and perhaps how J.J. feels knowing he put those pieces on the table and, in some cases, you have taken them off?
Each one of the decisions was made through the natural process of coming at it from what would challenge the characters the most. For example, Rey's parentage. The whole notion was what would be the toughest thing for her to hear and, if her search is for belonging and her place in the story, it would be so easy to give that to her by her being so-and-so's daughter. But that's super easy for her to hear and I needed to find the hardest thing for her to hear, just like "I am your father" was the hardest thing for Luke to hear in the original trilogy. It took away the easy answers. In the same way that Empire took away the easy answers from the characters, I felt it was the job of this movie to do the same thing.
And that also means realising that the most interesting thing with Snoke was taking that dynamic off the table going forward. The idea with this movie was to have Kylo be ascendant and have Kylo become the villain he wanted to be in the first movie. Once he does that, then let's have him be at the head of things. Let's get rid of the Supreme Leader and have Kylo genuinely ascend. That seems like it makes all the sense in the world.
I wrote it before The Force Awakens came out, so it's not like I was reading all these theories about Snoke being Darth Plagueis or something and saying "well screw you, I'm killing him off!"
[laughs] I think that's maybe how some people felt…
I know, I know! But that's not the way it went down. I feel like, to me, it just very organically came from what the story needed.
Going forward, you're working on more Star Wars, which is obviously a huge vote of confidence. Some filmmakers have had a slightly difficult experience with this new Star Wars world. How does it feel to have that vote of confidence and is Star Wars your focus going forward?
It's extraordinary. I have such a good working relationship with Kathy [Lucasfilm president Kathleen Kennedy] and with all the folks at Lucasfilm and Disney. That's really where this all came from us us really liking each other and asking how we can keep working together. For me, I had the most fun I have ever had making a movie doing this. Maybe that's an obvious statement. It just felt really good making it and I felt like it was a world I could engage with and bring personal stuff into. It felt like a toy box I was instantly comfortable playing with, if that makes sense. I am over the moon with the possibilities of what this new thing could be. We'll see.
Some of the filmmakers of the other spin-off movies have spoken about different genres. Rogue One was described as a war movie and people have said Solo is a bit of a western. Is that something you're looking to do?
The original Star Wars was a mixture of so many different genres at once and I think that has always been a part of it. The original one mixed everything from space opera serials to westerns to fantasy to samurai films. It was the ultimate genre mash-up and I think that's in the DNA of Star Wars.
In terms of whether the new one will tilt towards one genre, I'm not sure. I'm still in the midst of coming up with it. But the main goal is just to make something that gets to what felt exciting back when the first one came out and we saw it as kids. I want to find the essence of that and what it is if you don't have the iconography of the Millenium Falcon or Luke or the recognisable things. What is the true spirit of that and how do we capture it moving forward into new stuff?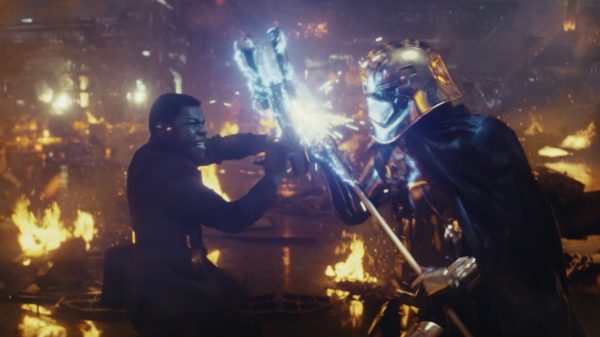 Just as a final point, the two big toy boxes in Hollywood today are Star Wars and comic books. You've done Star Wars so, if you were going to do a comic book, is there a particular character or movie you'd like to have a go at?
I'm pretty happy with Star Wars. [laughs] There's a lot of comic book movies being made today that I really enjoy. Weirdly, I grew up with Star Wars, but I didn't grow up reading comics, so it's not something that I have a real emotional grounding in the same way I do with Star Wars. I think it really helps to have that. I know for me, having that emotional basis of being able to throw myself back to when I was a kid and know what I cared about in this world, I can't imagine doing it without it.
Thank you so much for that! Congratulations on the film and I can't wait to see it again.
Thank you very much. I appreciate that, man!
Star Wars: The Last Jedi is available on DVD and Blu-ray in the UK from 9th April.
Tom Beasley is a freelance film journalist and wrestling fan. Follow him on Twitter via @TomJBeasley for movie opinions, wrestling stuff and puns.