Terminal, 2018.
Directed by Vaughn Stein.
Starring Margot Robbie, Simon Pegg, Dexter Fletcher, Max Irons and Mike Myers.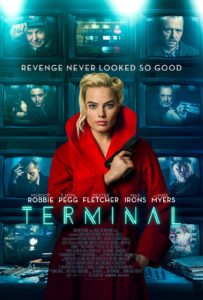 SYNOPSIS:
Two hitmen agree to take on a high-risk mission for a mysterious employer and a large paycheck. Along the way, they encounter a woman who may be more involved in their mission than they had realised.
The Guy Ritchie gangster flick formula gets a left-field, neon-tinged update with the directorial debut of Vaughn Stein, who has worked as an assistant director on high-profile blockbusters such as World War Z and Beauty and the Beast. While stylish and intriguingly weird to a point, Terminal is also rather guilty of getting a little too high off its own supply.
The movie's vague trailers have kept plot specifics to a minimum due to the twisty nature of the narrative, and we'll respect that. Know that the crux of the story follows Annie (Margot Robbie), a troubled waitress who crosses paths with two assassins (Dexter Fletcher and Max Irons), an existentially-challenged English teacher (Simon Pegg) and a train station janitor (Mike Myers). Naturally, their lives collide in violent and unexpected ways.
Terminal is most certainly a movie driven by its visuals and its performers first and foremost. From minute one, this is undeniably handsomely-mounted stuff, for though we don't get to see much of the over-world – an apocalyptic event is vaguely hinted at but little else – the digitally enhanced, neon-drenched London looks really quite gorgeous, as does the film's generally pin-sharp cinematography.
Given how many movies these days amp up the neon in the hope of easy cult plaudits, it can seem a little showy and conceited for its own sake, but it's a pleasant fit for the film's tone regardless.
The performances, then? Margot Robbie is perfectly cast as the sexy, seductive femme fatale at the centre of the narrative, and while her British twang might play as a little too stagey and OTT for its own good, it's hard not to giggle at her knowingly telling a suitor, "I need someone to butter my buns." The camera loves her at every moment, even when the script can't quite keep step with the movie's stylistic and performative brio.
Robbie is the focal entity for sure, but she frequently has the show stolen from her by Simon Pegg, who sticks around for a surprisingly substantial role rather than cracking out a quick cameo as you might reasonably expect. As a man perennially afraid of his own impending death, Pegg gives perhaps the grittiest and most interesting performance of his career, bearing not a single tell of his more typical, lighter comedy work. His dialogues opposite Robbie have an agreeably stripped-down quality to them, to the point that they often evoke the pure feel of a play filmed for the screen.
The most headline-grabbing performance, however, is Mike Myers, who piles himself under significant makeup to play a hunch-backed, run-down train station cleaner who slaloms in and out of the core story. It's not an especially showy role, but Myers is clearly having fun working on something so small and unassuming, and if nothing else, it'll probably make you realise just how much you miss him.
Elsewhere there's Fletcher and Irons' assassin characters, who form easily the weakest and most formulaic aspect of the movie. It's certainly not their fault, but their characters feel ripped straight from the most generic, pandering pages of a Ritchie script, with their foul-mouthed quips just not trying quite hard enough. Also, keep your eyes peeled for cameo appearances from Neville Longbottom himself, Matthew Lewis, and Thomas Turgoose as two inept criminals.
Narratively is indeed where Terminal begins to break down and almost proudly expose its flaws. It is, ultimately, a mess of ideas and moods that's generally intriguing and atmospheric enough, though not always as effective as it could be. An opening scene unfortunately spells out far more of the tricksy plot than it probably should, and a shrewder filmmaker might've opted to cleave it away entirely in favour of a cold open.
By act three, the intrigue often gives way to an excess of convoluted, even silly, plotting, and how prepared auds will be to go along with it is likely to vary wildly. It's all in the service of a predictable exposition dump ending, where the movie seems to think it's much cleverer than it actually is. Most of the main reveals are signposted just a little too eagerly, and so the climactic rug-pulls lack the air-sucking impact Stein was clearly counting on.
Still, Terminal is clearly a labour of love, flaws and all (namely its Ritchie-inspired gangster bants). It's messy and navel-gazingly ostentatious, but fitfully entertaining thanks largely to a scene-stealing, against-type performance from Simon Pegg.
Flickering Myth Rating – Film: ★ ★ / Movie: ★ ★ ★
Shaun Munro – Follow me on Twitter for more film rambling.