Cargo, 2018.
Directed by Yolanda Ramke and Ben Howling.
Starring Martin Freeman, Simone Landers, Susie Porter, Anthony Hayes, Caren Pistorius, David Gulpilil, Kris McQuade, Bruce R. Carter, and Natasha Wanganeen.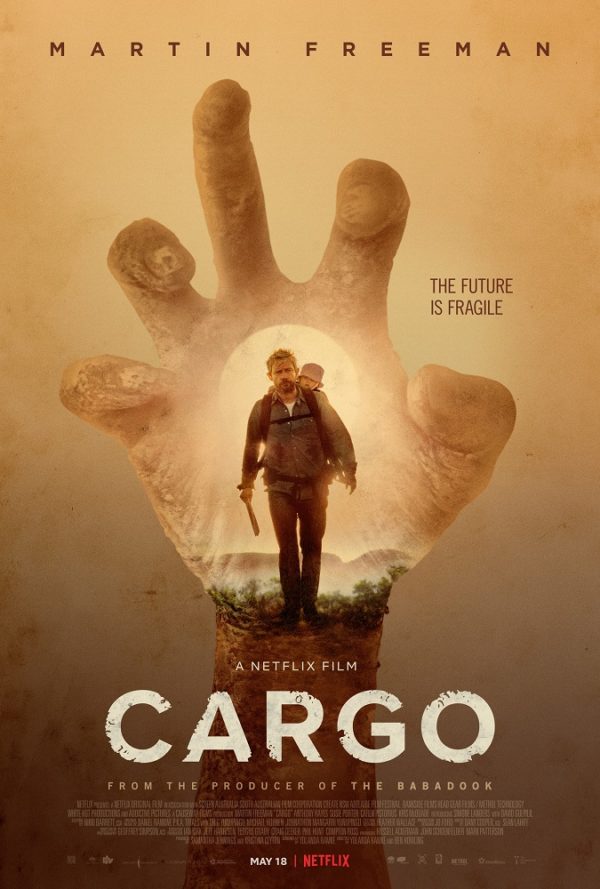 SYNOPSIS:
Amid a terrifying pandemic, a father searches the wilds of Australia for someone willing to protect and care for his infant daughter.
There has been an overabundance of zombie movies in the wake of The Walking Dead, and while they still manage to do the usual "should you kill the people you love once they are infected or leave them behind to slowly turn into monsters" conundrum with grace, we all know by now how to survive the apocalypse. So unless you make the film self-aware á la Zombieland or a comedy like Shaun of the Dead, it becomes next to impossible to stand out among the crowd of undead films.
Thankfully, co-directors Ben Howling and Yolanda Ramke manage to make Cargo shine by taking a page from Train to Busan – or The Last of Us, or Telltale's The Walking Dead – and focus on a much personal father-daughter relationship instead of the usual "humans are worse that the zombies" trope.
Martin Freeman stars as Andy, a man trying his best to float down a river with his wife Kay (Susie Porter) and daughter Rosie (Lily Anna/Marlee Jane McPherson-Dobbins as well as Nova and Finlay Sjoberg) and reach a hopefully still safe military base in the houseboat which they live in. Their quiet river life is suddenly shattered by an attack which sees Kay die and Andy get infected. He is left with only 48 hours to get his daughter to safety before turning into one of the monsters he's been fighting to evade.
It should come as no surprise that Cargo is bleak as hell. Even beyond the fact that the world has turned to shit and that an infection/plague/catastrophe/flu (just like many other recent films, this film follows the "don't even dare mentioning the Z word approach") has turned people into monsters, right from the start you know there is no chance for a happy ending in this film. Right from the get-go you are thrown into a race against the clock where you know the protagonist is not going to make it, but he will make damn sure he gets his daughter to a safe place. Martin Freeman gives one hell of a performance, as he pretty much carries the film and the baby on his shoulders. It's also a good thing that the baby is not used as a plot device to start crying at the wrong time and attract zombies (sorry, "infected"), but she's here to further develop Andy as a character and as a father, and to be adorably delightful. Really, I have never seen a baby be this tame during the apocalypse.
Ramke and Howling don't just stop at making this a zombie film with a different focus, they also add some unique changes to the zombie mythos. Gone are the gaping wounds, the hanging viscera and the ragged flesh. Instead, the infected get some jelly-like yellow goo that grows from the bites and ends up pouring from their eyes once they fully turn.
Like the George A. Romero classics, Cargo also leans into social commentary among the zombie gore. Among the human faces Andy meets, we see a man blaming the zombie apocalypse on fracking and the environment. There's also an underlying theme of Australia's history of colonization and the use of indigenous people, and those who stood by in silence. If you are looking for an action-packed zombie movie, or a The Walking Dead bore-fest, look elsewhere. If you want a heartfelt survivalist story about a father and his daughter, with zombies on the fringe and the vastness of the Australian Outback, then Cargo will be right up your alley.
Flickering Myth Rating – Film: ★ ★ ★ ★ / Movie: ★ ★ ★ ★